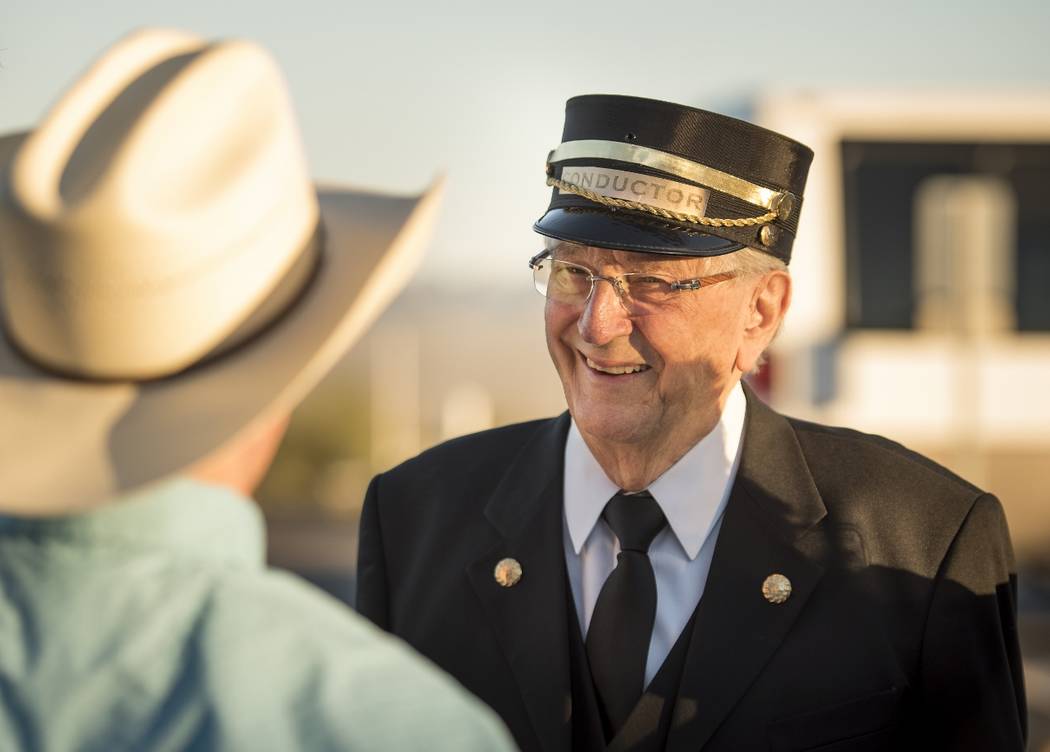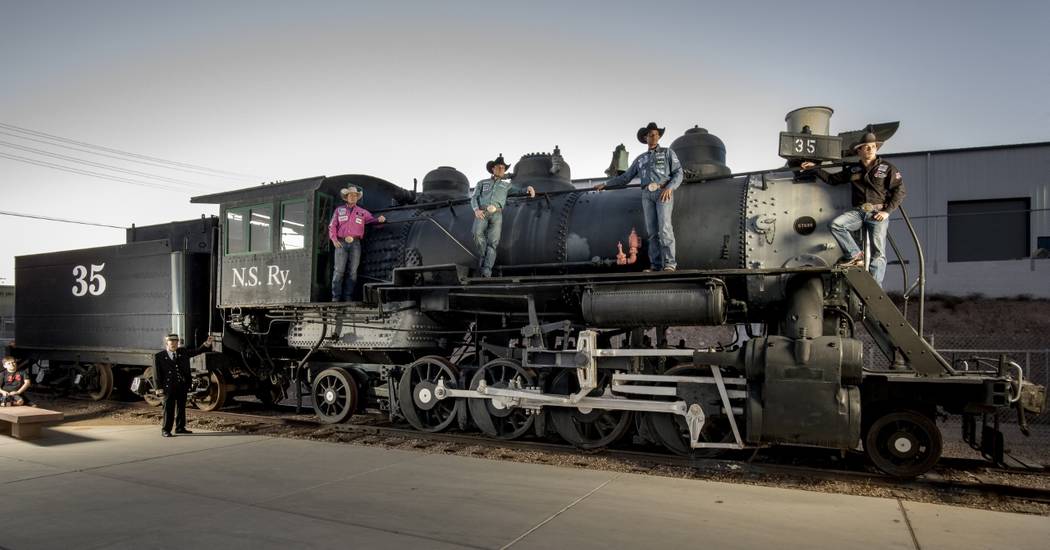 He is considered an integral and inconspicuous figure in Las Vegas' sports history. But when I met William S. Boyd — most people just call him Bill — the other night, he was dressed as a train conductor.
Perhaps it was appropriate.
In 1984, the Boyd Gaming Corp., founded by Bill Boyd and his father, Sam, wrote a check for $1.2 million so the Monsanto Corp. could install a state-of-the-art "Magic Carpet" (it could safely be rolled away with a flick of a switch) playing field at a little football stadium on Boulder Highway.
After that, it was all aboard for supercross and monster trucks and major rock concerts that transformed Sam Boyd Stadium into a desert oasis for sports and other events, while providing UNLV with a vital revenue source.
Bill Boyd was dressed as a train conductor because the Nevada State Railroad Museum in Boulder City provided the backdrop for this year's National Finals Rodeo poster shoot, the de facto kickoff event for December's big hoedown at the Thomas & Mack Center. Each June, rodeo champions are brought to town to pose with a local dignitary who was instrumental in Las Vegas wrangling the NFR away from Oklahoma City in 1985.
Tickets to ride
During the early days of the NFR in Las Vegas, there was no guarantee that cowpokes would travel here to witness it. The Boyd Group purchased huge blocks of tickets so it would at least appear the NFR was a success.
"The first year, we were giving tickets to people," Bill Boyd, a vibrant 85, recalled in shadows cast by hulking Iron Horses. "But after that, it really caught on, and it has been just a great thing for our community."
His escort at the poster shoot was Las Vegas Events president Pat Christenson, who with Dennis Finfrock was running Sam Boyd Stadium by its previous name, the Silver Bowl, when Boyd Gaming wrote the big check.
The first stadium motor sports events had left the old artificial turf in tatters when workers dumped dirt directly on top of the playing surface and front loader operators removed it in ham-handed fashion.
Writes Christenson in his soon-to-be-released book, "Rock Vegas": Live Music Explodes in the Neon Desert": "It was less than a month until the Rebel football season. Our first summer on the job, we'd managed to damage the field surface beyond repair. Unless we came up with a solution, our careers at UNLV would be over."
The Boyd family wrote the check. Christenson's hide was spared. The Grateful Dead came to town. Paul McCartney, the Eagles, U2. Money started pouring in. UNLV balanced its athletic budget.
And now, Las Vegas has pro hockey, and soon we will be getting (real) pro football. And a new domed stadium, with more bells and whistles than the relic locomotives upon which the cowboys and William S. Boyd had just been posing.
0:03
— Is Logan Taylor the Old Hoss Radbourn of the 51s' pitching staff? While injuries and Mets call-ups forced Taylor to start two games in one series at Reno — he threw two innings in the opener and another two in the finale — the dapper gent Radbourn started 73 games for the 1884 Providence Grays — and finished every one. At 29, the rubber-armed Old Hoss still was a Young Hoss then, going 59-12.
— This is what I wrote in 2015, the last time I spoke with Deryk Engelland, the former Las Vegas Wranglers defenseman who never left town: "Engelland is 33, and he has two years left on that (Calgary) deal that pays him $2.9 million American dollars per season. Perhaps he has one contract left in him after that. Perhaps it'll even be with a new team in his adopted hometown." Engelland was one of the players the Golden Knights selected in Wednesday's NHL expansion draft.
— Engelland and Golden Knights goalie Marc-Andre Fleury, who drank out of multiple Stanley Cups with the Pittsburgh Penguins, both wore No. 29 with their previous teams. The guess here is that Deryk Engelland will get used to No. 28.
Contact Ron Kantowski at rkantowski@reviewjournal.com or 702-383-0352. Follow @ronkantowski on Twitter.
Versatile venue
Some events that have been at Sam Boyd Stadium:
— UNLV football
— Las Vegas Quicksilvers (soccer)
— Las Vegas Bowl
— Las Vegas Posse (Canadian Football League)
— Las Vegas Outlaws (XFL)
— Las Vegas Locomotives (United Football League)
— USA Sevens (rugby)
— AMA Supercross (motorcycle racing)
— Monster Jam World Finals (monster truck racing)
— International soccer exhibitions
— Grateful Dead (14 shows)