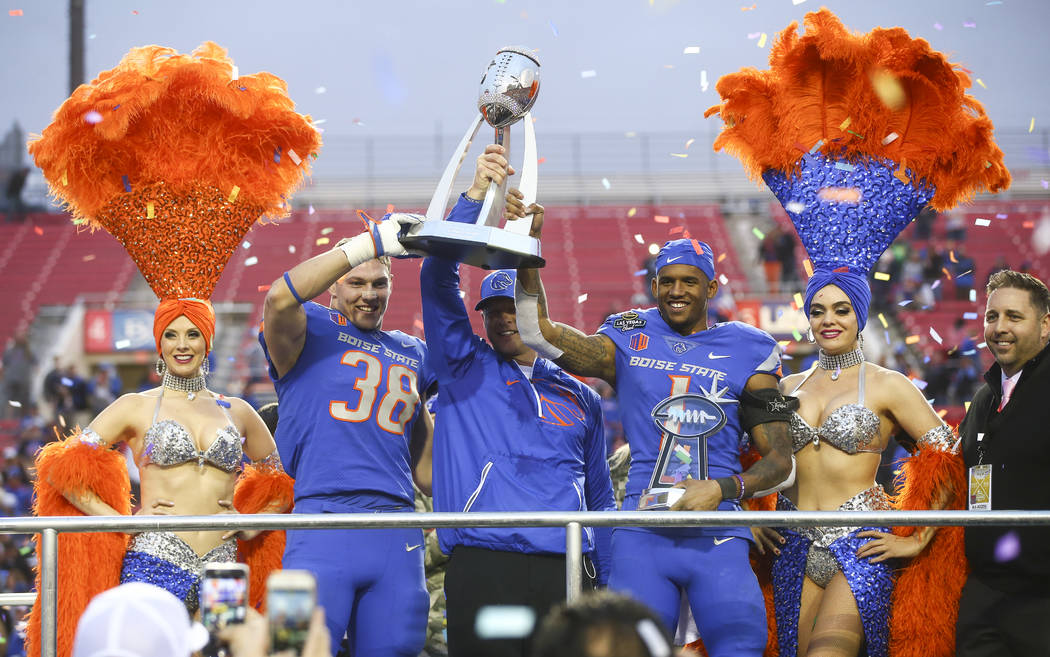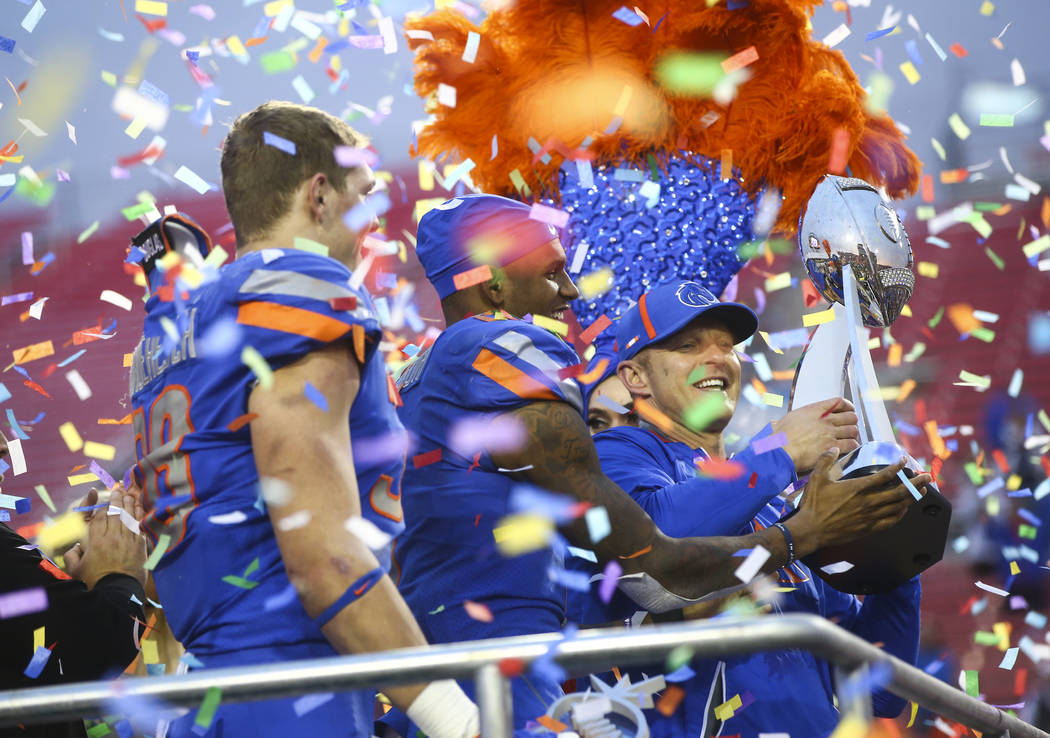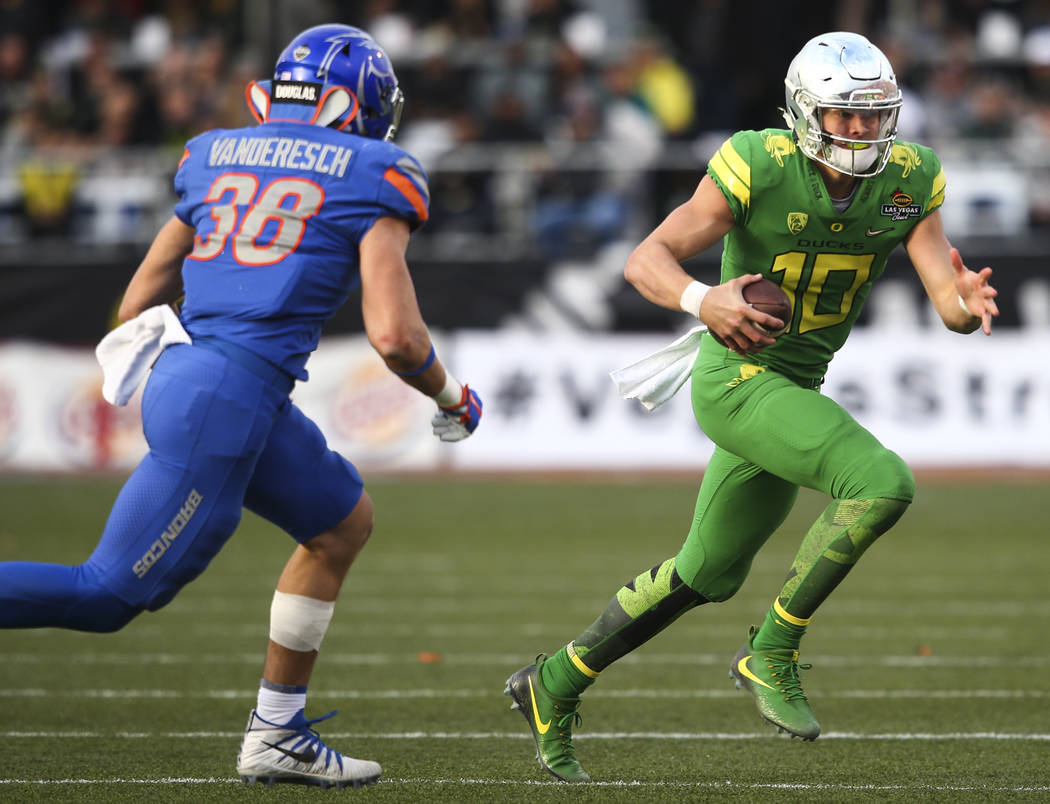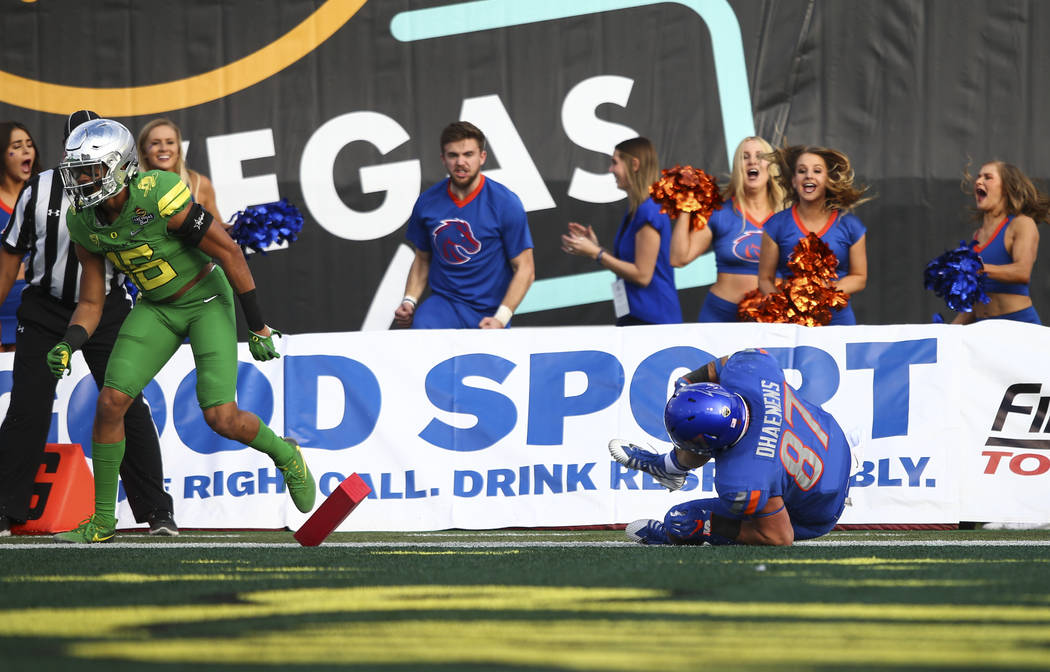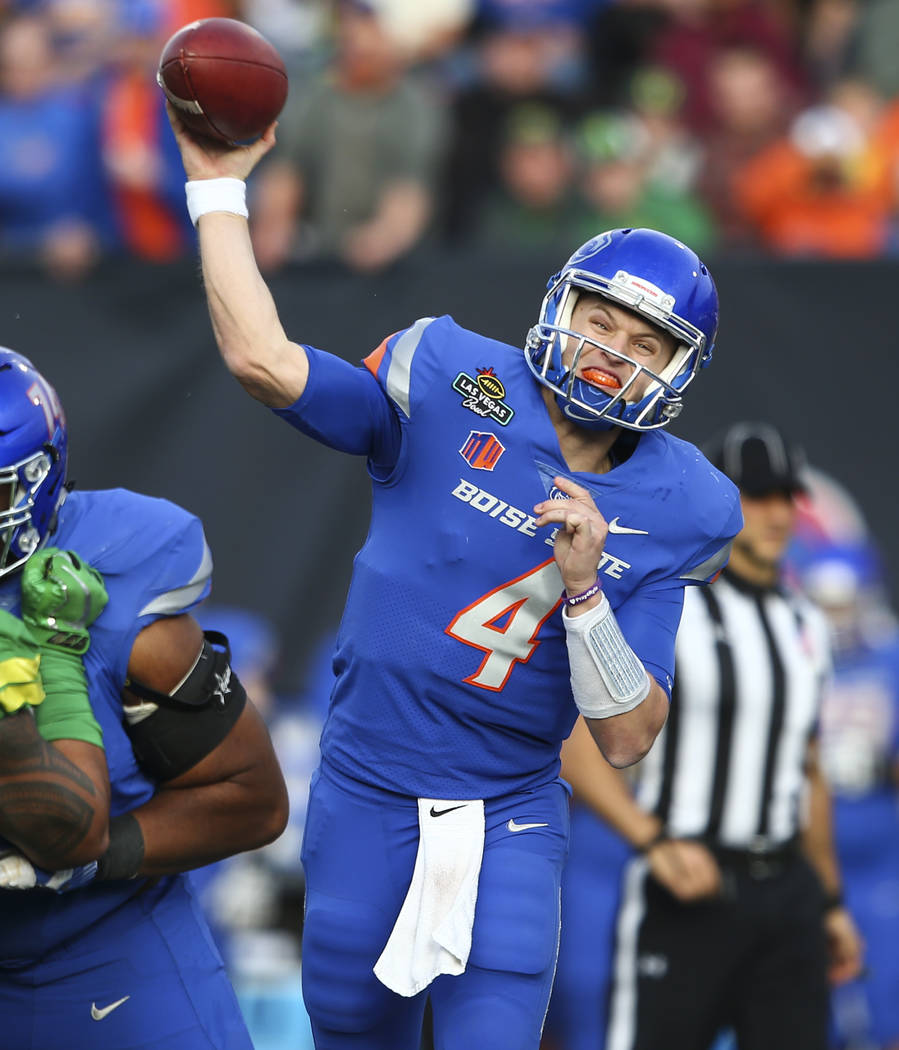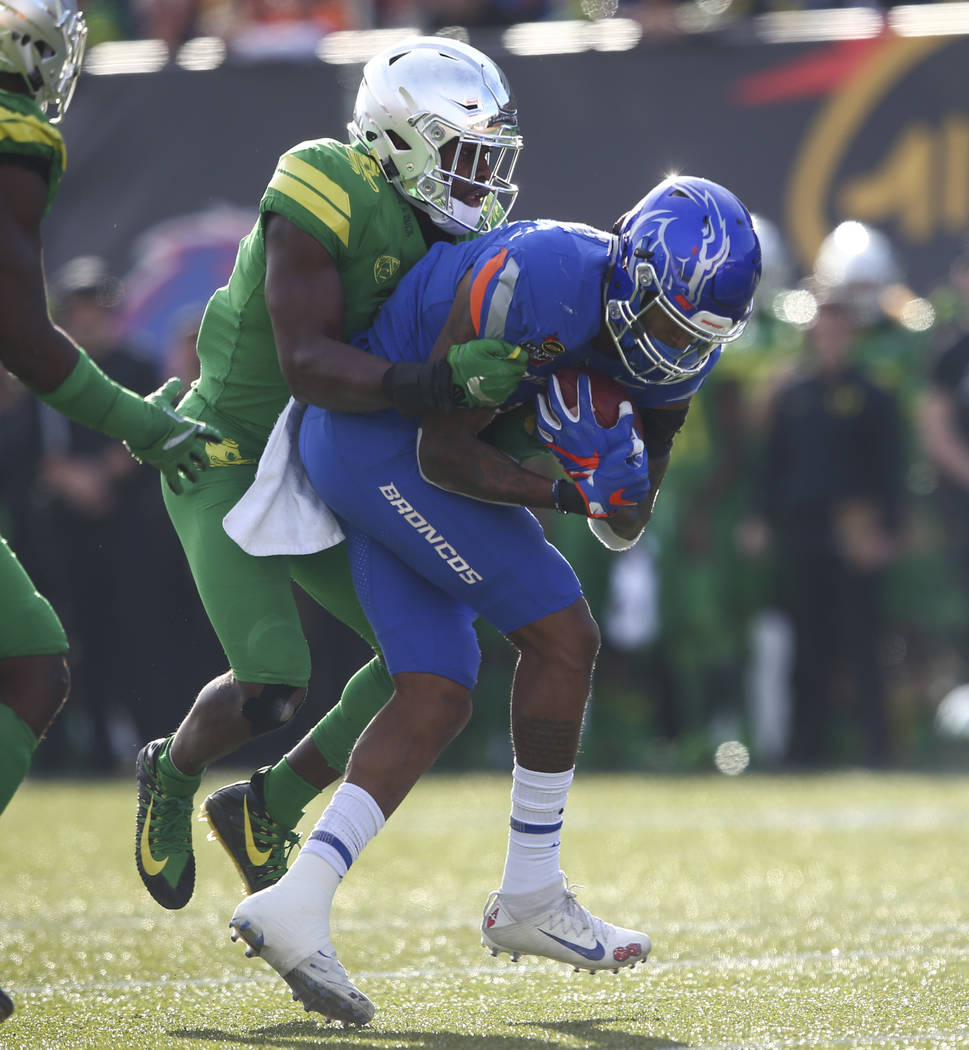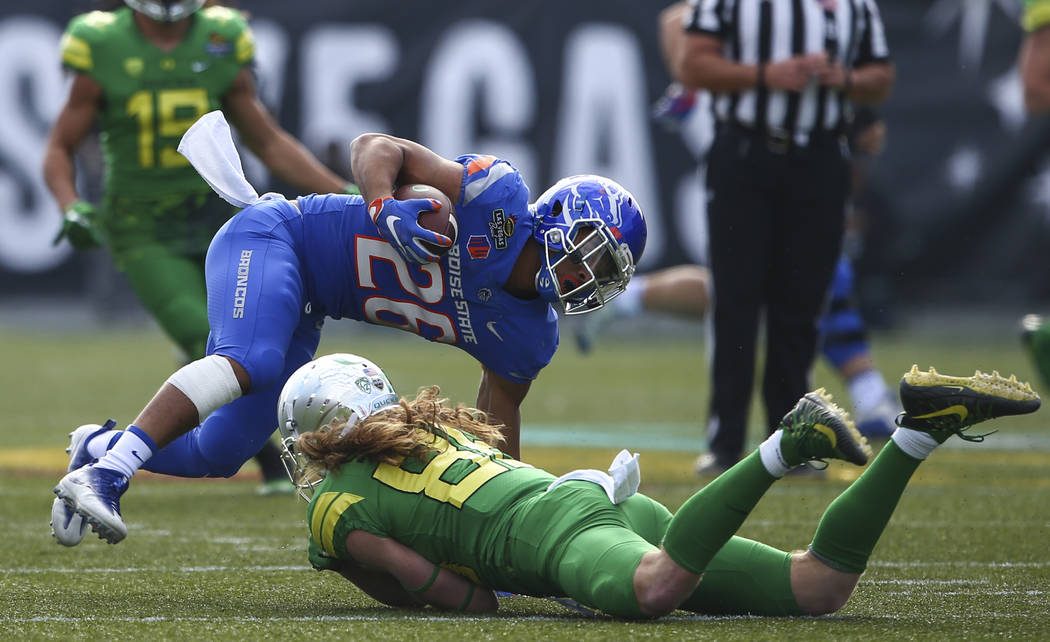 There were signs even before kickoff that Saturday's Las Vegas Bowl might evolve into a comedy of errors that would have caused William Shakespeare, the expression's originator, to break into mirthful guffaws and belly laughs.
One was literal.
"Welcome to Las Vegas Oregon State University" it was proclaimed in salutatory neon on a Strip marquee near Caesars Palace after football teams representing the Pacific 12 and Mountain West conferences arrived for postseason pratfalls.
Oregon State was 1-11 this season, thus barely missing out on bowl eligibility.
Oops.
Before the first play from scrimmage at Sam Boyd Stadium, Pac-12 big brother Oregon was forced to call a timeout to get organized, while Boise State was slow to line up.
Oops.
During the first half, the Ducks turned the ball over four times and had an interception returned for a 53-yard touchdown. The Broncos turned the ball over three times — all in the red zone — and in the final 37 seconds had a fumble returned 86 yards for a touchdown and an intercepted pass returned 100 yards for another.
There were three defensive touchdowns in the first half, and that had never happened in 25 previous Las Vegas Bowls. There were seven turnovers, and that tied a dubious record it took Boise and Utah all four quarters to establish in 2010.
Oops, oops and more oops.
At the end, after normalcy had re-established field position, it was Antipholus and Dromio of Syracuse (aka Boise State) 38, Antipholus and Dromio of Ephesus (aka Oregon) 28 in front of 36,432 at the old ballyard on the edge of town.
Shakespeare's "The Comedy of Errors" featured false accusations of theft, madness, infidelity and demonic possession among two sets of twin brothers. The Las Vegas Bowl's comedy of errors offered only theft and madness as far as anybody can tell.
"We shot ourselves in the foot a bunch — we saw the negative plays and turnovers," said Mario Cristobal, who was elevated from co-offensive coordinator to interim head coach to Oregon head coach Dec. 8 after Willie Taggart bolted for Florida State after only one season, a bit of theft and madness in itself.
"Getting down 24-0 with penalties and turnovers and that kind of stuff … is a lot of stuff to overcome. You have to find a way to overcome it, and we didn't."
Boise State shot itself in the foot, too. But leading 24-0, it didn't bleed as much. The Broncos (11-3) played much better than Oregon (7-6) on defense, and whereas Oregon's best player, running back Royce Freeman, sat out to protect his NFL draft status, Boise State's best player, wide receiver Cedrick Wilson, opted to play.
Wilson was injured early, perhaps giving credence to Freeman's decision. But the senior with the sticky fingers would return from an ankle sprain and finished with 10 catches for 221 yards and a touchdown en route to being named the game's Most Valuable Player.
Oregon simply could not stop him.
Oregon could not stop his blue-clad teammates as a group, as Boise amassed 481 yards to Oregon's 280. Sometimes the Broncos stopped themselves, even if Boise coach Bryan Harsin didn't exactly see it that way.
"Oregon is very good defensively, they have tremendous speed, and they showed that and made plays," Harsin said of the giveaways just before halftime that let the Ducks pull within 24-14, when it easily could have been 38-0.
"The vibe on the sideline was not very good, but we're always 0-0 (mentally) at halftime. We're a second-half team, we're a fourth-quarter team. We did what we had to do in the second half."
As darkness closed in and Boise State's second-half players continued to mill about the confetti-strewn side of Sam Boyd Stadium, the first-half turnovers and sloppiness of the 26th Las Vegas Bowl already were being forgotten.
If Boise State showed anything here against a Oregon team that seemed to lack fire, it was that of the Mountain West teams, it remains the best equipped to compete with the big boys from the power conferences, even when it turns scoring opportunities into touchdowns for the other side.
It also showed the guy who programmed "Oregon State" into the neon banner on the Strip when it should have said "Oregon" shouldn't take it so hard.
Whoops! #LasVegasBowl pic.twitter.com/YYysKecI1A

— RedditCFB (@RedditCFB) December 15, 2017
Contact Ron Kantowski at rkantowski@reviewjournal.com or 702-383-0352. Follow @ronkantowski on Twitter.
Turnovers galore
Boise State and Oregon tied a Las Vegas Bowl record for most combined turnovers with seven.
— 2017: Boise State 38, Oregon 28, 7 turnovers
— 2010: Boise State 26, Utah 3, 7 turnovers
— 1993: Utah State 42, Ball State 33, 6 turnovers
— 2008: Arizona 31, BYU 21, 6 turnovers
— 2011: Boise State 56, Arizona State 24, 6 turnovers
— 1994: UNLV 52, Central Michigan 24, 5 turnovers
— 1997: Oregon 41, Air Force 13, 5 turnovers
— 2009: BYU 44, Oregon State 20, 5 turnovers
— 2015: Utah 35, BYU 28, 5 turnovers