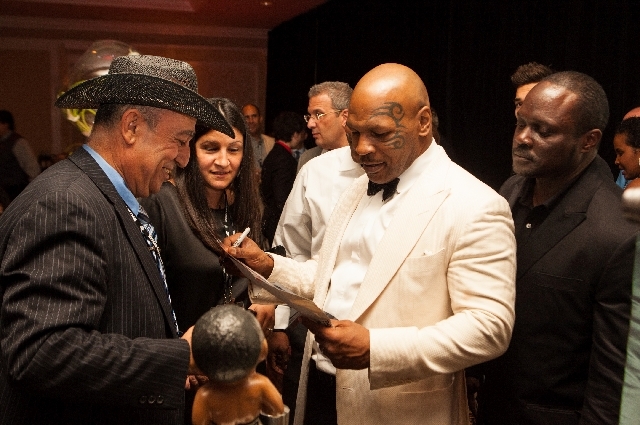 Remember the iconic scene in "On the Waterfront," in which Marlon Brando and Rod Steiger are riding in the back of a taxi, and Charley "The Gent" Malloy, played by Steiger, jabs a pistol into the ribs of Terry Malloy, played by Brando, because his movie brother is thinking about testifying against Johnny Friendly, who controls the docks with an iron fist?
Charley tells his brother, once a promising boxer, that Terry "coulda been another Billy Conn" had they not lined him up with a skunk for a manager. Terry tells Charley it wasn't the skunk who insisted Terry go for the price in the Wilson fight. It was Charley. And that he, Terry, "coulda been a contender" had he not taken that dive.
It was an emotional, powerful scene.
They almost could have used that same taxi to shuttle the inaugural Nevada Boxing Hall of Fame class of inductees to and from the dinner honoring them Saturday night at the Monte Carlo.
It was billed as a veritable who's who of boxing, and it was all of that. Everybody except Butterbean was there. But if you were wired correctly, it was a night for melancholy, too.
It was great to see an old pal like Royce Feour, a former Review-Journal boxing writer, be feted by his fifth hall of fame. (Nevada Boxing, Nevada Press Association, Southern Nevada Sports, Nevada Interscholastic Activities Association and Clark County High School Football Coaches for Harold Lederman and those scoring at home.)
Bob Arum and Don King, the Ali and Frazier of the fight promotion racket, set aside their differences on a night when the only buck to be made was for charity.
Mike Tyson was there, looking fit. A PR guy told a security guy he should position himself between King and Tyson at all times, because those two don't exactly see eye to eye tattoo, either.
Marc Ratner went in as a boxing executive, which is fitting; try as I might, I still do not consider him a mixed martial arts executive, though that is what he has become.
Larry Holmes told the paparazzi and some other people with cellphone cameras in a strident voice that his biggest thrill was winning the heavyweight championship of the world — and, upon draping a big paw over the bare shoulder of Molly Sullivan of the new Top Rank Internet channel, "meeting this young lady."
Hey, it was boxing, and perhaps that is why Ray Leonard was dressed like a milkman — white shirt, white trousers, white low-top Converse — and why other guys dressed mean and wore dark sunglasses.
But I suppose my red wire still is connected to the blue one. Because when I saw Michelle Corrales, on hand to represent Diego, her deceased warrior husband; when I saw the esteemed trainer Freddie Roach enter with a tremble and a twitch due to the ravages of Parkinson's; when Mills Lane rolled up in a wheelchair, because the renowned referee suffered a terrible stroke in 2002 and now seldom leaves home, I kept hearing the same plaintive tune.
It was "The Boxer" by Simon and Garfunkel. It always is.
One could argue that of those just mentioned, only Roach, who absorbed a lot of lefts and rights before he started taping them up, squandered his resistance for a pocketful of mumbles. But I kept hearing the "la-la-lie" and the mournful flute, because boxing can be a mournful business, even when the mournful business is happenstance.
Diego Corrales was killed in a motorcycle accident on May 7, 2007, exactly two years to the day he and Jose Luis Castillo stood in the clearing as boxers, fighters by trade. They were cut until they cried out. And boxing fans cried out, too, in exultation, because Castillo vs. Corrales was the fight of the year.
Chico had been drinking when he pulled out to pass that car on his Suzuki. But no matter how you resolve it, his kids are growing up without their father, and that's why you hear the "la-la-lie."
"He wanted so much to have a legacy," Chico's widow, Michelle, said on the red carpet as the fighter's 7-year-old daughter, Daylia, clutched at her mother's gown. "This goes a long way to solidify that. It's emotional, a beautiful night."
And then there's Mills Lane, the former Marine, the former district court judge from up in Washoe County, the former TV star, the third man in the ring in all of those famous title fights — and some of the infamous ones, too.
Remember when ol' Mills would give the boxers their final instructions and then he would urge them to get it on, and the little hairs on the back of your neck would stand up?
Mills Lane still can flick a left jab out there. But his right lies useless in his lap, and he can't tell anybody to get it on anymore — he can't speak much more than a few words, really — and that's why you hear the mournful flute.
Terry Lane, who pushed his father down the red carpet, said Mills Lane, 76, spends most of his day watching old fights and old fight movies on TV. Sometimes it's "Somebody Up There Likes Me." Most of the time it's "On the Waterfront."
"Did you know that I was named for Terry (Malloy)?" he asked.
Las Vegas Review-Journal sports columnist Ron Kantowski can be reached at rkantowski@reviewjournal.com or 702-383-0352. Follow him on Twitter: @ronkantowski.