Brewing Ovechkin-Fleury showdown bubbles to the surface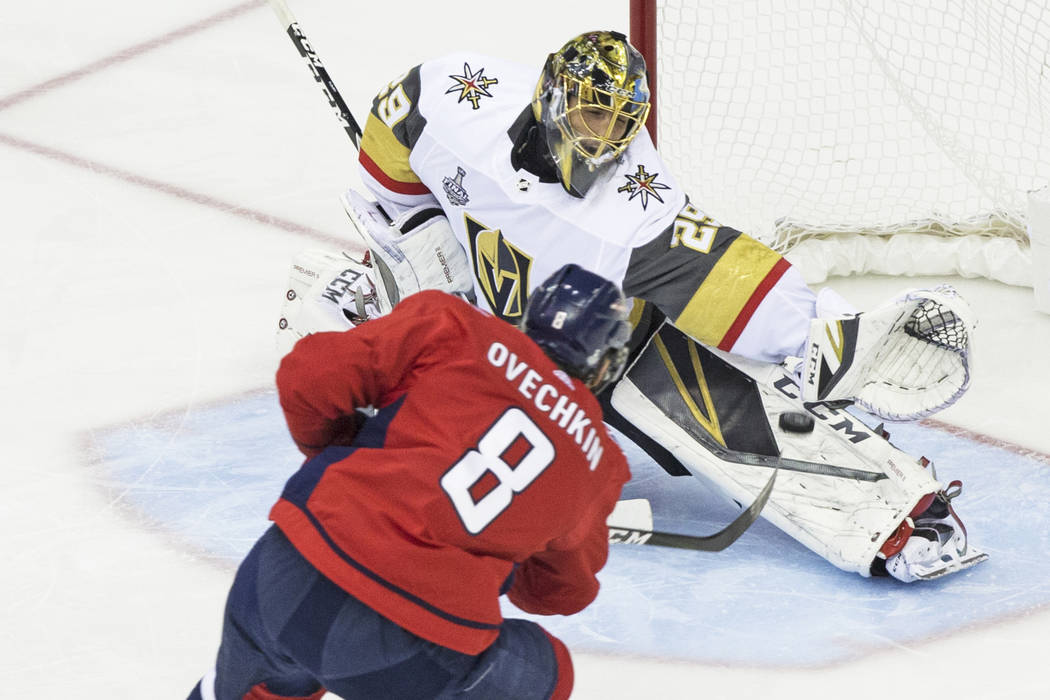 WASHINGTON — The tweet popped up on the laptop screen about a half-hour before the opening face-off Saturday.
"I've been a Washingtonian for over 30 years. So excited to see my Capitals in the finals!!"
The author was @RealLyndaCarter. The original Wonder Woman.
Can't express how happy I am to see my @Capitals in the #StanleyCup finals!! #ALLCAPS pic.twitter.com/BuP8Tt4Abd

— Lynda Carter (@RealLyndaCarter) June 2, 2018
It was as if Golden Knights goalie Marc-Andre Fleury and Capitals nemesis Alex Ovechkin were wearing her indestructible Amazon bracelets under their gloves.
The showdown among hockey superheroes that had been bubbling beneath the surface in the Stanley Cup Final erupted over the cauldron rim in Game 3, a 3-1 Washington victory at raucous Capital One Center that gave the home side a 2-1 series edge.
Borg vs. McEnroe, Palmer vs. Nicklaus, Chamberlain vs. Russell.
Ali vs. Frazier?
No. Not Ali vs. Frazier. Not yet. But only three games are in the books, with as many as four yet to be played. Ovechkin and Fleury might just be getting started.
Wheel of misfortune
Ovechkin shoots, Fleury saves. Ovechkin shoots, Fleury saves. Ovechkin shoots, Fleury saves again.
That's how it went almost from the time Pat Sajak announced the starting lineups. And then, early in the second period, this memorable sequence:
Evgeny Kuznetsov shoots. Fleury saves. Tom Wilson shoots, the puck hits the post. No time for Fleury to give it a thank-you rub because:
John Carlson shoots, Fleury saves. Fleury saves big-time.
Rebound goes to Ovechkin. Ovechkin backhands puck past Fleury for a 1-0 lead. Ovechkin goes wild. Crowd goes wild.
It was his 14th goal of the playoffs, tying a Washington record. It took four whacks on Fleury to get it. It's hard to beat Fleury with just one whack during these playoffs, or any other playoffs.
Last season when he was the Penguins, Fleury pitched a 2-0 shutout against Ovechkin and the Capitals in Game 7 of the Eastern Conference second round. In 2009, Fleury and Pittsburgh also got the best of Ovechkin and Washington in the Eastern Conference Final, and the Pens went on to win the Stanley Cup.
Fleury's record in 38 regular-season games against the Caps is 22-12-2, but regular season games don't count for a whole lot right about now, especially with Ovechkin and pals heating up against Fleury's new team.
"I thought I was done with them for a little bit," the Vegas netminder said before the series began. "I guess not."
Pinball wizardry
Ovechkin's goal that got Washington rolling happened with the puck bouncing like a pinball in front of Fleury's crease. The Knights' defense couldn't keep it from finding the blade of Ovechkin's stick, which seems to happen a lot in situations like those.
"It started with a scramble," said Fleury, who made only 23 saves, but faced significantly more quality attempts than counterpart Braden Holtby. "They got a shot, got a tip. It was between my legs. I didn't really know where it was. There was no whistle. They kept coming.
"It's tough to defend (on) these guys, when they keep putting pucks on net, and they keep bouncing around a bit. Ends up on Ovi's tape on the other side."
Then it winds up in the back of the net.
Hard to blame Fleury. Gerard Gallant didn't.
"Fleury had to make some good saves," the Knights' coach said. "He was the difference for us to stay close."
Ovechkin showed gobs of emotion after putting the Caps on the board, but he said it didn't matter who scored, so long as it was somebody wearing a red sweater.
Emotional rescue
"I was emotional when Devo scored, too," the big Russian said about Devante Smith-Pelly's insurance goal with six minutes to play that sealed the Knights' fate. "It doesn't matter who scores. It's important, and it gives us confidence, and gives (us) a little room to breathe."
Washington coach Barry Trotz is breathing free and easy thanks to the example Ovechkin has set in the past two games. He started fast, he scored in both, the Capitals won both. Probably not a coincidence, said the man behind the Washington bench.
"As a coach you want your top players to set the tone," Trotz said. "He did. He set the tone with intensity, with physicality. Obviously he scored our first goal, but he did all the details. He blocked shots. He got pucks out (of the defensive zone). He did all the details along with what he does. He scores at a massive rate.
"You add all those things to his game, and you've got a whole team that is going to follow that."
You add all those things up, and you've got the Capitals leading the series 2-1.
The Knights may want to consider borrowing Lynda Carter's lasso of truth. It's time to tie up Alex Ovechkin and his suddenly surging teammates before this deficit becomes a burden.
More Golden Knights: Follow all of our Golden Knights coverage online at reviewjournal.com/GoldenKnights and @HockeyinVegas on Twitter.
Contact Ron Kantowski at rkantowski@reviewjournal.com or 702-383-0352. Follow @ronkantowski on Twitter.