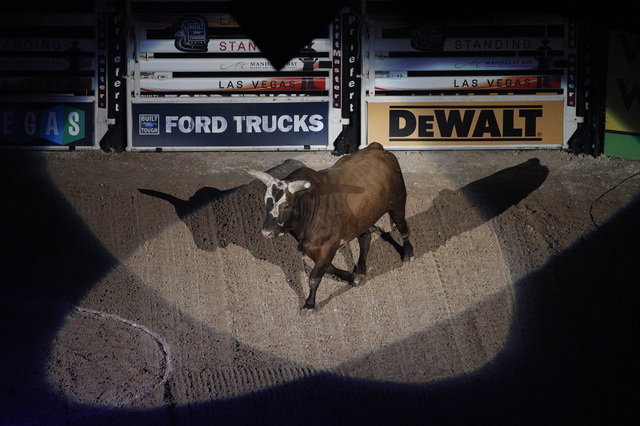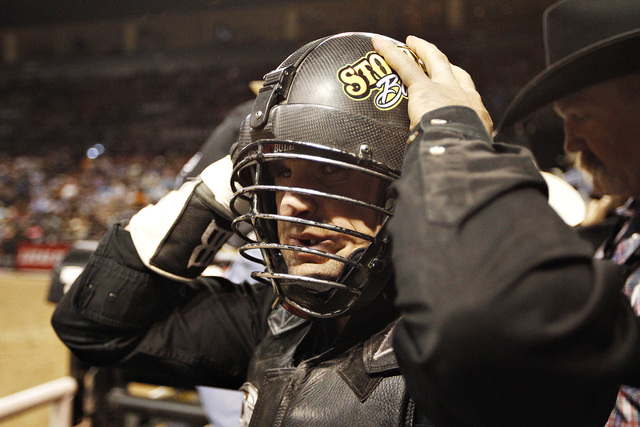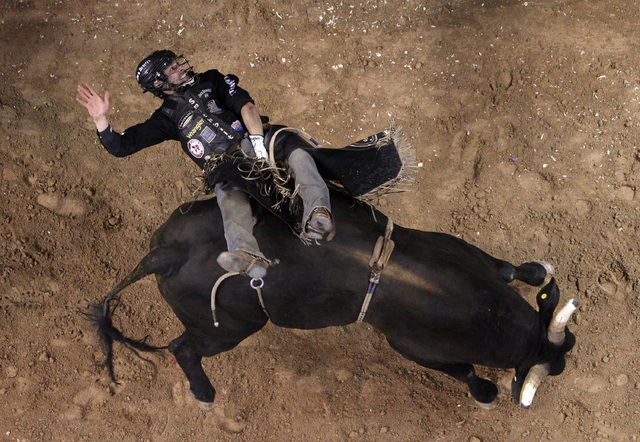 He rode 'im, you know.
I'm talkin' about Bushwacker. Bushwacker the Bull. One-thousand, five-hundred pounds of bad intentions. The baddest bucking bull on the planet, now that Mike Tyson is doing movie sequels.
Markus Mariluch rode Bushwacker. Was the first guy to do it, in fact.
Mariluch, 28, is the only cowboy on the Professional Bull Riders circuit from Nevada. We were talking about him growing up in a big family in Elko, about having played running back as a young 'un, about having to choose between riding bulls and riding motorcycles when he was 14.
It wasn't an easy choice, because young Markus was a helluva motocross rider; he even had a factory sponsorship from Honda.
Then he dropped in the not-so-insignificant fact that he had once ridden Bushwacker. Not got on top of him. Ridden him. For the full eight seconds.
"I was the first guy to ride him," he said in an aw-shucks kind of way.
We were talking in the back lounge at PBR Rock Bar on the Strip, where the rock music was playing at level "10" instead of "11," like it was out there in front, by the mechanical bull pit.
Mariluch and the aptly named Ryan Dirteater had shown local media and magicians and male dancers who take off their shirts how to ride the mechanical bull in a charity event. The pros make it look so easy.
In the manner of most pro bull riders, Markus Mariluch is humble and speaks softly. So when he said he had covered Bushwacker's broad backside for eight seconds, it was like that "Seinfeld" episode when Jerry and George are sitting at Monk's diner, and Jerry slides in the not-so-insignificant fact that he has been sleeping with Elaine.
Whoa!
"This is major. This is huge. All right, OK, let's go. Details …"
Mariluch said it happened right here in Las Vegas, at the Thomas &Mack Center, during the National Finals Rodeo.
It wasn't at the NFR itself. It was at an ABBI event, not to be confused with an ABBA event. Two entirely different pastimes.
AABI stands for American Bucking Bull Incorporated, which is sort of a minor league circuit for bull riders. It was December 2009, in the afternoon, in what they call a wild-card event.
In the photograph, the stands behind the chutes are empty.
Bushwacker still was on his way up then. Yeah, he was big and bold and ornery, and he snorted a lot. Pawed at the dirt. But he didn't have the big rep for flattening bull riders like tin cans that he does now.
So Markus Mariluch rode him for all eight seconds, and now he plays it off a little.
But here's the deal: If you were playing baseball in the Eastern League in 2005 when Justin Verlander pitched those seven games for the Erie Seawolves on his way up, and you went 3-for-4 against him with a homer and four RBIs, you'd still tell people about it. And people would want details.
"That's when he was starting to expand his career," said Mariluch, who began Last Cowboy Standing at Mandalay Bay 17th in points.
"They all knew he was going to be a contender for bucking bull of the year. Maybe they didn't know he was going to have a record like that, to have the buckoff streak he had."
Ah, The Streak. The buck-off streak.
After Mariluch rode Bushwacker in front of empty seats, and a Brazilian named Thiago Paguito did the same when Bushwacker was 3, nobody rode him again in 56 tries — 42 in official Built Ford Tough Series events — until world champion J.B. Mauney stayed aboard for 95.25 points in Tulsa, Okla., last year.
I'm told the crowd went wild.
"J.B. got on him 13 times," Mariluch said. "He only rode him once. And J.B. can slay dragons.
"I think for a lot of guys, he gets in your head a little bit," Mariluch said about Bushwacker's nefarious reputation for mayhem. "I think if they never bragged him up or anything, a lot more guys would ride him."
Bushwacker, out of the Julio Moreno bucking stable, will turn 8 on June 1. He's retiring at season's end to make little Bushwackers. Some of the riders say he has lost a little hop off his fastball.
Markus Mariluch doesn't say that. "I got on him in Albuquerque (in March) and he dusted me."
And Guilherme Marchi, the 2008 PBR champion from Brazil, doesn't say that, either, not after Bushwacker threw him off in you-know-what-over-tea-kettle fashion during Round 3 of Last Cowboy Standing on Saturday night.
Marchi had to be helped out of the arena; Bushwacker left under his own power, kicking up his hind legs three or four times. He appeared to be showing off. He was back in the pens, probably wearing a smoking jacket, by the time the resilient Marchi was crowned Last Cowboy Standing, doffed his hat and pocketed $100,000.
Mariluch, the Elko cowboy, made it to the final round before being eliminated.
Bushwacker's last go-round will be Oct. 22 to 26 at the PBR World Finals at the Thomas &Mack Center. Markus Mariluch said he hopes he draws the big lout in the finals. Yes, he said it quietly, but he said it.
"I'd like to be the first and last guy who ever rode him," he said. "That would be cool."
Las Vegas Review-Journal sports columnist Ron Kantowski can be reached at rkantowski@reviewjournal.com or 702-383-0352. Follow him on Twitter: @ronkantowski.