Cameron Champ still hitting 'em long, straight at Shriners Open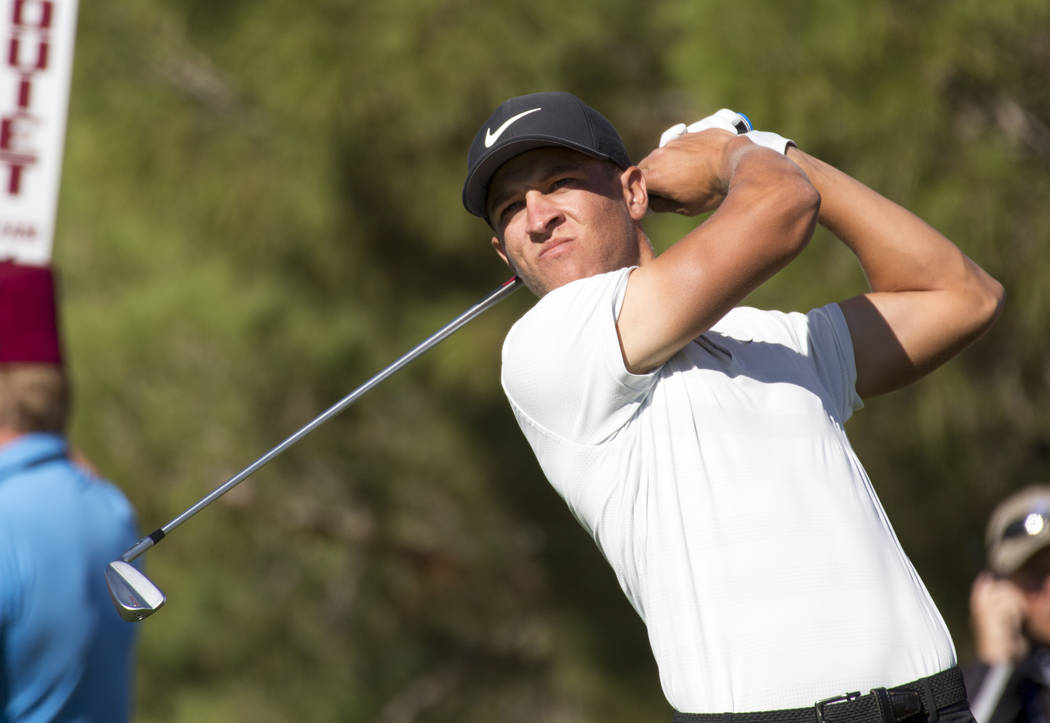 There still are 18 holes to play, minimum, but the Shriners Hospitals for Children Open already has a Champ.
Cameron Champ, who has a great name for a guy trying to make a living at pro golf — just not as great as Johnny Vegas (66 on Saturday, tied for 11th after 54 holes) — is actually the Sanderson Farms Championship champ.
The 23-year-old rookie last weekend earned his first PGA Tour victory at the Country Club of Jackson in Mississippi.
After shooting 69 Thursday and 65 Friday, Champ kept his great name near the top of the leader board with a 5-under-par 66 Saturday. He trails co-leaders Bryson DeChambeau and Peter Uihlein by three shots, but he's the leader in the clubhouse as far as oohs and aahs for the way he strikes a golf ball.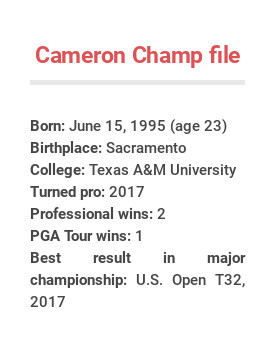 Which is with absolute and relentless authority.
There are a lot of guys in golf these days who can drive a ball a country mile. Champ can drive countries, period. With a stiff breeze at his back and a downhill roll on Interstate 5, he could probably hit a ball from his California birthplace in Sacramento to the fringe of the No. 1 green at Tijuana Country Club.
Long and fast
In 2017, Champ averaged 343.1 yards on the Web.com Tour and registered 129.79 mph in clubhead speed at the OHL Classic at Mayakoba in Mexico, which sounds impressive. It would have put him on the pole for last week's NASCAR race in Martinsville, Virginia, by a wide margin.
Champ's driving distance Saturday was a pedestrian — for him — 310.7 yards. Perhaps he'll pull out the driver Sunday.
"Today was solid," Champ said after completing a bogey-free third round in ideal weather consisting of five birdies and 13 pars. "Little better ball-striking off the tee. The last few days I kind of struggled missing fairways but even when I missed it, it was kind of just barely.
"I just kind of put everything together. I didn't make any mistakes. When I missed the greens, I was able to get 'em up and down. I feel like tomorrow if we have similar weather conditions, then I can just put it all together."
Regardless of what happens over the final 18 holes, minimum, Cameron Champ already is a great story.
Plastic men
His father, Jeff, was a college baseball catcher at San Diego State and spent a couple of seasons in the Baltimore Orioles organization. He batted .287 in 42 games for Rookie League Bluefield of the Appalachian League in 1988 and .160 in 35 games for Class A Peninsula of the Carolina League in 1989 before injuring his hand. Then they moved the next guy in.
As he watched his son pose for selfies after postround interviews, Jeff Champ told a reporter there's too much politics in baseball. He said outside of the playoffs he doesn't watch baseball anymore because the pace of the game is too slow. This from a guy whose son plays pro golf.
But it was Cameron's grandfather, Mack, who bought him his first set of clubs. They were made of plastic. For a long time, that was all Mack Champ could afford.
Cameron Champ's grandpa started caddying when he was 7 years old in 1948, making around 40 cents an hour at a public course in Columbus, Texas.
"Back in those times it was different for African-Americans," Mack Champ told NBC's Tim Rosaforte after his grandson received the oversized check for winning in Mississippi. "In America we were called Negros. There was no place for us to play. You weren't allowed."
Cameron Champ was an All-American at Texas A&M in College Station. Sixty years ago, there were restaurants in College Station where his grandfather, a Vietnam veteran, wasn't allowed in through the front door.
If Mack Champ's grandson can keep from driving the golf ball into a 10,000-foot crevasse at the foot of a glacier on Sunday, he'll probably have a chance to win again.
If this keeps up, 23-year-old Cameron Champ, just one year removed from the Web.com Tour and playing pro golf in Mexico at a high rate of club head speed, will no longer be a long shot to achieve stardom on the PGA Tour, unless you mean it in the literal sense.
Contact Ron Kantowski at rkantowski@reviewjournal.com or 702-383-0352. Follow @ronkantowski on Twitter.