Capitals veto Knights again despite Sen. Dean Heller's presence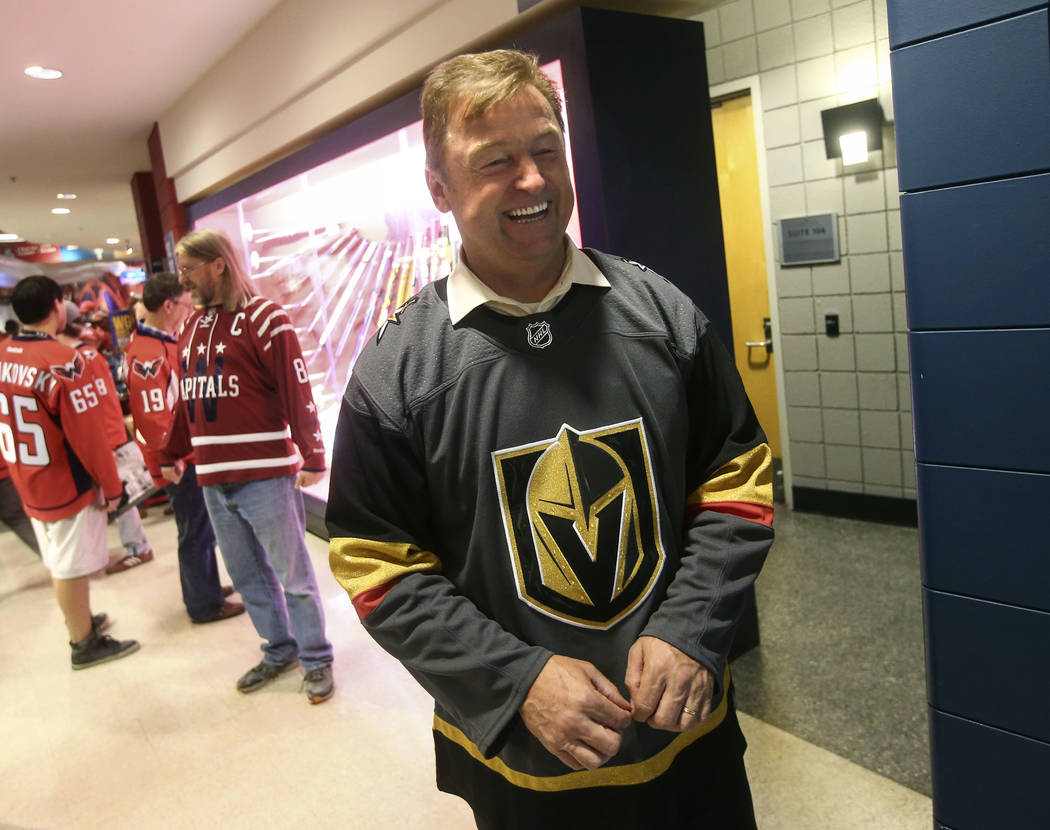 WASHINGTON — Trailing 2-1 in the battle for Lord Stanley's Cup, the Golden Knights tried to put political pressure on the Washington Capitals before Game 4 of their best-of-seven series at Capital One Arena on Monday night.
"I wore my (Knights) jersey on the (Senate) floor today," said Sen. Dean Heller, R-Nev., on the concourse behind the luxury boxes before the puck was dropped. "I had a jacket over it, and I looked up at the press (gallery) and they could see I was wearing my jersey — which is probably not the proper decor for the United States Senate."
Colleague John Hoeven, representing the great hockey-playing state of North Dakota, immediately skated into his crease.
"I said, 'What — you have a problem with my sweater vest?'"
Heller, who also wore his Knights jersey to the game, spent 10 minutes chatting with Las Vegas hockey reporters as a red storm of hockey fans began to brew. Capitals fans gave him a hard time. Most were good-natured about it. One accused him of being a flip-flopper.
But on this night, nothing short of a filibuster at center ice would have saved the Knights from falling behind 3-1 in the series. A three-goal first-period Washington blitz vetoed any chance Vegas might have had of climbing back into it.
Landslide brewing?
The Capitals were declared the winner almost before the polls even closed. Washington's 6-2 victory was its third in a row since it lost Game 1 in Las Vegas. It was only a week ago when the Knights outscored the Caps 6-4 at T-Mobile Arena. It now seems as if it happened during the Truman administration.
When the series returns to Las Vegas on Thursday night, the Knights will be playing to stave off elimination.
What many had predicted would be a long and intriguing series is starting to look like a landslide reminiscent of the 1984 presidential election in which Ronald Reagan carried 49 states and Walter Mondale carried one, along with — you guessed it — the District of Columbia.
Perhaps the former vice president known as Fritz can share some strategy with Knights coach Gerard Gallant for how to deal with D.C.'s surging hockey team.
Hockey, like politics, is no place for the timid, said Nevada's senior senator, who was elected in 2012 after being appointed by Gov. Brian Sandoval.
Blood sport redux
When the other side is finding the back of the net on one of every three or four shots, which is what the Capitals did over the first two periods against no less a goalie than Marc-Andre Fleury, not even the House Committee on Ways and Means — on which Dean Heller once served — could have forced a shift in policy.
Heller said he sees one major similarity between ice hockey and politics.
"Well, it's a blood sport. It's very physical, needless to say," he said, adding that while he has never been on skates, sons Drew and Harris were recreational hockey players, and hockey is his wife Lynne's favorite sport. "When I was growing up it was just football, basketball and baseball."
He mentioned the buzz on the concourse, and said it was hard to believe that those guys down on the ice wearing the white sweaters with the big "V" on front were representing his constituency.
"This is thrilling," said the 58-year-old lawmaker.
Banner season
When it was announced Las Vegas was getting a NHL expansion team, Dean Heller hung a Knights banner in his office on Capitol Hill.
"I thought it would take five years for somebody to recognize what that banner was," he said. "And now here we are in the finals, and this is the No.1 selling jersey in the league."
While the Capitals have not won the Stanley Cup in their 43-year history, Heller joked the Knights are a long-suffering franchise in their own right.
"It took us 350 days to get to these finals," he said. "I've never seen anything like this in Las Vegas since the early '90s when the Runnin' Rebels won the NCAA championship.
"We've had a 25-year (drought) when it comes to sports in Las Vegas, and the Knights have changed everything. So if I were the Oakland Raiders, I would be thrilled with seeing this today, knowing what kind of fan base we have in the state of Nevada."
But after six different Capitals scored goals Monday, and only two different Knights countered, it's starting to look like Ronald Reagan vs. Fritz Mondale all aver again.
Not all precincts have been counted, but most of the chads seem to be hanging in the Capitals' favor right now.
More Golden Knights: Follow all of our Golden Knights coverage online at reviewjournal.com/GoldenKnights and @HockeyinVegas on Twitter.
Contact Ron Kantowski at rkantowski@reviewjournal.com or 702-383-0352. Follow@ronkantowski on Twitter.