Charley Hoffman to donate Shriners Open earnings to shooting victims
October 30, 2017 - 5:05 pm
Updated October 30, 2017 - 6:51 pm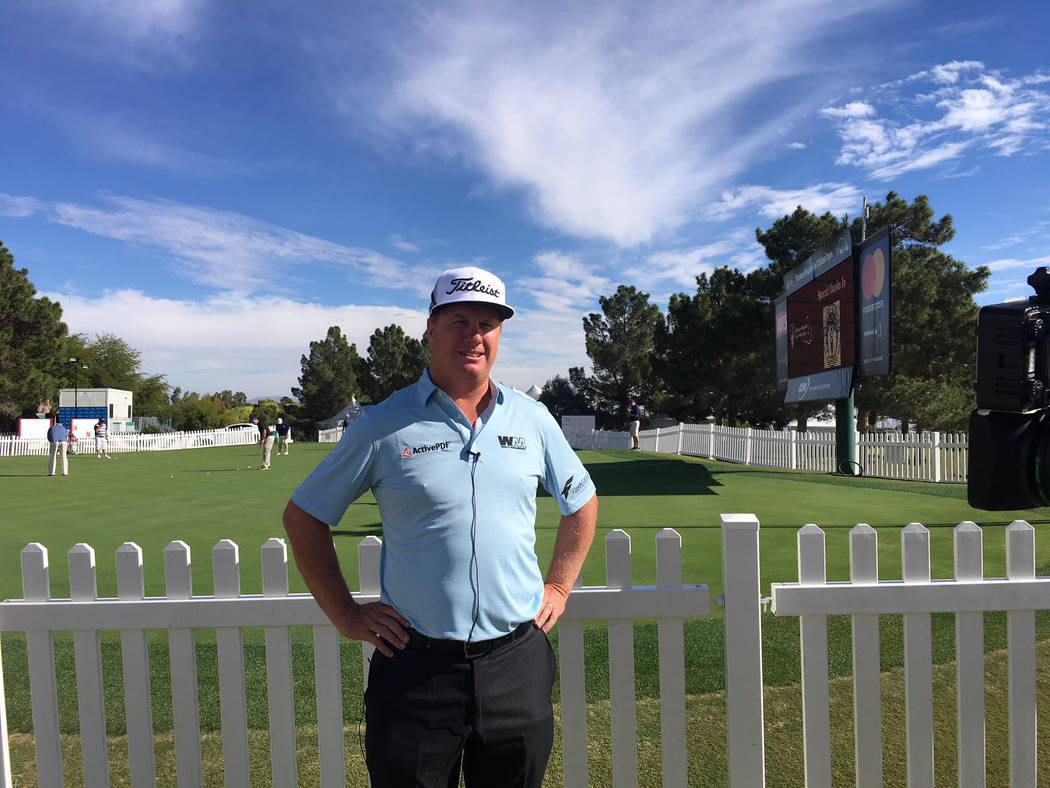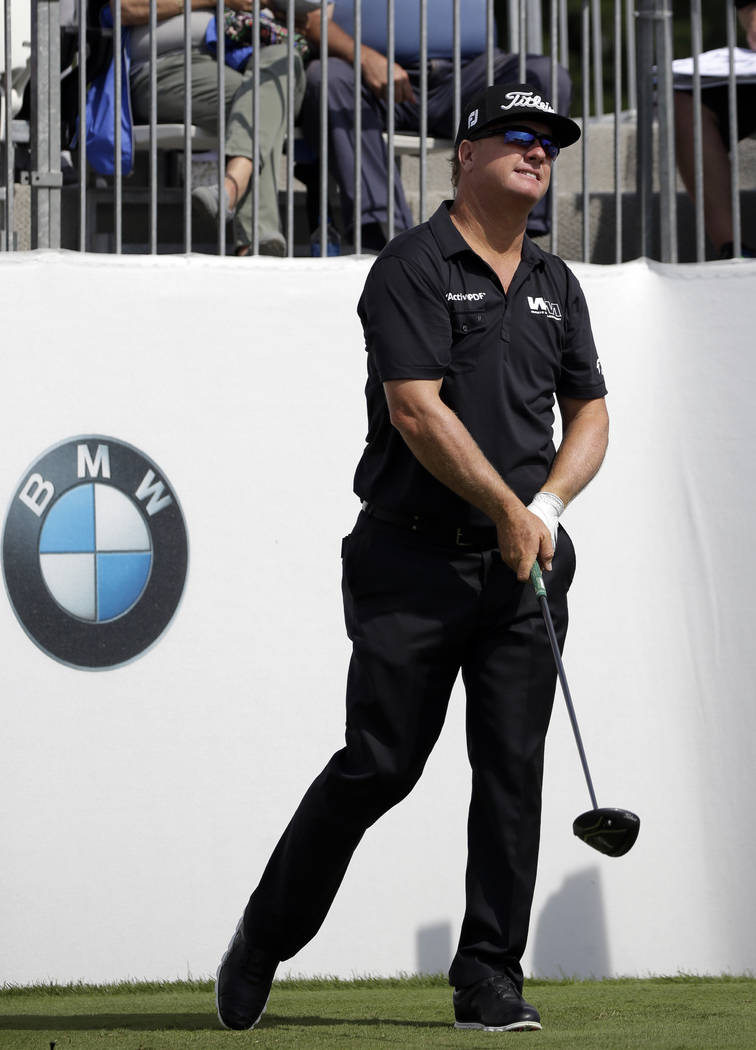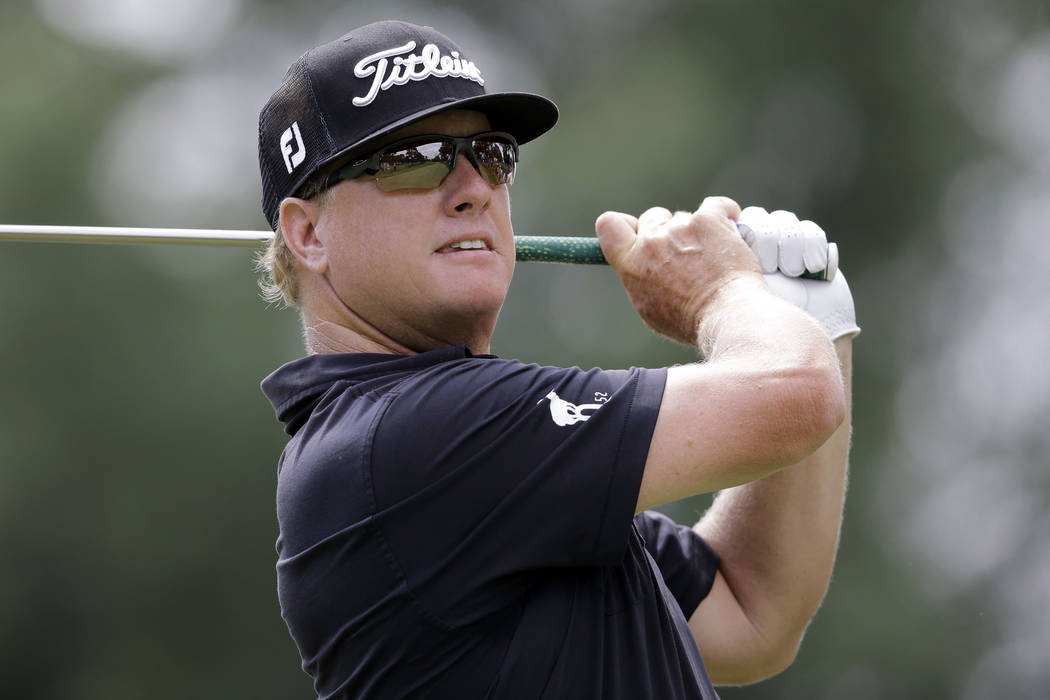 It was another languid Monday at the Shriners Hospitals for Children Open at TPC Summerlin, and another Charley Hoffman Foundation Pro-Am. In a normal year, the outing provides a chance to ask the former UNLV star how he has been getting up and down on the PGA Tour.
Some also might have wanted to inquire about club selection when Hoffman hit his golf ball into the water at Augusta National while leading this year's Masters with 20 holes to play. What he was thinking when he lined up the shot.
But this stopped being a normal year a little past 10 p.m. Oct. 1.
So on this Monday morning it was about Charley Hoffman saying he would donate his earnings at this week's tournament to #VegasStrong. He said even if he missed the cut, he and wife Stacy would write a check for $20,000.
But first he let an amateur named Aaron DeView play through in the media center.
DeView was one of three heroes of the Route 91 Harvest festival shootings Hoffman honored by paying their way into the Pro-Am. Good-time Charley, a four-time winner on tour who finished eighth in this year's U.S. Open and ninth at the Masters, quietly entered the media lunchroom and pulled up a chair to listen to DeView recount his harrowing experience as deadly shots rang out.
'She wasn't alive'
"In a matter of seconds, people were falling everywhere," said the physically fit 49-year-old Golden Nugget bartender who was wearing a blue golf shirt, white golf slacks and an orange ribbon where the logo of the golf equipment company normally goes. "We kept hearing gunshots. We ducked for cover. Where we ducked for cover was on the same side where the shooting was.
"Bodies were everywhere."
DeView and his friends loaded shooting victims into the back of his Toyota Tacoma pickup.
"One (was) delivered to us, an absolutely beautiful young girl, who seemed normal. But she wasn't alive."
The barkeep shook his head as a lump formed in his throat and he tried to find the words.
"No matter what direction you went, no matter what decision you made, no matter how hard you tried … you knew you were going to fall short."
The next morning, Aaron DeView said he found an earring and a bullet in his truck.
He pulled a silver cross from inside his golf shirt and put it on the outside.
Celebration pre-empted
When the shooting started in his adopted hometown, Charley Hoffman was still celebrating the U.S. team's victory in the Presidents Cup, where he and Phil Mickelson had taken selfies with former presidents Clinton, Bush (George W.) and Obama during opening ceremonies at Liberty National in New Jersey.
Cryptic messages about a tragedy back home began to light up his cellphone.
"It hit hard. This is the community were I've lived for 20 years, went to college, a place that's near my heart," Hoffman said.
He received a call from Adam Sperling from the Shriners Hospitals Open, the former tournament director, saying that while the idea of the tournament is to raise money for Shriners Hospitals, would Hoffman be interested in making a gesture on behalf of the shooting victims?
Hoffman texted Sperling saying he would donate his winnings. He promised he would make the cut this year. But in case he doesn't, he set the guaranteed money at $20,000.
"Hopefully I can break out of the little funk I've had here in Las Vegas and help a great cause," he said.
"I've listened to Aaron talk and … speechless. He's so grateful for what I think is such a little thing, (playing in) the pro-am, which we do on the PGA Tour on a weekly basis. You take for granted how we can affect people in the communities where the tournaments are at."
That was what Monday was about. Enjoying a round of communal golf in the sunshine. Not taking it for granted.
But in case you are wondering, Charley Hoffman said he hit a 7-iron into the drink at Augusta National when he was leading the Masters. He was aiming for the middle of the green, he said. He just pulled it.
Seemed important then.
Seems like just another golf shot now.
Contact Ron Kantowski at rkantowski@reviewjournal.com or 702-383-0352. Follow @ronkantowski on Twitter.
Charley Hoffman Foundation
Founded by former UNLV golf star and current PGA Tour professional Charley Hoffman and his wife, Stacy, in 2009, the Charley Hoffman Foundation raises awareness and financial support for a variety of children's charities. For more information, go to www.charleyhoffman.com.