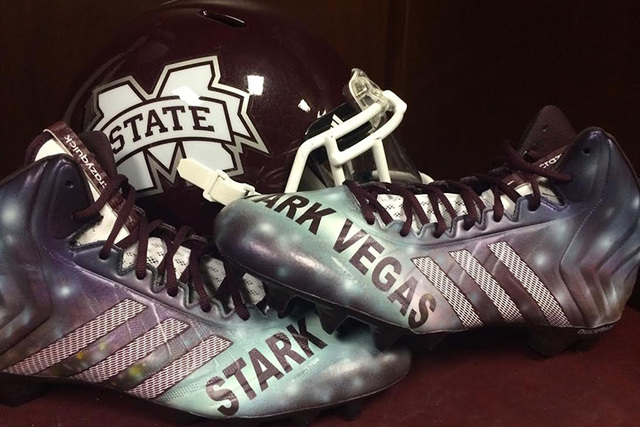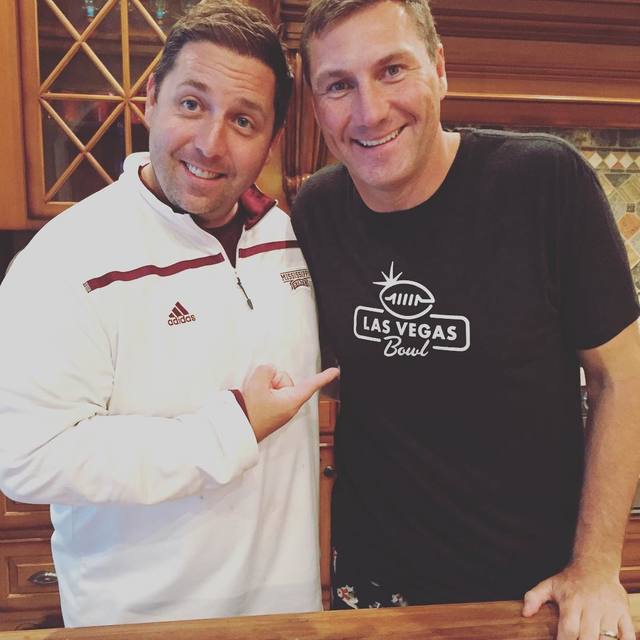 It was a little before noon Friday, and Las Vegas Bowl director John Saccenti was heading toward the Wyoming border in a rental car.
Wyoming and San Diego State would be playing for the Mountain West championship on Saturday. It was snowing. Saccenti said Craig Thompson was in the car ahead, and that he more or less was blindly following the Mountain West Conference commissioner.
I mentioned there are certain athletic directors who could say the same thing.
(I kid the commissioner.)
The point is that a lot of people think being a bowl game director is mostly about putting on a brightly colored blazer and peeling jumbo shrimp in a luxury suite. For directors of the smaller scale bowl games, sometimes it's not that glamorous.
John Saccenti was heading for Wyoming with no idea of what teams were going to be announced as Las Vegas Bowl participants on Sunday — or if there would even be an announcement. Navy was still in the mix for a New Year's Day game, and Navy still had two games to play, and one (against Army) wasn't until next week. Navy's situation impacted other situations.
Some of the smaller scale bowls have to get their programs to the printer before the Army-Navy game. This was not the ideal situation.
"I don't want to be un-American," an anonymous bowl official told ESPN, "but nearly everyone in the bowl industry, quite frankly, is rooting against Navy."
A system in which everybody is rooting against Navy is not the ideal system.
(I will never again criticize the NASCAR Chase.)
Navy complied by losing big to Temple on Saturday. The bowl industry was ecstatic, but tried not to show it.
Last year at this time, Saccenti had Brigham Young and Utah lined up in the crosshairs. That was the ideal situation. It was another Holy War matchup, only in Las Vegas, and Sam Boyd Stadium was packed, and the scalpers out on Russell Road did brisk business. They charged late-arriving spectators $20 to jump the curb and park their SUVs by the soccer fields.
Everybody was happy.
Not so much this year.
It's looking more or more as if one of the Las Vegas Bowl teams will be 5-7 Mississippi State, or Appalachian State from the Sun Belt, because after the big bowls make thier picks, there won't be enough Pac-12 teams from which to choose. The sixth pick from the Pac-12 is what the Las Vegas Bowl is stuck with, at least until a new stadium gets built.
There were reports late Saturday of some trading among the bowls that could lead to 9-3 Houston winding up in the Las Vegas Bowl. The Cougars would be a far more attractive opponent for a top MWC team than a Mississippi State side with a losing record.
A photo of Saccenti and Bulldogs coach Dan Mullen is making the rounds on the message boards down there, as if Saccenti had been in Starkville on a scouting mission. Didn't happen, but at least MSU fans seemed fired up about the possibility.
Anyway, the official Las Vegas Bowl announcement is expected to come Sunday.
John Saccenti said by the time he crossed into Colorado in the rental car Saturday night, he hoped to have a good idea of who the Las Vegas Bowl teams would be.
He also hoped it would not be snowing.
BRING ON EASTERN ILLINOIS
Pat Forde, Yahoo Sport's college football and basketball writer, has anointed Eastern Illinois as "Transitive Property Powerhouse of the Year."
Thanks to an assist from UNLV, Forde said one could make a case for the Panthers winning the Big 12 this season, were they eligible. Here's the logic, before Sagarin Ratings are applied:
— Oklahoma lost to Houston by 10.
— Houston lost to Navy by six.
— Navy lost to Air Force by 14.
— Air Force lost to Hawaii by seven.
— Hawaii lost to UNLV by three.
— UNLV lost to Central Michigan by 23.
— Central Michigan lost to Miami of Ohio by 20.
— Miami of Ohio lost to Eastern Illinois by four.
Oklahoma and Oklahoma State met for the Big 12 title Saturday. Wrote Pat Forde: "Clearly, neither wants any part of Eastern Illinois."
CARTER CUT LOOSE
Chris Carter, a former Sierra Vista High School baseball star, clubbed 41 home runs to co-lead the National League in 2016. He played in a career-high 160 games. From everything I have read, he's also a good guy in the clubhouse — the Cubs' announcers even said that on TV, right before Carter smacked a monstrosity of a grand slam off the Wrigley Field video board in left field, way up in Kris Bryant's domain.
But Carter has been cut by the Milwaukee Brewers. He is now a free agent.
The Milwaukee papers called it an "unprecedented move."
The next day, so did the Milwaukee bloggers.
Apparently the Brewers did not want to pay Carter around $10 million or whatever the arbiter would have decided he was worth during a hearing, probably because Carter does not hit for a high average and strikes out a lot.
You would think Milwaukee could find a spot in the lineup for a guy who hit 41 home runs to lead the league, and played in 160 games, and was a good guy in the clubhouse. Whatever the cost. Or that the Brewers could at least find a team willing to trade for a guy like that.
Conclusion: Chicks may dig the long ball, but it would behoove one to improve one's WAR and OPS, if one is seeking a new multiyear contract.
TAKING A KNEE
■ Former Bishop Gorman football star Nicco Fertitta received some notice during Notre Dame's game against Southern California, but it was for dubious reasons. Fertitta, a defensive back for the Fighting Irish (and son of UFC baron Lorenzo Fertitta), was ejected for targeting a USC running back. The replay showed it was probably a legal hit, although tackling with one's Golden Dome is never a good idea.
■ The more and more I watch New Mexico play football, the more and more I think somebody on a certain search committee should have talked to Bob Davie, or at least shot him a text.
■ UNLV's student newspaper has been renamed the Scarlet and Gray Free Press. A wiseguy said that also was what Mountain West opponents called the Rebels' defense when Dave Rice was basketball coach.
Contact Ron Kantowski at rkantowski@reviewjournal.com or 702-383-0352. Follow @ronkantowski on Twitter.