Counselor inspires Desert Pines graduate Poutasi
October 4, 2012 - 1:01 am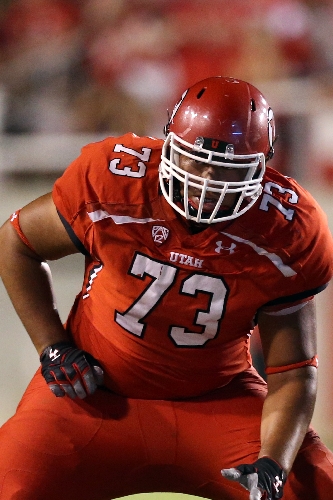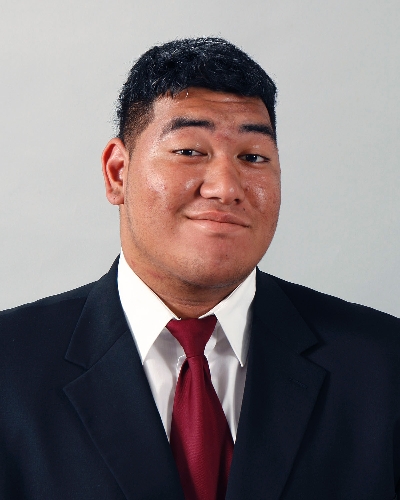 He was speaking from an office 425 miles away, but you could hear the anxiety in Jeremiah Poutasi's voice.
Poutasi is the starting right offensive tackle at Utah. Tonight, against mighty Southern California on national TV, he will be matched against a guy named Morgan Breslin. Breslin is the left defensive end for USC, which was ranked No. 1 at the start of the season. Breslin already has 9½ tackles for loss and 5½ sacks.
Breslin is a transfer from Diablo Valley (Calif.) Junior College. He stands 6 feet 2 inches tall, weighs 250 pounds. He looks mean in his photo. He can grow facial hair if he chooses. He does not speak to the media. Lane Kiffin, the USC coach, says the only words he has ever heard Breslin speak are "Fight On." Those are the first two words of the USC fight song.
Poutasi is a true freshman from Desert Pines High School. True, he stands 6-5, weighs 322 pounds. More or less. But some of that is baby fat. Last year at this time, Poutasi was getting ready to block the defensive ends from Valley High School. Not the same as blocking Morgan Breslin. That is why you could hear the anxiety in his voice.
This was Friday, a full six days before the Trojans would get off the bus at Rice-Eccles Stadium looking mean, because the last time they got off a bus, at Stanford on Sept. 15, they did not look so mean, and they lost, 21-14. So now, instead of No. 1, they are No. 13.
But then Poutasi said that Coach Abid was going to be there, that Coach Abid was always there for him. And then he forgot about trying to block Morgan Breslin, No. 91 on the Trojans. At least for a little while.
Poutasi told me the story about what Coach Abid – Sean Abid, his guidance counselor at Desert Pines, who is a volleyball coach, not a football coach – has meant to him.
Two days earlier, Abid told me the story about what Jeremiah Poutasi's progress in the classroom and on the football field – but mostly in the classroom – has meant to him.
The stories were identical.
When Poutasi transferred from Eldorado to Desert Pines, his grade-point average was slightly better than John Blutarsky's in "Animal House," which was 0.0. But only slightly.
It's not that Poutasi wasn't bright enough to do the work, it was that he chose mostly not to do it, because going to college was not in his future. Neither, for that matter, was football. Despite his size, he just wasn't interested in blocking defensive ends who look mean and can grow facial hair.
But Coach Abid, the volleyball coach, saw how Poutasi moved his feet on Friday night. For a big kid, he sure could dance.
Big kids who can dance like that are offered scholarships to places such as Washington and Arizona State and Oregon and Utah and to all of those other Pac-12 schools, with the exception of USC, which Poutasi was.
But first, his academic record had to be "completely rebuilt." And so it was rebuilt, and that got Abid sideways with his supervisors, the ones with the patches on the elbows of their jackets, because they thought the big kid who could dance on the football field should be taking specialized classes, instead of core classes like basic English and math that would keep him eligible to play football, keep him eligible for a college scholarship.
So now, Sean Abid is the lead guidance counselor and boys volleyball coach at Desert Oasis High School.
I find this remarkable. Not that academic types and those who look after athletic-types would clash, because this happens a lot. But that guidance counselors actually counsel kids these days.
(When I was in high school, guidance counselors mostly were successful coaches who had gotten old, and when they got old, they would get cranky. And then when you sought them out for guidance, they would take one look at all those C-minuses on your transcript – and the D-plus in algebra – and suggest you forget college and get a job pouring slag at the steel mill like your old man.)
Before Jeremiah Poutasi received a scholarship to play football at Utah, he wrote an essay for an English course called "The Person I'll Never Forget." That person was his guidance counselor, Sean Abid.
"The only reason I am in class today is because of him," he wrote. "Mr. Abid is constantly on my case, always telling me to get to class, and as a person, I am tired of him telling me to get to class, so I might as well save both of us the trouble and get my butt to class."
Maybe it wasn't Hemingway, but it came from the heart. And that is where Abid holds it, thanks to the English teacher who thought he should have Jeremiah's essay.
The big kid who can dance in pass protection went on to write that Coach Abid was always there for him, just like he will be there for him tonight, when he's trying to block Morgan Breslin, No. 91 on the Trojans, who already has 9½ tackles for loss and 5½ sacks and looks mean and doesn't speak to the media. Not even the Los Angeles Times.
Las Vegas Review-Journal sports columnist Ron Kantowski can be reached at rkantowski@reviewjournal.com or 702-383-0325. Follow him on Twitter: @ronkantowski.