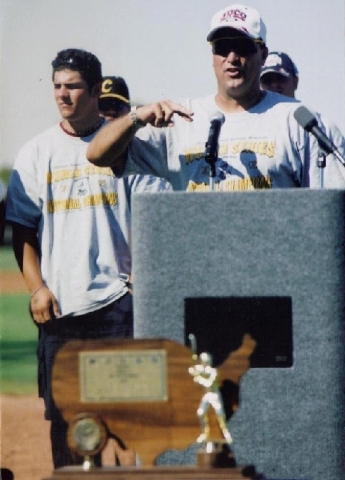 It was 10 years ago today that the Community College of Southern Nevada, as it then was known, defeated San Jacinto of Texas 4-1 to win the 2003 Junior College World Series.
The Coyotes won the title in their fourth intercollegiate season. For the sake of comparison, NASA was created in 1958, and men walked on the moon — not because it was easy, but because it was hard — in 1969. Eleven years. As President Kennedy said in that speech, it was a breathtaking pace.
Granted, the moon is farther away than Suplizio Field in Grand Junction, Colo. But when you are riding in the back of a bus, and it is hot outside, and the utility infielder sitting next to you has indigestion, Grand Junction, Colo., can seem a lot more distant than Tranquility Base.
It was four years earlier that I remember bumping into Tim Chambers, who looked like Pig-Pen from the "Peanuts" comic strip, in a bar on Boulder Highway. He was covered with dirt. He had been building what would become Morse Field on what is now the CSN campus in Henderson. This would be the baseball home of the Coyotes.
I remember him saying that if I wanted some dirt for planting tomatoes or something like that I should come by the field the next day. Just back up my truck along the first-base line. If there was a first-base line.
I don't remember Chambers saying his Coyotes, or whatever the JC team would be called, would win the national championship within four years. But knowing Chambers he probably did, because Chambers tends to think big.
Ten years after, Chambers' memory is better than mine. He remembers gathering the Coyotes around him after they dropped their first game in Grand Junction to Seminole CC of Florida, 7-6. He said there would be no more losses. He said the Coyotes would win the national championship.
"Everybody we play from now on goes home," he said.
Winning the championship. He told the Coyotes that was their destiny from day one. They had come too far. They had come 508 miles, in a hot bus.
The next day, the Coyotes beat Connors State of Oklahoma, 14-3. The day after that, they beat Indian Hills CC of Iowa, 12-6. The day after that, they beat Spartanburg Methodist of South Carolina, 10-0.
The Coyotes were rolling like a giant steamroller that goes amok in an old science fiction movie. They were Killdozer.
Next up was mighty San Jacinto. Mighty San Jacinto also fell. Fell hard. The Coyotes won, 14-1.
Two days later, the teams met again for the title.
Nobody beats mighty San Jacinto twice in three days. Isn't that what everybody said? San Jac was rated No. 1 all season. Eighteen of its members went on to play Division I ball. One, pitcher Jared Wells, made it to the San Diego Padres.
Conversely, Matt Minor, the Coyotes' wild-child closer from Florida, did not go on to pitch in the majors. He now grows medical marijuana.
The Coyotes were higher than a kite — not literally, with the possible exception of Matt Minor — to be playing for the title. And when Josh Bolingbroke, a light-hitting catcher from Pleasant Grove, Utah, hit a home run, the Coyotes were on their way.
Tyler Coon pitched a complete game, earning tournament Most Valuable Player laurels, and the Coyotes won, 4-1.
They had beaten San Jac again. They finished 55-10, becoming the fifth team in the 46-year history of the JUCO World Series to win it in their first appearance.
"We were never in the top 10. Our goal was to be national champs in five years," Chambers said. "We won it in our fourth.
"It's the greatest story ever."
Well, there was an old movie called "The Greatest Story Ever Told," which was about Jesus Christ, and it was nominated for five Academy Awards. But it didn't win any.
And neither Charlton Heston nor Max von Sydow went on to grow marijuana and get paid for it.
A couple of weeks ago, Chambers, who would become baseball coach at UNLV, offered me a Red Bull from the refrigerator in his office overlooking Wilson Stadium and retold the greatest story of his coaching career, at least so far. That is how I learned that Matt Minor, No. 13, the wild-child relief pitcher, now grows medical marijuana.
And that Calvin Beamon, No. 16, the right fielder, is coaching softball at South Carolina; and Coon, No. 50, is working in the family business at Anderson Dairy; and Sean Kazmar, No. 4, the shortstop, made it all the way to the Padres, too; and J.C. Sibley, No. 15, the center fielder, is a personal trainer; and Jino Gonzalez, No. 12, the Coyotes' top pitcher, signed with Tampa Bay before he hurt his arm.
I learned a little something about each of those Coyotes, 17 of whom were from Las Vegas.
And how Josh Bolingbroke, No. 18, who platooned at catcher with C.J. Ebarb, No. 8, never played another competitive baseball game because hitting a home run to stake his team to the lead in the national championship game was a baseball memory not to be tarnished by swings and misses and errant tosses into center field on stolen base attempts.
Chambers has kept track of almost all of those guys, his guys, special guys on a special team that 10 years ago this week lost a one-run game in Grand Junction, Colo., and then refused to lose again.
Las Vegas Review-Journal sports columnist Ron Kantowski can be reached at rkantowski@reviewjournal.com or 702-383-0352. Follow him on Twitter: @ronkantowski.