CSN's Joey Takashi O'Brien adjusts to life, baseball in America
January 18, 2018 - 12:21 pm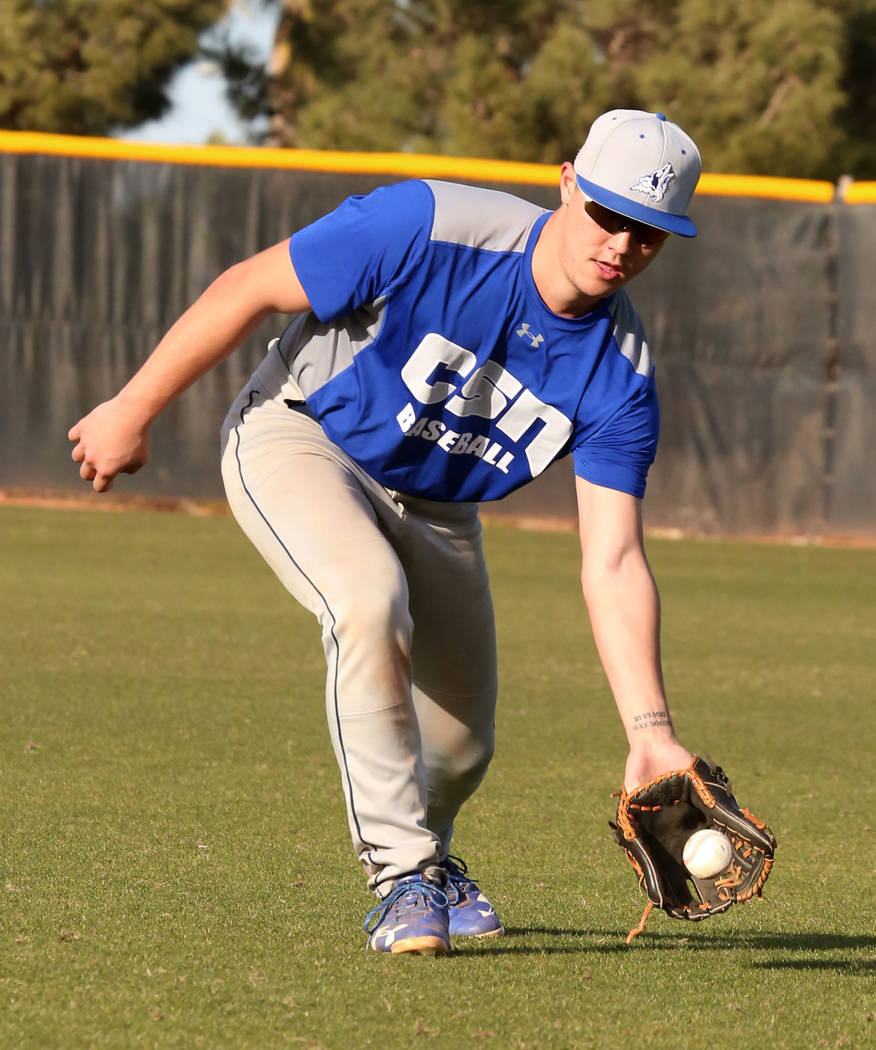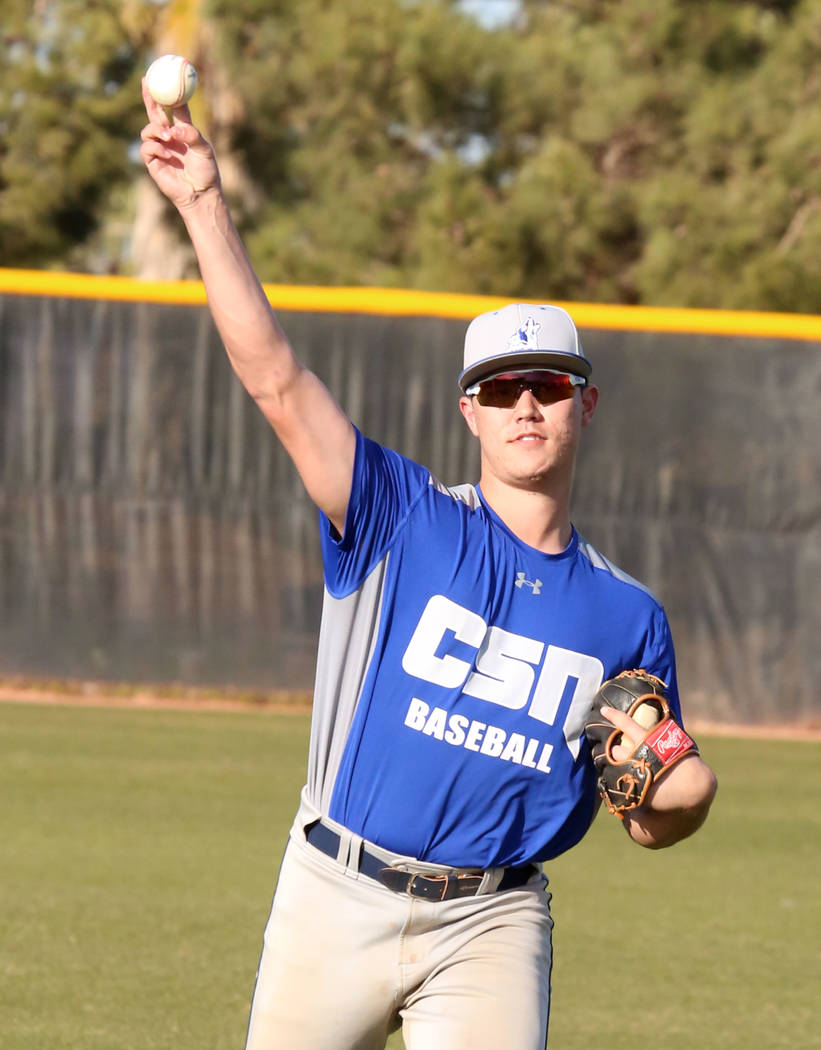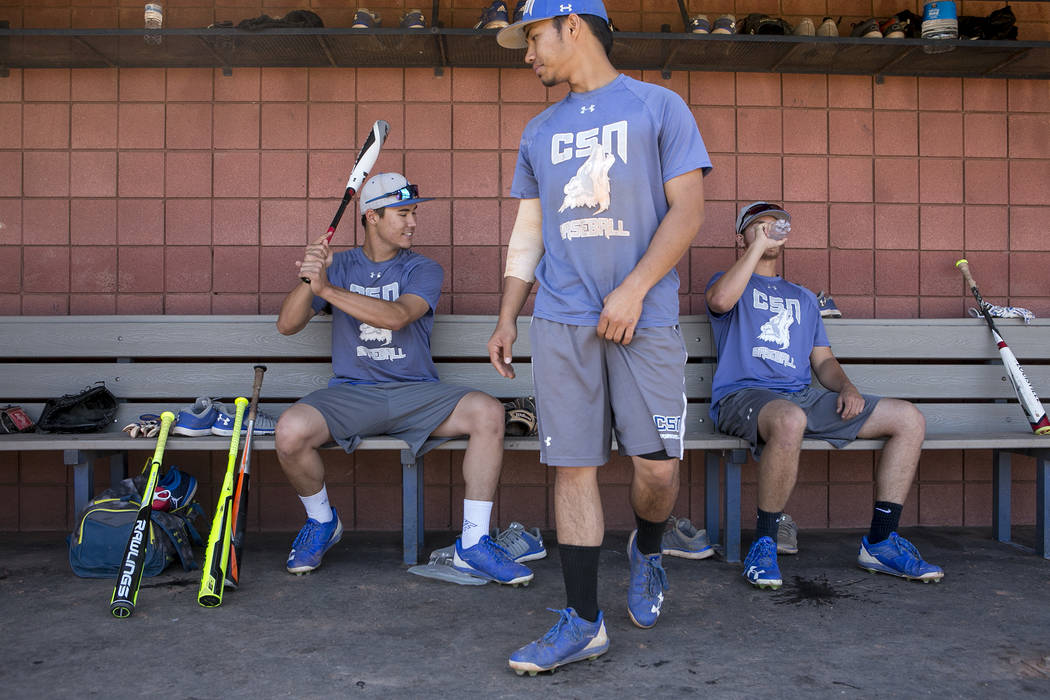 It's not exactly true that Nick Garritano scouted most of his College of Southern Nevada baseball players when they were playing Wiffle ball in their backyards.
But it could be true. Twenty-one of the Coyotes' 30 players are from Las Vegas, Henderson or Boulder City. Garritano passes many of their backyards on his way home from practice or to pick up a loaf of bread.
Joey O'Brien — Joey Takashi O'Brien of Okinawa Island, Japan — is another story.
It is 6,505 miles from the backyard where O'Brien and his father, John, a retired U.S. Marine, played Wiffle ball, or its Japanese equivalent, to Morse Field in Henderson. Joey's mother is Akemi; he has a brother, Richard Makoto Sunagawa O'Brien, who plays in the Fukuoka SoftBank Hawks' organization in Nippon Professional Baseball's Pacific League.
Joey graduated from Kitanakagusuku High School. If Harry Caray were still alive, he wouldn't be for much longer if he tried to pronounce the name of Joey Takashi O'Brien's high school backwards, as Harry was prone to do during lulls in the action.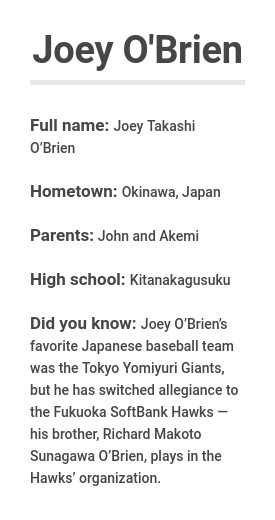 Garritano said if the Coyotes started defense of their JUCO World Series berth tomorrow — the season opener is Jan. 26 against Central Arizona in the Coyote Border Battle — the Japanese kid with the Irish surname would be starting in left field and batting fifth, and also would available as a bullpen closer.
Joey Takashi O'Brien is CSN's version of Shohei Ohtani, who was three years ahead of him in high school. Only instead of signing with the Angels, O'Brien has signed with the University of Hawaii, where he will continue his American baseball education, and American education in general, next year.
"The father of one of our former players (Jesse Keiser) knows his uncle, Gary, and we got some video on Joey, and we were intrigued with the throwing and the hitting and all that stuff," Garritano said of how he came to "recruit" a two-way Japanese ballplayer who stands 6-feet-2-inches and weighs 205 pounds. "So out of nowhere we get this good-sized, very good baseball player from Japan."
This will be O'Brien's second season with the Coyotes. Last year he got into 10 games as a pitcher (1-1, 2.84 ERA in 12.2 innings) and 29 games as a batter (.372, 16-for-43, 14 RBIs). He still was learning a new language then, still trying to get used to seeing Americans in civilian clothing, still trying to blend in with teammates and adjust to a different way of playing baseball.
He wasn't sure if he should still bow to umpires.
"Back in Japan, you have to treat an older person like they are king — yes sir, and this and that — even if they are only a year older," he said, his English now nearly as fluent as his fastball and hitting stroke. "When I got here I was really nervous. I didn't know if I could make friends. But everybody was treating me really good and I was very happy."
On the field, he loves being allowed to hit long fly balls. His bunting has suffered as a result, he says with a smile, alluding to baseball fundamentals as they are practiced (again and again and again) in Japan. On the mound, Coyotes pitching coach Bryan Gidge showed him how to grip a fastball with two seams instead of four, and O'Brien's pitches began to dance.
"I said 'this is weird, I got to fix that.' Coach said 'no, this is good.' In Japan, everybody throws only four seams. The ball is supposed to go straight."
O'Brien recently turned 20, and he was allowed to return to practice a day later than his teammates so he could attend Seijin no Hi — the Coming of Age Day holiday — back home.
"It's the biggest event of life if you're from Japan," he said, trying to explain the ceremony to a sports writer not well-versed in Japanese culture. What I sort of gathered: the 20-year-olds gather in a central meeting place in the village, and the women wear kimonos, and a well-respected elder — "the top guy in the village," Joey O'Brien said — is on hand to provide sage advice to those Coming of Age.
It sort of sounded like a meeting on the pitcher's mound in the bottom of the ninth with ducks on the pond and the tying run at home plate, if the pitching coach were wearing a kimono.
Contact Ron Kantowski at rkantowski@reviewjournal.com or 702-383-0352. Follow @ronkantowski on Twitter.