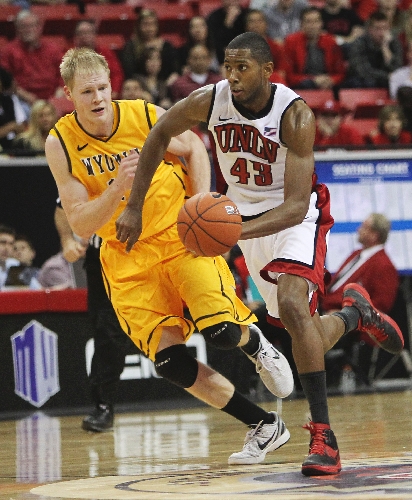 At 11:59 p.m. on May 31, The Mtn. went dark. This time it had nothing to do with a camera bouncing off the roof of a press box or somebody tripping over an electrical cord.
The Mountain West Conference's boutique TV network, once viewed as ahead of its time, is now viewed as dead. It was losing money hand over fist, and so the plug was pulled.
A black curtain of sorts has been drawn over all that remains of The Mtn.'s website.
"Thanks for a great six seasons," it reads. "The Mtn. ceased broadcasting effective June 1. The network was created to deliver unprecedented exposure to the Mountain West Conference, consisting of live games, news, studio shows and original programming to the fans of a conference that had previously been underserved.
"It did just that.
"The Mtn. delivered more than 38,000 hours of programming dedicated to the Mountain West since launch on Sept. 1, 2006, providing in-depth coverage of sports and student-athletes for Mountain West fans like never before."
Except for fans of San Diego State, about half of whom couldn't get it.
The Mtn. also provided basketball analyst Marty Fletcher with a part-time gig. Wink-a-dink-a-doo.
Then the testimonial, like The Mtn. itself, faded to black. Wink-a-dink-a-don't.
In a way it's kind of sad, firstly because 44 people lost their jobs, and secondly because what's the New Mexico football team going to do for exposure now?
As you might have guessed, there is no Plan B, for there is rarely a Plan B when it comes to the Mountain West.
Its other TV partners – CBS Sports and NBC Sports – will pick up some of the slack. But there will be no new TV deal for 2012-13. It's too late for that.
The idea now is to wait for June 30, the final day Boise State can reconsider its decision to join the Big East and return to the Mountain West without paying a hefty departure penalty. Same for San Diego State.
Neither the Broncos nor the Aztecs have indicated they will come running back to the MWC's open arms. But until the Big East's promised TV money comes through, there is always that hope.
With Boise State's talent and San Diego's TV sets and beaches, at least the Mountain West would have something to offer. Without them, there mostly will be UNLV vs. Northern Arizona, and transistor radios, and "Everybody Loves Raymond" reruns on the TV Land channel.
The Mountain West presidents met again in San Diego last weekend but, as usual, did not reach many conclusions. UNLV president Neal Smatresk was in China on official business, so Rebels athletic director Jim Livengood took his seat at the long table that is short on ideas when it comes to TV.
The strategy is to "hodgepodge" through 2012-13, then seek a new TV deal for 2013 and beyond. Let's hope Fresno State can turn it around.
Will there be more TV money available to the Mountain West in 2013 and beyond than there is now? Or was under the previous deal that was considered lacking in so many ways?
"I'm hoping the answer is yes," Livengood said.
He's also hoping that Boise State reconsiders. And that Fresno State can turn it around.
In addition to losing about 30 football games that nobody was interested in televising – and Colorado State vs. Wyoming volleyball matches – the loss of The Mtn. also will mean the loss of about $400,000 per conference member in TV revenue.
This might not be a bad thing.
UNLV suddenly has an outstanding basketball team to sell, and – now that it's not hamstrung by a TV partner that refuses to budge on its rights – might be able to offset the loss of The Mtn. money by approaching the highest bidder when fall turns to winter.
Beyond that, there are bake sales and car washes. Or, as Livengood refers to them, "additional fundraising."
But these TV deals are mostly about football, and whereas UNLV is basically the equal of New Mexico in the manly arts of blocking and tackling, Livengood expects all but the Rebels' game against Northern Arizona to be televised.
This is partly because as much as Rebels coach Bobby Hauck detests games against quality opponents – or at least opponents from quality conferences – UNLV will play two of those, Minnesota and Washington State, and those games have been pitched to the national networks. So has the mismatch against Boise State.
Hodgepodge for $100, Alex. For his next trick, Jim Livengood will sell ice water to a polar bear.
Las Vegas Review-Journal sports columnist Ron Kantowski can be reached at rkantowski@reviewjournal.com or 702-383-0352. Follow him on Twitter: @ronkantowski.