Div. III players overachieve under the rim
December 31, 2014 - 10:05 pm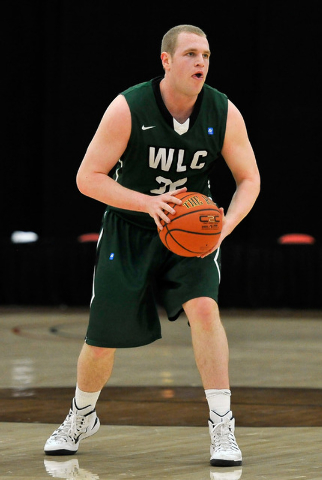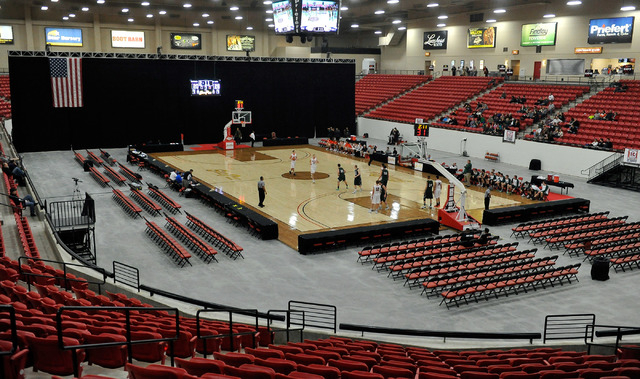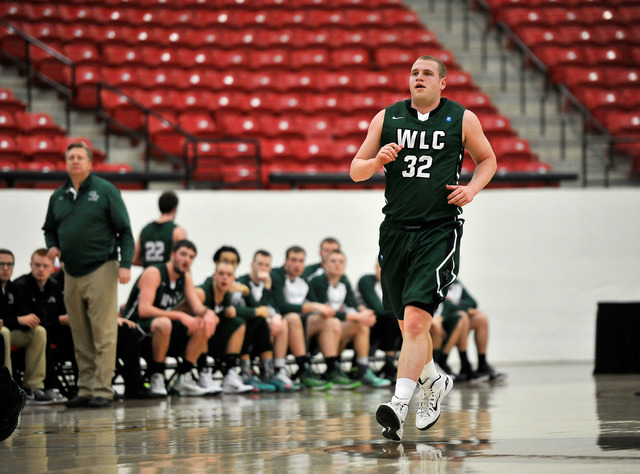 Martin Luther was a 16th-century German friar who wrote the Ninety-Five Theses about religious indulgences, or the selling of them, thereby sparking the Protestant Reformation.
Were the good friar still around today, he might have added a 96th indulgence to his list — Division III basketball at the South Point Arena on a gloomy winter afternoon that reminded one of a Simon and Garfunkel song. Only I think he would have permitted himself this one indulgence.
On one side, in white uniforms with black and orange trim, you had the Wartburg Knights from Waverly, Iowa. Wartburg is affiliated with the Evangelical Lutheran Church in America. On the other side, in dark green, stood the Wisconsin Lutheran Warriors representing the Wisconsin Evangelical Lutheran Synod, and also representing the beer-guzzling town of Milwaukee.
One of the starting forwards for Wisconsin Lutheran was No. 32, Brett Lubbe of Las Vegas. Lubbe played for — who else? — Faith Lutheran High — before he started playing for Wisconsin Lutheran four years ago. But he's not Lutheran, he's Catholic. His uncle, Tyler Schmitt, is the pitching coach for the WLC baseball team.
The coaches wore casual clothes. The Wisconsin Lutheran coach wore a dark green pullover with khakis. Had he worn a windbreaker and hung a whistle from his neck, he would have looked like Ken Howard, aka "The White Shadow" from the old TV series.
This was the sixth year of the D3Hoops.com Classic at South Point. Neutral-site, Division III basketball on a Hazy Shade of Winter Tuesday afternoon. This could only happen in Las Vegas.
From the stands, every player on the court appeared to stand 6 feet 2½ inches tall. Some were a little shorter. Some were a little taller. Most looked like brothers, or at least cousins.
Like most Division III games I have witnessed, this one was played entirely below the rim, except for one play late in the first half when No. 24 for Wisconsin Lutheran, a skinny kid named Kyle Stelse, showed leaping ability in scoring a basket on a fast break. He didn't dunk the ball, but it appeared he might have grazed the underside of the rim with his middle finger.
Kyle Stelse is from Jefferson, Wis. He played high school ball for — who else? — Lakeside Lutheran. The official roster lists him at 6-4. From where I was sitting, he looked more like 6-2½.
So, no, there were no dunks and there were no shoe contracts at the South Point on Tuesday afternoon. But the players ran the plays as designed. They blocked out for rebounds. And if you leave a D3 kid unguarded from beyond the 3-point stripe, he's gonna knock it down most of the time.
Plus, almost all of them get good grades.
They usually do not go on to play in the NBA. Not even the Flying Knueppel Brothers. The Knueppel bros played for Wisconsin Lutheran. A courtside observer from Milwaukee said there were three or four Flying Knueppels.
One, Klay, is the Wisconsin Lutheran women's coach. He's also the groundskeeper at the WLC athletic complex. You see that a lot in D3. The best of the Flying Knueppels was Kon, who, legend has it, once lit up Dwyane Wade's team for 26 points in one of those summer league AAU tournaments when Wade played for Marquette.
After Tuesday's game, which Wisconsin Lutheran won 68-54, I spoke with Skip Noon, the WLC coach who sort of resembles Ken Howard; and the local kid, Brett Lubbe, who sort of resembles a football player, which he was at Faith Lutheran. He was a tight end.
Lubbe has broad shoulders and could pass for a silo on one of those Wisconsin dairy farms. The official roster lists him at 6-4. He says he's 6-3. Standing next to him outside the big black curtain near the makeshift South Point dressing rooms, I put him at 6-2½.
If he were 4 inches taller, Lubbe could have played for Bob Knight at Indiana. His average is 8.5 — points and rebounds — but his forte appears to be setting rugged screens for teammates. Against Wartburg, he scored six points, pulled down eight rebounds, set about 32 rugged screens.
During one sequence in the second half, he set this one screen that sent him and two Wartburgers crashing to the court right in front of me. Lubbe got up, ran to the other end, got into offensive rebounding position, scored on a putback.
He doesn't fly high like the Kneuppel Brothers. He'll never score 26 points against Dwyane Wade in the summer league, won't play in the NBA, or even in Europe. But Brett Lubbe already has an accounting job lined up next fall at Deloitte &Touche on Howard Hughes Parkway.
He's a pleasant young man, extremely polite. I suspect he'll do just fine without the Turkish League.
Same for his coach.
Skip Noon's career coaching record at Wisconsin Lutheran is 282-312. During the late 1990s, he guided the Warriors to six conference titles in seven seasons, and in 2006 he took them to the NCAA Tournament for the first time. He's the winningest coach in WLU history.
He does not have a maintenance job on the side.
And whereas the team used to ride to games in vans, it now rides in a motor coach. I'm told the heater almost always works.
Las Vegas Review-Journal sports columnist Ron Kantowski can be reached at rkantowski@reviewjournal.com or 702-383-0352. Follow him on Twitter: @ronkantowski.