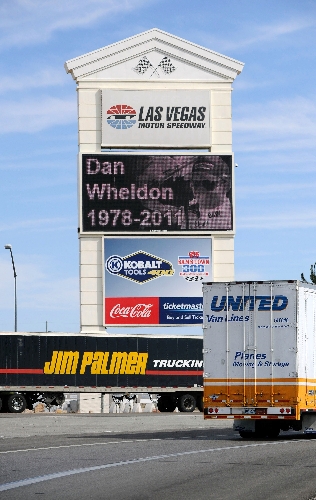 It was dark, after tears had dried.
Almost everybody had gone home after Dan Wheldon had died in a harrowing crash in Turn 2 at Las Vegas Motor Speedway one week ago when LVMS president Chris Powell was asked if the IndyCar Series would return to the 1.5-mile oval next year, as was announced earlier, before those two cars touched wheels at 220 mph heading into Turn 1.
Powell said it wasn't a decision that needed to be made that day or in the week or even weeks to follow, because that day and the week or weeks to follow should be for remembering Wheldon, the amiable Englishman and reigning Indianapolis 500 champion, his wife and his two small children.
There would be an investigation and a meeting with Randy Bernard, the IndyCar CEO, and a decision would be made and announced at the appropriate time.
I believe that decision already has been made. In both of their minds.
The IndyCars won't be back, because if they return, and there's another harrowing crash — be it next year, or the year after that or the year after they cover the catch fence in Nerf and put canopies over the cockpits and make the cars look like endurance racing sports prototypes, or worse, Hot Wheels — then Bernard would have another grim announcement to make. And then Powell and I would be speaking again in hushed tones, and the network TV people would be demanding answers and accountability all over again, even if none of this seems any of their damn business.
The risk isn't worth taking.
So though the statistics suggest IndyCar racing is no more dangerous than the NASCAR form — Wheldon was the eighth IndyCar driver to die in the past 20 years, the same as in NASCAR — that despite the horrifying nature of that crash, 14 of the 15 drivers walked away, with Wheldon apparently suffering no other injuries than the blow to the head that killed him; that despite IndyCar switching to new cars next year, with wider cockpits and bodywork around the rear wheels that ostensibly will prevent cars from being launched into the air as Wheldon's and three others were during that gruesome wreck; the IndyCars won't be back, at least not on the high-banked oval.
While the drivers voted not to finish last Sunday's race after learning of Wheldon's fate, those inside the closed doors tell me it wasn't unanimous. There was sentiment that Wheldon would have wanted them to race, that, as callous as it sounds, these terrible things occasionally happen in this visceral sport, and when the green flag falls, you have to be able to tuck them away into compartments.
But what if there had been another crash?
The heavy hearts of Wheldon's racing rivals notwithstanding, it's ultimately the reason the race was canceled and Dario Franchitti's test of the 2012 car at LVMS was canceled and why, even if Ashley Judd, Franchitti's movie star wife, can be a drama queen at times, that when she posts on Twitter "I appreciate @IndyCar canceling my husband's test at Las Vegas track," and "The new car needs development — but not now, and never again there," that even if none of this was LVMS's fault, one can empathize.
It's why I believe the IndyCars won't be back.
It's why I believe that decision already has been made, to be announced at the appropriate time.
THREE UP
■ A lot of people are predicting that Las Vegan Mike Maddux, under whose guidance the Texas Rangers had a league-leading 99 quality starts, will be the next pitching coach-turned-manager in major league baseball, his mustache and Boz Scaggs soul patch notwithstanding.
■ If Conference Mountain USA West dumped New Mexico and UNLV and Alabama-Birmingham and Tulane and Texas-El Paso and about six other schools and added Bishop Gorman, it probably would be closer to getting an automatic Bowl Championship Series bid. It also would make scheduling easier.
■ Kudos to Henderson City Councilwoman Debra March for suggesting a $1 billion sports complex proposed for a 485-parcel of land near the M Resort provide a place for people to lock up their bicycles; as I recall, it was the lack of a place for people to lock up their bicycles that doomed Ebbets Field, Shea Stadium and the Astrodome.
THREE DOWN
■ Here's a thought: If Bill Hambrecht were a baseball guy instead of a football guy, he could have bought the 51s three years ago and built a new Triple-A ballpark for the $74 million he has lost on the United Football League's Locomotives.
■ "We are excited about the prospect of having teams in five time zones …" It has been nine days since UNLV president Neal Smatresk said that about the Mountain West and Conference USA combining to form a 22-team football league. It doesn't sound any less crazy today.
■ This just in: Idle 21, UNLV 7.
Las Vegas Review-Journal sports columnist Ron Kantowski can be reached at rkantowski@reviewjournal.com or 702-383-0352. Follow him on Twitter: @ronkantowski.