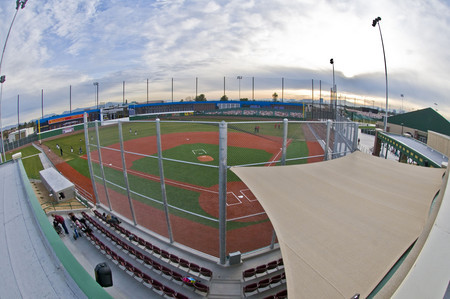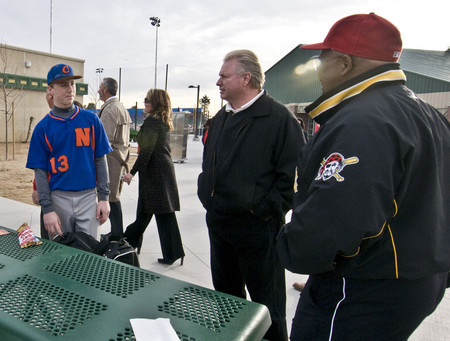 When the Bill Russell who played baseball was growing up in Pittsburg, Kan., the kids in his neighborhood would choose up sides at a place called Deramus Park. It was a literal sandlot. You know the type: All dirt infield, patchwork grass in the outfield, chain-link fence that bends and bows in places. Windy as hell, too, said the former Los Angeles Dodgers shortstop.
For Jeff Odekirk, it was a makeshift diamond in Glendale, Calif., called Scholl Canyon. The place was a dump. "It was an active landfill. If you hit a foul ball down one side of it, it would go down a slope where people in bulldozers were moving trash," said Odekirk, a former Dodgers bat boy who played junior college baseball in California. "The smell was terrible."
That smell was one of the reasons he knew Big League Dreams — a franchise of softball and youth baseball sports parks patterned upon classic major league ballparks of today, yesterday and, in one case, 1912 — would work. The one in Freedom Park on the east side of Las Vegas on Washington Avenue near Pecos Road was officially christened Monday afternoon.
Odekirk also knew Big League Dreams would succeed because every kid or grown-up who has missed the cut-off man or struck out looking with the bases loaded has fantasized about playing in a big league ballpark, and these reasonable facsimiles thereof are the closest that most will get.
The Las Vegas Big League Dreams is the 10th such facility opened by Odekirk and his partners, who include Russell and baseball's Giambi brothers. Built on 35 acres, it comprises softball-diamond-sized, FieldTurf-covered replicas of Yankee Stadium, Fenway Park, Angel Stadium, Dodger Stadium, Wrigley Field and old Crosley Field in Cincinnati — a curious choice, considering those who have played there said "classic" would not be in the starting lineup of adjectives one would normally use in describing old Crosley Field. Even if it was the first big league ballpark to add lights in 1935. And even if it did feature a quirky sloping terrace in front of the outfield walls.
At the top of the incline in left-center field sat a monolithic ancient scoreboard, the downsized version of which at Las Vegas' faux Crosley brought a wide smile to Russell's face. That scoreboard provided the backdrop for his first major league hit. In fact, it got in the way of it.
"Right against the scoreboard there," Russell said. "Line-drive double. '69. Off Jim Merritt. Left-hander."
Russell said Las Vegas' mini-Crosley is much better than the full-sized one, which reeked of stale beer, old peanut shells and Johnny Vander Meer's liniment. Especially when it rained.
In addition to the six ball fields, Big League Dreams includes two baseball-themed restaurants, an indoor soccer field, batting cages, playgrounds and areas for picnics and private parties. Everything, as they say in news releases and at NASA headquarters, is state of the art or cutting edge. The project is a partnership between Odekirk's people and the City of Las Vegas, with Big League Dreams maintaining the facility and the city sharing in the profits. The park cost $28.5 million to build.
By comparison, Albuquerque Sports Stadium was renovated into Isotopes Park, a state-of-the-art and cutting-edge Triple-A ballpark, for $25 million in 2003. This is a fact that probably makes Las Vegas 51s officials, who have been clamoring for a new ballpark since John Kruk was a size 34, cringe like Mitch Williams with Joe Carter swinging in the on-deck circle.
But if you play slowpitch softball or coach your 10-year-old son on one of those traveling youth all-star teams, trust me, you will love this place.
Imagine running up that incline in old Crosley Field, like Frank Robinson or Vada Pinson, to catch a long fly ball over your shoulder. Imagine swinging for Wrigley Field's ivy-covered walls or Yankee Stadium's short right-field porch.
Imagine warming up in the bullpen at Dodger Stadium, then making the long walk to the dugout — an actual dugout — like Koufax or Drysdale or Fernando Valenzuela. Or even Jonathan Broxton.
Odekirk said you would be amazed how many pitchers, catchers and middle infielders fancy themselves left fielders when their loser's bracket game is scheduled at Big League Dreams' adaptation of Fenway Park, its legendary Green Monster looming ever so large in the distance.
Or if your bad knee won't allow going from first to third on a single at a scaled-down Angel Stadium, imagine spectating in comfort in one of the facility's two restaurants and paying $4.75 for a Mark McGwire-sized cup of beer, $3.50 for the Ichiro Suzuki model.
OK, so I lied. Not everything about Big League Dreams is authentic.
Las Vegas Review-Journal columnist Ron Kantowski can be reached at rkantowski@reviewjournal.com or 702-383-0352.