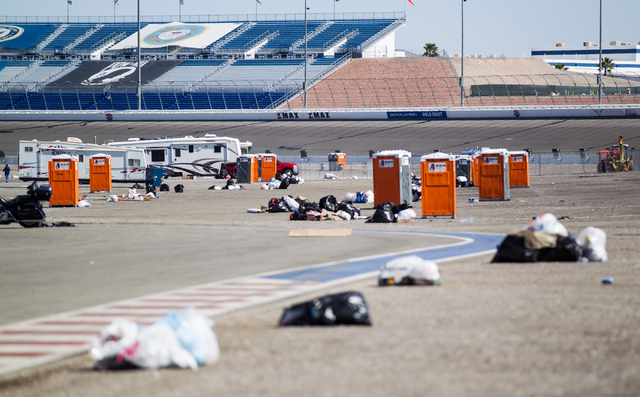 It was a little past 11 a.m. Monday, a day after the 18th Gearhead Christmas, aka the NASCAR Kobalt 400 at Las Vegas Motor Speedway. The colorful 725-horsepower traveling circus had packed up and was headed down the road to Arizona. Most of it, anyway.
Up in the corporate office, it can be assumed the accountant lamps were burning and the guys with the green eye shades were counting money.
The massive grandstands were eerily quiet. They were eerily clean, too, considering that fewer than 24 hours before around 90,000 supercharged race fans had been crushing beer cans in them, and yelling "EARNHARDT! WOO-HOO!" whenever Dale Jr. drove by.
Was the racetrack eerily quiet, too? For a while, it was. Then they fired the engines of the Richard Petty Driving Experience stockers, because too much quiet on the morning after NASCAR Weekend would not sit well with those still on the grounds.
I saw them wheel the orange and white Loctite car onto pit road. The big number on the door was 243.
I'm pretty sure local Brendan Gaughan, who finished in 38th place Sunday, nine laps off the pace of race winner Kevin Harvick, could beat the No. 243 Loctite car in a trophy dash.
In a lot of ways, it was a melancholy scene. Too bad there wasn't a Truck Series race or something to bring one down slowly.
I remember seeing this documentary about the space program, and as the Apollo 12 astronauts were rocketing back to Earth, lunar module pilot Alan Bean saying to flight commander Pete Conrad, "Is that all there is?"
That's sort of what traipsing about LVMS the day after the big race feels like, except there will be another big race next year, and you can't say the same about moonshots.
A few of the smaller race teams had yet to leave for Phoenix. Crew members had turned the Neon Garage into an actual working garage, swapping parts off cars that ran in Sunday's race onto cars that would run this weekend in Phoenix.
One of the bigger teams, the one that won here Sunday and spilled Gatorade in Victory Circle — you still could see blue and silver confetti remnants around the corner — was just finishing the swap on Kevin Harvick's No. 4.
The red and black and white Budweiser/Jimmy John's Chevy was still in its cubicle. There were car parts and cockpit driver restraints and a big cup of coffee on the roof. There were car parts and lubricant spray cans on the rear deck. And somebody's cellphone.
Harvick's car didn't look so fast with all that stuff sitting on it. By the time it gets to Phoenix, it'll be plenty fast.
Rick Hodges, who drives Harvick's hauler, said he'd be pulling out for Phoenix within the hour. He said he probably would have pulled out earlier but that the hotel rooms in Phoenix wouldn't be ready until late afternoon.
Was he looking forward to the drive? Yeah. It's what he does. Too bad they had to build that bypass bridge, though. Rick Hodges said he loved driving the big racecar hauler across Hoover Dam.
I walked out the back gate of Neon Garage toward the Nellis Straightaway. On Sunday, there had been hundreds of campers and motorhomes there. Now there were only a couple of dozen.
A couple of good ol' boys and good ol' girls from Montana had just finished breakfast. They were loading up their 2003 Fleetwood Southwind for the 16-hour ride back to Billings.
Tim Evenson works on Kenworth 18-wheelers back in Billings. His brother Mike drives them. They said the NASCAR trip cost around $4,500, and that when they got here Thursday, they had 450 cans of beer. Now all that was left was what was in that blue and white cooler over there.
I lifted the cooler's lid. There appeared to be about 15 beers on ice.
Tim Evenson took a long pull on a cold can of Busch Light.
"That oughta be enough to get us to Cedar City," he said.
Las Vegas Review-Journal sports columnist Ron Kantowski can be reached at rkantowski@reviewjournal.com or 702-383-0352. Follow him on Twitter: @ronkantowski.