ESPN poll: Harper is baseball's most overrated player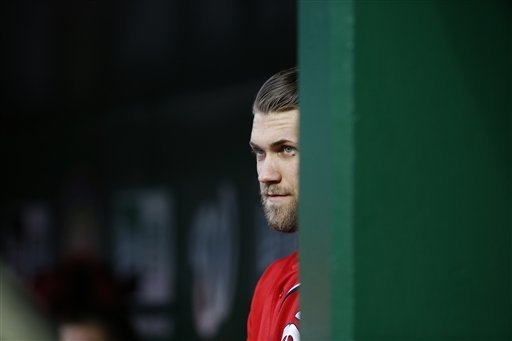 According to ESPN the Magazine's poll of 143 major league ballplayers, Las Vegas' Bryce Harper is the most overrated player in the game.
It should be noted this was an anonymous poll. So if any of the respondents were middle infielders, they need not worry about Harper coming in hard at second base on a steal attempt or when he's trying to stretch a single into a double.
Said one American League All-Star: "I like Bryce Harper. I think he's going to be really good. But the attention for him — and for (Yasiel) Puig, to a certain extent — is overkill. It's just been hype so far."
For what it's worth, 81 percent of the anonymous players believe the major leagues are ready for an openly gay player and 65 percent say they dislike the new rule barring home plate collisions.
Everybody pretty much said that A-Rod sucks. (But only 51 percent would kick him out of the players union.)
Getting back to Harper, it has been a rough opening week for the 21-year-old wunderkind, who is hitting .143 and was benched on Sunday.
"Pretty lost right now, actually" is how Harper explained it to CSN Washington's Mark Zuckerman.