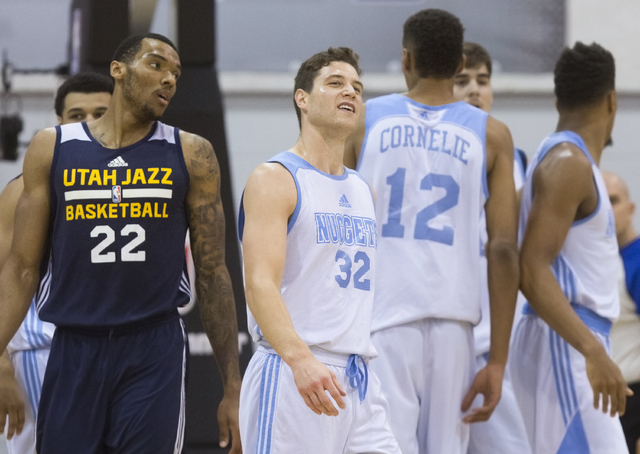 I got Jimmered again the other day.
When Jimmer Fredette was playing basketball for Brigham Young, his notoriety was such that his name became a verb. It basically started in 2011, after he scored 43 points against San Diego State in a nationally televised game.
The Aztecs had gotten Jimmered, it was reported.
When attention on the 6-foot-2-inch guard continued to snowball, a BYU student turned to the school newspaper and social media to say it wasn't right to worship false basketball gods, or whatever.
When his legions of fans railed against her, Michelle Peralta also got Jimmered.
It was a magical season — a couple of them, actually — that saw Jimmer Fredette repeatedly rise and fire between the circles, and penetrate the lane and score on scoop shoots, and score on shots taken off the wrong foot.
How'd he do that?
Jimmer scored 49 points against Arizona.
Jimmer scored 45 against Texas Christian.
Jimmer scored 37 against Florida, in the NCAA Tournament, hitting two 3s in double overtime to lift the Cougars into the second round for the first time in a long time.
Jimmer scored 47 against Utah.
Jimmer scored 52 against New Mexico in the Mountain West Tournament at the Thomas & Mack Center, including 33 in the first half. The Lobos got Jimmered big time.
You got Jimmered. I got Jimmered. Everybody got Jimmered.
When he filled out his bracket on national TV, President Obama said this about Jimmer Fredette: "Unbelievable. Best scorer obviously in the country. Great talent."
The Chief Executive got Jimmered, too.
$2 million to win
It wasn't like we were old buddies or anything, but Jimmer Fredette made it sound like we were during a phone conversation. That's just the way he was. And is. It would have been easy to loathe a guy like Jimmer Fredette, were he smug and arrogant and cocky. He is none of those things. Wasn't then, isn't now.
Because his NBA career didn't pan out — in the NBA, they also expect you to play defense sometimes, and that was never Jimmer Fredette's forte — he is coming back to Las Vegas to participate in the West Regional of The Basketball Tournament, which pays $2 million to the winning side, and $0 to the side that finishes second.
Jimmer insists he only will coach a team of former Mountain West Conference stalwarts — Charles Abouo and Brandon Davies of BYU, Josh Adams of Wyoming, Darington Hobson of New Mexico — and some brother TJ's basketball-playing pals from other schools on Saturday and Sunday at Desert Oasis High School.
"I'm not going to bring my (basketball) shoes," he said with a chuckle, "because if I get the itch, I'll probably wind up playing."
Fredette expects it will be a fun trip, which usually wasn't the case when the Cougars played the Rebels back in his day.
"Got some stories, always a great rivalry game between us," he said. "My first three years, we could never beat UNLV at the Thomas & Mack Center — that was the one thing I never did, and then when I was a senior, we won. That was a special memory, and I'll never forget the atmosphere."
Shanghei Express
Jimmer Fredette is 28 now, and here's a basketballreference.com version of what has happened to him since he and the Y got out of Las Vegas with a victory:
He got drafted by the Bucks, traded to the Kings, had his contract bought out by the Kings. He signed with the Bulls, signed with the Pelicans, got waived by the Pelicans. He signed with the Spurs, got waived by the Spurs, played for the Westchester Knicks in the D-League. He re-signed with the Pelicans, got re-waived by the Pelicans, was reacquired by Westchester. He signed with the Knicks, was released by the Knicks, got reacquired by Westchester.
After playing in last year's Vegas Summer League, he signed with Shanghei Sharks (Yao Ming's team) of the Chinese Basketball Association in August. He led the league with a 37.6 scoring average; he scored 73 points in a double OT loss to the Zheziang Guangsha Lions.
The Guangsha Lions got Jimmered.
He got married — to a cheerleader, of course — and in February, Jimmer's wife, Whitney, gave birth to a little girl, Weslie James Fredette, and Jimmer said she lights him up the way he lit up New Mexico for 52 that night in Las Vegas.
He also confirmed, in a self-effacing manner, that he recently sank a Steph Curry-like 92 of 100 3-point shots during an event in Provo to raise $18,400 for a favorite charity.
I hope he brings his basketball shoes this weekend.
Great Clips of the Week: Jimmer Fredette drains 92 3-pointers for charityhttps://t.co/HexVCMJuUO pic.twitter.com/G8Trxw7KcU

— KSL 5 TV (@KSL5TV) June 20, 2017
Contact Ron Kantowski at rkantowski@reviewjournal.com or 702-383-0352. Follow @ronkantowski on Twitter.
The Basketball Tournament
First-round matchups at The Basketball Tournament, West Regional at Desert Oasis High School. The winning team will advance to the ESPN-televised finals which pays $2 million to the winning team.
Saturday's games:
— 9 a.m.: Team 23 vs. Pedro's Posse (Luke Nevill)
— 10:45 a.m.: Armored Athlete (Will Sheehey, Cody Zeller) vs. Pearls 31s (Coach Dwayne Washington, son of Pearl Washington)
— 12:30 p.m.: Trained to Go (Damien Wilkins, Glen Rice Jr.) vs. Broad Street Brawlers (Philadelphia college stars)
— 2:15 p.m.: Team Colorado (Chauncey Billups) vs. Kimchi Express
— 4 p.m.: Team Utah (Utah alums) vs. Team Fredette (Coach Jimmer Fredette, Mountain West alums)
— 5:45 p.m.: Few Good Men (Dan Dickau, Gonzaga alumni) vs. Mostly Sports
— 7:30 p.m.: Challenge Als (Boston College alums) vs. Wasatch Front (Damian Lillard, Weber State alums)
— 9:15 p.m.: The Stickmen (coach Michael Rapaport, Lou Amundson) vs. AF Bomb Squad (Air Force alumni)