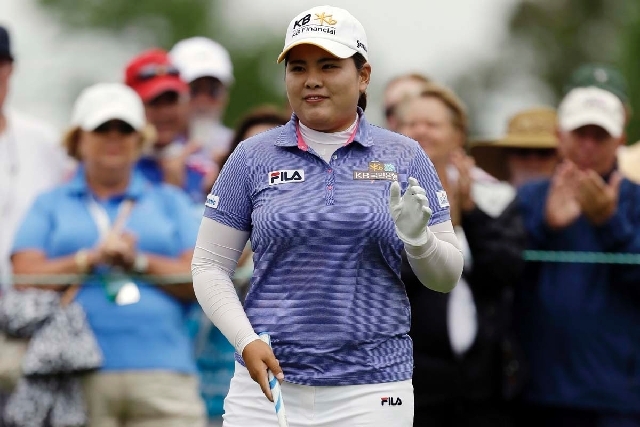 Every time Inbee Park hits 'em stiff all weekend and curls in another birdie putt and is handed yet another giant check and golden cup, another young woman who played golf at Bishop Gorman named Angelica Wright tells her friends and the co-workers who care that she beat Inbee Park.
Once. And only once.
"It was at Angel Park (at an intrasquad scrimmage), on the par-3 course," said Wright, who is working on her master's degree in the behavioral sciences at Santa Clara University in California and helps manage a mental health clinic there.
Now, the Cloud 9 course at Angel Park might be the polar opposite of St. Andrews in Scotland, or even the Grey Silo Golf Course in Waterloo, Ontario, site of next week's Manulife Financial LPGA Classic. But beating Inbee Park, even if it's only with short irons and a putter, is something to tell your friends about these days.
Last week, Inbee made it 3-for-3 in the 2013 LPGA majors with a four-stroke victory in the U.S. Women's Open. She is being compared to Mildred Didrikson Zaharias, whose nickname was "Babe," who married Alex Karras in the movies.
Babe Didrikson won the first three majors in 1950, when there were only three. Now there are five. Probably because of TV.
Most people don't remember Babe Didrikson and that made-for-TV movie. So most people have taken to comparing the roll Inbee Park is on to the roll Tiger Woods was on before his ex-wife tossed a sand wedge through his windshield. Tiger was the last guy to win three majors in one year on the PGA Tour in 2000.
Park, 24, already has won six tournaments this year, including the past three. Her $2,106,827 in earnings would put her 16th on the PGA Tour. This is why the people who knew her at Gorman are now telling anecdotes about having known her.
(I do not blame them, because sometimes I still tell people that when I was in college, I batted three times against Dan Schatzeder, and though Schatzeder went on to pitch 15 seasons in the majors, he did not strike me out. However, his record over those 15 seasons was just 69-68, so grounding out three times against Dan Schatzeder in college cannot be compared to beating Inbee Park in high school, even if it was only on the pitch and putt course.)
Kelsey McCall, who was Inbee and Angelica Wright's coach at Gorman (now he just teaches math), was getting ready to tee off at the Sea N Air Golf Course on Coronado Island in San Diego on Wednesday when we spoke.
He confirmed Angelica Wright's story about beating Inbee at Angel Park, and said he would never forget it, probably because Angelica threatened at last year's Gorman golf reunion to wrap her 7-iron around his neck if he did.
McCall told a story about Inbee four-putting on the 18th green against Xavier College Prep in Phoenix that cost Gorman a match. It was the only match the Gaels lost in four years.
"She just goes off and signs her scorecard like it never happened," McCall said. "It did not bother her that she four-putted, that we had lost the match. To her, there were bigger things in life.
"It doesn't surprise me that she has gone on to this success. You could tell she was special. She understood things that teenage girls and even teenage boys don't understand about sports.
"She had a calmness, to go with her talent, that you just don't see."
McCall kept coming back to that word — calmness — in describing Park, who played two years at Gorman after her family moved from South Korea to the United States before Inbee turned pro in 2006. McCall flew fighter jets in Vietnam and Desert Storm, so it's a trait with which he is familiar.
McCall and Wright said the media might mistake that calmness and stoicism on the golf course for aloofness, or at least a failure to comprehend English, which might explain why the media isn't hacking through the rough to tell Inbee's story.
Wright said just because her friend speaks sparingly with "thoughtful pauses" does not mean she doesn't understand English, or American culture. Because they have been to the malls, she said, and also to the Korean barbecue places on the Strip where the Gorman kids never had to pay for a meal, because they were with Inbee, and by then Inbee already was famous back home with the Seoul brothers and the Seoul sisters and the Gogigui chefs who marinate the tenderloin and the spicy pork.
"She totally was one of the girls," Angela Wright said.
The former teammates keep in touch on Facebook, and Kelsey McCall says he sees Inbee at the Kraft Nabisco Championship in California every spring, but that they didn't get to chat after this year's tournament. Because just as soon as she won the year's first major, Inbee Park jumped into Poppie's Pond outside the media tent.
Las Vegas Review-Journal sports columnist Ron Kantowski can be reached at rkantowski@reviewjournal.com or 702-383-0352. Follow him on Twitter: @ronkantowski.