Ex-rivals Kayla McBride, Moriah Jefferson turn up Aces in Las Vegas
February 12, 2018 - 12:55 pm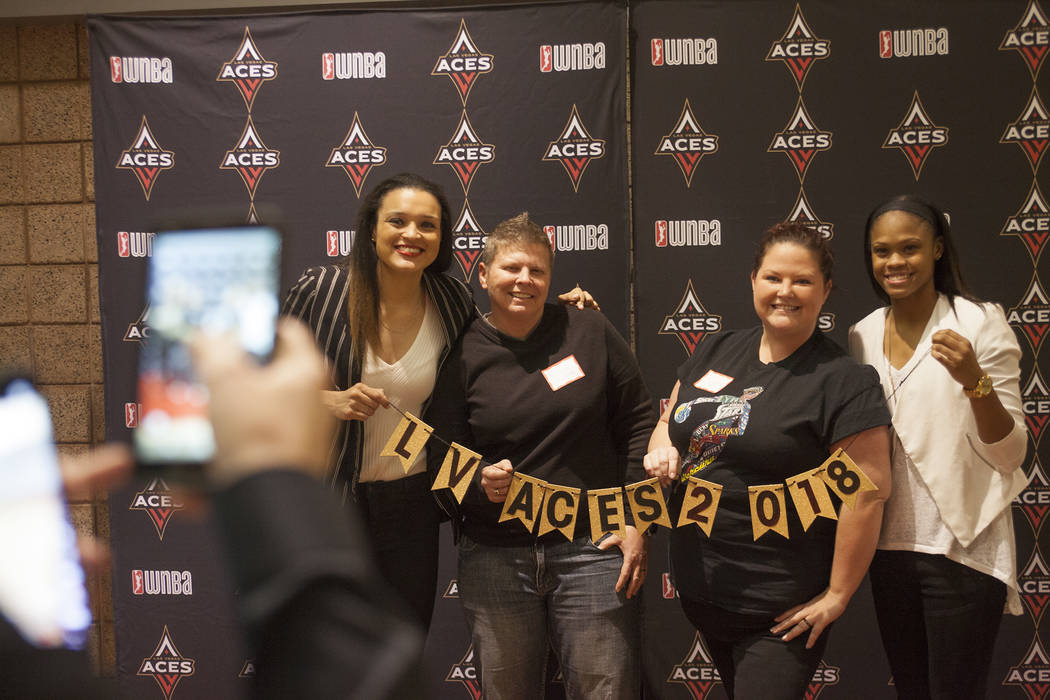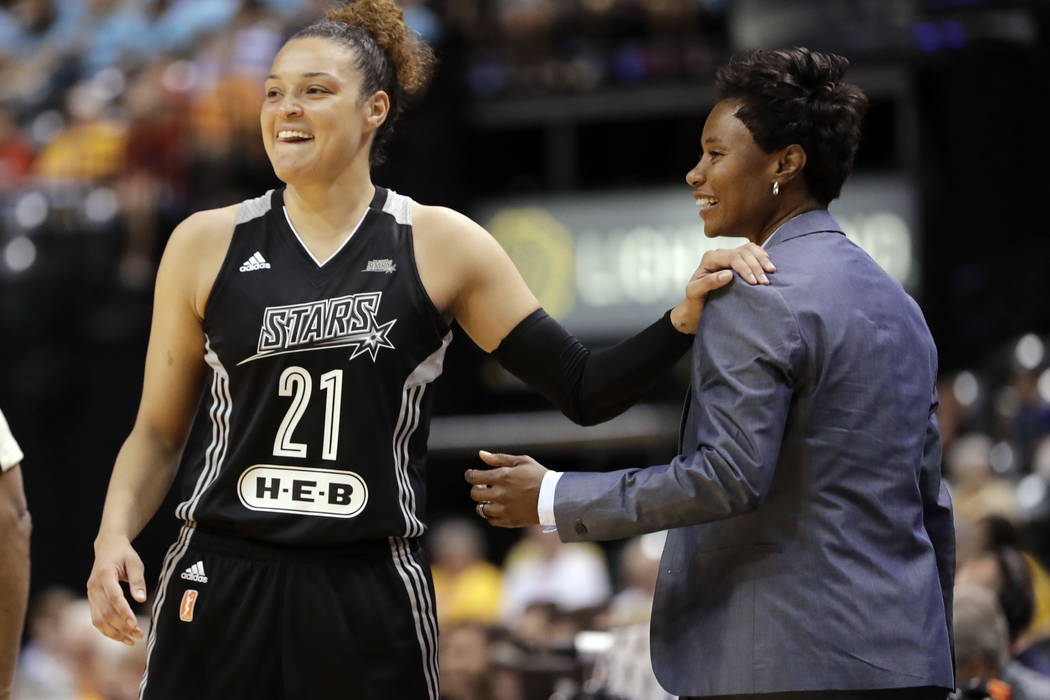 It has been said that college prepares one for what lies after it, a notion that must make Kayla McBride and Moriah Jefferson chuckle, chortle and guffaw.
McBride was the leading scorer last season for the WNBA's San Antonio Stars, who have since moved to Las Vegas and become Aces. Jefferson was the Stars' starting point guard.
In college, each played in four Final Fours — McBride for Notre Dame, Jefferson for mighty Connecticut. Jefferson was 2-0 against McBride, who was two years ahead of her on the big stage. The Huskies beat the Fighting Irish 83-65 in the 2013 national semifinals and 79-58 in the 2014 national championship game.
They were roommates with the Stars during Jefferson's rookie WNBA season.
"She pulled out a national championship shirt, and I didn't talk to her for like an hour, hour and a half," McBride recalled at Mandalay Bay as Aces season-ticket holders picked their seats for the 2018 season, which tips off in May.
"I think you guys actually beat us more than we (beat you)," Jefferson said to McBride about their many Big East battles.
During Jefferson's four years at Storrs, the Huskies went 151-5 and won four NCAA titles. During McBride's four years in South Bend, Indiana, the Irish went 138-15.
During the pair's first year as pros, the Stars went 7-27. Last year they went 8-26. Now they've become Aces.
Like that old song by The Shirelles, mama said there'd be days like this. But mama didn't say anything about seasons like this.
Stars fail to shine
"It's definitely humbling coming up through the WNBA and you get drafted high, because the team may not be that good," said McBride, taken third overall by the Stars in 2014. "You know you have to come in and make an immediate impact, which is cool, but then (struggling as a team) may last a little bit longer than you want it to."
Added Jefferson: "It's tough. Nobody likes to lose games. But at the same time, (I learned) a lot about patience, a lot about learning how to move on to the next play and keep your head in the right space. You go through those (losing) spurts, but you also grow so much as teammates."
They were reminded about Las Vegas being a town for winners. They also saw the size of the lion fronting the MGM Grand, which purchased the team and its assets — two of whom are McBride and Jefferson and another of whom is coach and general manager Bill Laimbeer, who won three WNBA championships as coach of the Detroit Shock and more recently rebuilt the New York Liberty into title contenders.
The MGM does not lose often, except perhaps when there's an upset in the Super Bowl.
"It looks like they've been on top of everything," said Jefferson, a 23-year-old sprite who grew up in Dallas and was the first Texan to play for UConn coach Geno Auriemma. "The fans have already been great welcoming us with open arms."
Fresh start
McBride, a 25-year-old shooting wizard from Erie, Pennsylvania, said putting a team in Las Vegas makes sense for the WNBA, which was founded by the NBA in 1996. Six of its 12 teams play in NBA arenas. The Aces will enable the league to lengthen its Summer League footprint and may even serve as a trial balloon for the NBA coming to town soon, though nobody will say much about it.
"We've kind of been at this standstill," McBride said. "But I think being in Vegas, being with the MGM, having our names and faces out there in a different kind of light is going to be something really good, and really good for women's basketball in general."
The gathering of seat pickers was modest, nowhere near as large as the turnout of hockey fans at T-Mobile Arena when the NHL's Golden Knights had a similar open house. But the gourmet sandwiches were tasty and abundant, and the two players signed autographs for everyone who wanted one, including a young girl who showed up in a basketball uniform. DJ Dave spun lots of tunes with thumping beats, but nothing by The Shirelles.
On this night, Kayla McBride and Moriah Jefferson were Aces in more ways than one. They were enjoying being 0-0 again.
Thank you to our first-ever season ticket holders 🙌❤️! We hope you enjoyed the seat selection celebration and the sneak peek of our future arena at @MandalayBay. pic.twitter.com/RAqjjQHpIY

— Las Vegas Aces (@LVAces) February 7, 2018
Contact Ron Kantowski at rkantowski@reviewjournal.com or 702-383-0352. Follow @ronkantowski on Twitter.
Aces tickets
The WNBA's Las Vegas Aces will open the 2018 season May 20 at the Connecticut Sun, and will play their first home game May 27 against the Seattle Storm at Mandalay Bay. Season tickets are on sale. To purchase tickets or for more information, visit aces.wnba.com.