Ex-UNLV QB, receiver happily reconnect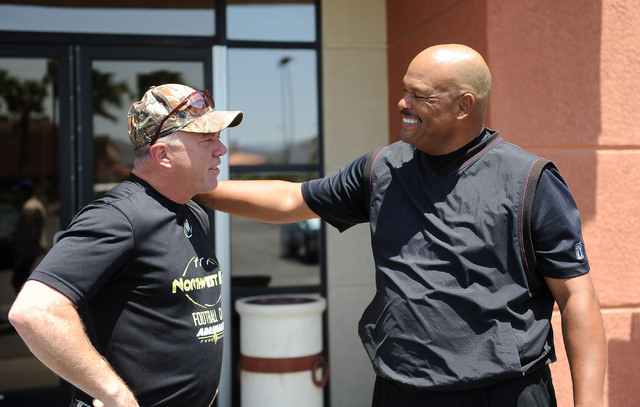 The wide receiver spotted the quarterback holding the football. He instinctively knew what to do. He ran a post pattern, accelerating at full speed — or what seemed like it, at least.
The quarterback made a quick read. He flicked the football toward the wide receiver.
Complete!
For a brief moment, time stood still.
For a brief moment, it was Oct. 10, 1981, all over again.
For a brief moment, it wasn't the parking lot of a bar and grill in Henderson. It was Cougar Stadium, in Provo, Utah, in front of 39,852 on an overcast homecoming afternoon, and there were 19 seconds showing on the scoreboard clock.
That's how much time remained after the wide receiver, a little guy from Washington state named Jim Sandusky, caught the winning 20-yard touchdown pass from the quarterback, a bigger guy from Los Angeles named Sam King.
Their heroics gave UNLV a wild 45-41 come-from-behind victory over undefeated Brigham Young, snapping the nation's longest winning streak at 17 games.
It was the biggest win in UNLV football history to that point.
It remains that to this day.
In case you haven't been following along for the past couple of generations, when the Rebels find themselves matched against a top-10 college football team, they seldom win.
They won that day in 1981. The New York Times ran a story. So did Sports Illustrated.
Those stories said Jim McMahon didn't play for BYU. He was injured. Some rube named Steve Young took his place. Young completed 27 of 40 passes for 269 yards.
Sam King completed 31 of 57 passes for 473 yards.
Jim Sandusky caught eight passes for 161 yards.
The Rebels won. Imagine that.
Rich Abajian, then UNLV's secondary coach, now general manager at Findlay Toyota, said when the team's plane landed at McCarran International Airport, fans were there to greet it. Imagine that, too.
When Sandusky and King were asked if they became, um, popular with the ladies after the BYU game, they sort of laughed. I took this as a "yes."
These Scarlet and Gray heroes of yesteryear had lunch at Carmine's Little Italy in Henderson on Tuesday.
It was the first time they had seen each other since 1981.
The wide receiver and the quarterback had Afros then. Sandusky's was called a perm — remember when guys would get those? Sandusky is 52 now. He has only a little hair left. King, 54, has less.
But when Jim Sandusky went out for a pass in the parking lot, Sam King put the ball right on the numbers, had Sandusky been wearing numbers instead of a duck hunting cap and a football camp T-shirt.
Once inside, they told so many stories that it was close to an hour before salads were ordered.
Rich Abajian was on hand, to confirm that most of the stories were true. Bill Purcell, an executive at the South Point and a former teammate, drove Sandusky, who had been celebrating his and wife Tami's 30-year wedding anniversary.
"Jim caught balls that other guys wouldn't even try to catch," Sam King said before the waitress came around/could get a word in edgewise.
"I've played with some pretty good quarterbacks, and Sam was right there with them as far as leadership and everything else," Jim Sandusky said.
Sandusky led the NCAA with 1,346 receiving yards in 1981. King topped the nation in passing yards with 3,778.
When Tony Knap, UNLV's venerable coach and offensive-minded genius, retired after the 1981 season, Sandusky transferred to San Diego State. He was Most Valuable Player of the 1984 Hula Bowl, played a couple of seasons with the NFL's Seattle Seahawks, played a lot of seasons in the Canadian Football League, with the B.C. Lions and Edmonton Eskimos.
Sandusky caught 586 passes up north for 9,737 yards and 69 touchdowns. As he said, he played with some pretty good quarterbacks — Doug Flutie and Jeff Garcia, to name two. He played in three Grey Cups, which is the CFL Super Bowl, winning two.
He also invented these gloves to help him catch the football in Saskatchewan in cold weather. He sold the idea to Nike, and with the money, he bought some land outside of Ferndale, Wash., and built a Field of Dreams-style football stadium on it.
That led to the Lummi Nation High School team playing eight-man football on his property, and that led to Sandusky coaching the Native American kids and becoming their athletic director.
Sam King and Jim McMahon were the West team's Hula Bowl quarterbacks in 1981. A separated shoulder and a heart murmur precluded King from playing professionally with the United States Football League's Arizona Wranglers and New Orleans Breakers. He owns a successful State Farm Insurance business in Henderson.
The pass play that stunned BYU was called 141 Z-Post Corner. Or was it 146 Z-Post Corner? It had been a lot of years; it had been too many years.
They were the architects — with an assist from Tony Knap, and some other guys wearing white uniforms who also played their hearts out Oct. 10, 1981 — of what still is the greatest win in UNLV football history.
When I left Jim Sandusky and Sam King at the bar and grill, they were tapping each other's contact info into their cellphones.
Las Vegas Review-Journal sports columnist Ron Kantowski can be reached at rkantowski@reviewjournal.com or 702-383-0352. Follow him on Twitter: @ronkantowski.