Ex-UNLV soccer star Simon Keith needs second heart transplant
Updated December 2, 2018 - 6:54 pm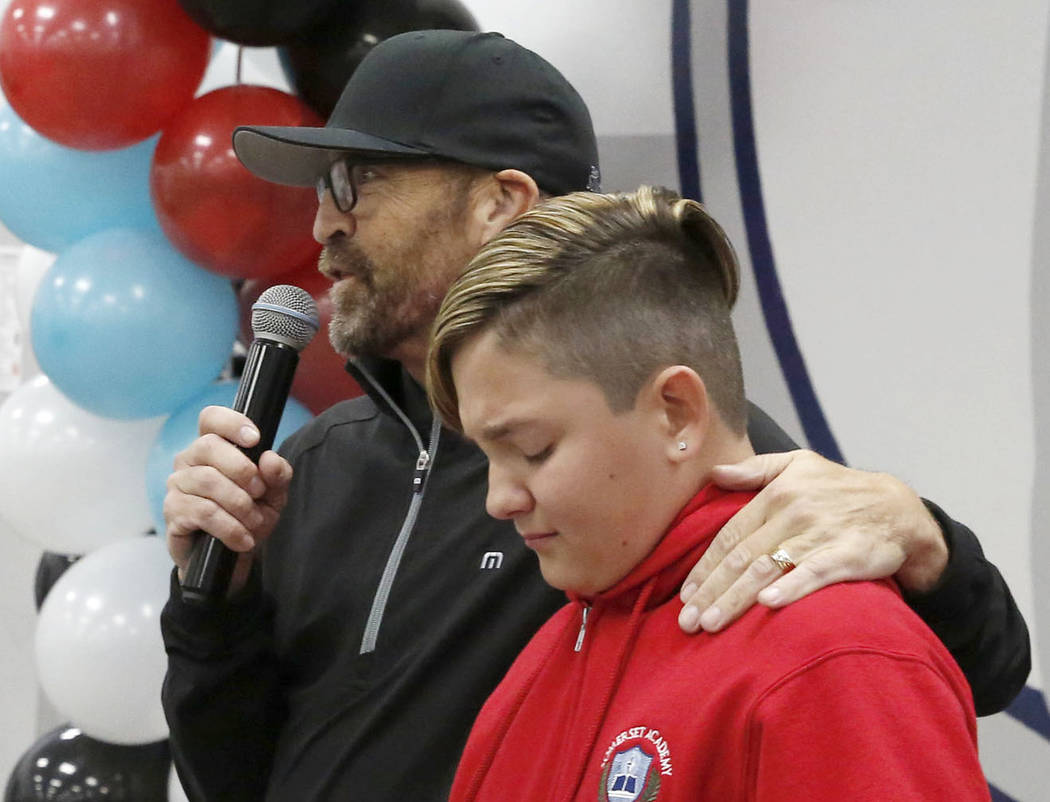 Usually when I receive a text message from Simon Keith, it's a tip about a young soccer phenom from Las Vegas, or to confirm the llamas will be back at his foundation's annual golf tournament that raises so much money and awareness for organ donation.
Monday's message was different.
The former UNLV soccer star wrote that he was in a hospital at the University of San Diego facing another heart transplant.
He had his first one 32 years ago. The average life expectancy of heart transplant recipients is nine years, and Keith says he is eternally grateful. But now, like the 115,000 others on the organ transplant list, he sits, waits, fights, gets stuck by needles and tries to remain positive.
"I'm doing good," he said on the telephone, and there wasn't anything in his voice to suggest he wasn't. "It's been 32 years with this heart, and they don't really last that long. I've been very fortunate. But it's deteriorated enough to where my kidneys are shutting down.
"So I'm actually waiting for a heart and a kidney. But I have to do some things with my immune system because my immune system is confused, because it's mine and my donor's."
Two out of every three days he has all the blood removed from his body and purified. It feels like running from touch line to touch line on a soccer pitch about 100 times. Or 200.
"It's like dialysis but on steroids. It leaves you whacked out, and it's no fun," said Keith, 53, who has been in the hospital since Oct. 29.
On Tuesday, there was another text: The numbers were good from this latest round of treatments; most of the antibodies in his blood system have been cut in half.
Simon Keith closed the message with a flexed bicep emoji.
Busch family heartbreak
A week after Kyle and Samantha Busch announced they were expecting their second child through in vitro fertilization, the race car driver's wife has had a miscarriage.
Samantha Busch made the tearful disclosure on her Twitter account Friday. The couple, whose 3-year-old son, Brexton, was conceived through in vitro fertilization, had planned to use social media to chronicle the pregnancy as a guide for others.
"It's still early in the process," Kyle Busch said Wednesday during NASCAR Champion's Week in his hometown of Las Vegas. "We announced six, seven weeks earlier than anybody else would ever announce because of going through the process and keeping everybody up to date with what the doctors are telling us."
Earlier this week I suffered a miscarriage. We lost our baby girl. My heart hurts more than words can describe. I promise I will answer your questions and share more updates when we are ready, we just need some time as a family to process all of this. Xo, Samantha pic.twitter.com/ZsLZMhzjSP

— Samantha Busch (@SamanthaBusch) November 30, 2018
Koufax on court
With the Cincinnati basketball team in town to play UNLV, former Review-Journal entertainment columnist and Cincinnati sports writer Norm Clarke shared a story he once wrote about one of the more famous Bearcats basketball players not nicknamed "The Big O."
It was about a 6-foot-2-inch forward named Sandy Koufax, who averaged 9.2 points for the Cincinnati freshman team before the weather warmed and he started unleashing 12-to-6 curveballs that would help him achieve baseball immortality.
"Had he remained in school, he would have joined Cincinnati scoring great Jack Twyman, later a pro star, on the 1954-55 varsity which went 21-8 and took third in the National Invitation Tournament," Clarke wrote in the April 4, 1974, edition of the Cincinnati Equirer.
With UNLV hosting Cincinnati, 6-1, on Saturday, here's one of my favorite memories from my AP days there. https://t.co/lf6bUc2scx via @_newspapers

— Norm Clarke (@NormLasVegas) November 29, 2018
Starter up
Yes, the Alliance of American Football has a chance to produce the next Kurt Warner, and it was an unexpected surprise when Marshawn Lynch accompanied his cousin and No. 1 draft pick Josh Johnson onstage at Luxor's Esports Arena on Tuesday.
(Warner also was on hand as a CBS Sports Network analyst.)
But the best part of the new spring league's quarterback draft was when Hines Ward helped Johnson put on a San Diego Fleet warmup jacket to mark the occasion. It was a Starter jacket, complete with the satin sleeves and quilted lining.
Starter is the official jersey supplier of the AAF, and those jackets are so retroactively cool that the guys from little-known colleges who will wind up wearing them as backups probably won't mind getting beaten out for starting jobs.
— AAF Insider (@MichaelDanger19) November 28, 2018
The satin Starter jackets the AAF picks are getting are amazing

— Dan Kadar (@MockingTheDraft) November 28, 2018
Catch up on the highlights from the Alliance's inaugural #ProtectOrPick quarterback draft! https://t.co/OD05NZTaIS #JoinTheAlliance pic.twitter.com/GPffqsu6sM

— AAF (@TheAAF) November 28, 2018
0:01
Once a ballplayer, always a ballplayer.
In the summer of 1984, when he was 60 years old, vice president of the United States and playing in an old-timers baseball game, George H.W. Bush dived to his left to knock down the ball, picked it up and threw out Orlando Cepeda. He was using the old first baseman's mitt he had used at Yale when he was its first baseman.
When he became president, he kept the old mitt oiled up in a desk drawer in the Oval Office, just in case.
Contact Ron Kantowski at rkantowski@reviewjournal.com or 702-383-0352. Follow @ronkantowski on Twitter.
Gift of life
Organ donation gives hope to the tens of thousands of patients waiting for a life-saving transplant and thousands more in need of tissue or cornea transplants, according to Nevada Donor Network. For more information on becoming an organ donor, visit the Nevada Donor Network at nvdonor.org.