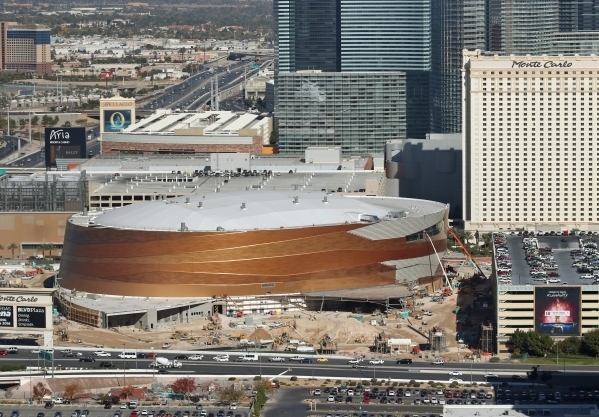 When athletic directors retire, they are supposed to spend their days playing golf and bouncing grandkids on their knees.
When Jim Livengood, who resigned as UNLV's athletic director after the 2013 school year, left Flagstaff, Ariz., on Sunday, a storm was brewing. It snowed on Monday. The wind blew. The high temperature was 25 degrees with a low of 7.
There would be no golf. But there would be grandkids bouncing on knees — Livengood's daughter, Michelle, is married to Jack Murphy, the Northern Arizona basketball coach, and they have three children, and the twins, Isabella and Emma, were in the "Nutcracker." There was a matinee and an evening performance. Grandpa attended both.
Grandpa said it was nice to be able to attend both performances and not have to listen to season ticket holders complain about something.
On the drive home, he received a text message inquiring about the possibility of the NCAA moving its entire Sweet 16 women's basketball tournament to Las Vegas, and maybe even the women's Final Four at a later date.
Jim Livengood has remained active in college sports as a consultant. Having also been athletic director at Arizona, he also is thinking about starting a StubHub franchise — requests for tickets for the big basketball game in Tucson on Saturday featuring his former schools have been pouring in.
He's excited about the basketball game. He's more enthused about the possibility of the women's Sweet 16 moving to Las Vegas if/when the NCAA lifts its cromagnon ban on official postseason tournament games being played in cities that offer sports wagering.
Mark Emmert, the new NCAA president who is sort of to college athletics what Pope Francis is to the Catholic church — a guy who wears a big hat and brings a fresh perspective to the table — last week even used the H-word in describing the tournament ban. It was hypocritical, he said.
Livengood and others around here have been saying that for years. On Monday Livengood said it again, and then Pat Christenson of Las Vegas Events said it again, and then both men said if the draconian bylaw is quashed, we could be watching UConn and Notre Dame and Stanford quash lesser teams in the Sweet 16, perhaps as soon as 2019.
At least that is what it says in a glossy pamphlet about the possibility of the women's Sweet 16 permanently moving to Las Vegas.
The brochure naturally has a photo of the iconic "Welcome to Fabulous Las Vegas" sign on front and is marked "Confidential" in the tiniest of letters. But if I had to guess, it's that the coaches and the athletic directors and Kara Lawson and anybody else even marginally interested in seeing the NCAA women's basketball tournament survive and advance wanted the brochure to get out.
There's a quote from Livengood: "The issue is going to be getting the right people to say, you know what, the time has come, let's get rid of this bylaw, let's move into the 21st century."
And another from Coach K himself, Mike Krzyzewski of Duke: "I love Las Vegas. I think they love basketball. They play four or five conference tournaments here so to me it's a natural, as long as they feel that it works out with resources so they can make money. They always have to figure that out."
You better believe the NCAA will figure that out, because like that commercial about Peter Pan, this is what the NCAA does.
Many of its members already have figured it out. The sales pitch lists nearly 120 Division I teams that have hooped it up in Las Vegas without getting full-court pressed by debauchery and protocol governing the splitting of aces and 8s — and that didn't include an additional 80 Division II and III schools who play below the rims at the South Point during holiday tournaments.
The sites for the women's Final Four are set through 2020 (Indianapolis, Dallas, Columbus, Tampa, New Orleans) but the Final Four usually sells out. That's not the problem. The problem is regionals that struggle to attract crowds and media interest, and those sites are set only through 2018.
One of this season's regionals is in Sioux Falls, which is either in South Dakota or Iowa. In 2017, Stockton, which definitely is in California, will host a regional.
That's why if and when the NCAA lifts the aforementioned ban and moves into the 21st century — and puts down a little somethin' somethin' on Geno Auriemma and the over on the down-low — Las Vegas wants to be ready.
Naturally, there are logistics to be considered and worked out. But with the new AEG-MGM arena coming on board, and the Thomas & Mack and MGM Grand Garden already having established themselves as wonderful locales for conference tournaments — and in the case of the MGM pool, a locale for Bill Walton to sun himself — there will be any number of places for the women to play.
"Women's basketball needs a shot in the arm," Jim Livengood said after returning from snowy Flagstaff, the "Nutcracker Suite" still stuck in his head. With the weather during Sweet 16 week trending toward warm and mild, there may even be time for a quick nine holes after sleeves are rolled up.
Las Vegas Review-Journal sports columnist Ron Kantowski can be reached at rkantowski@reviewjournal.com or 702-383-0352. Follow him on Twitter: @ronkantowski