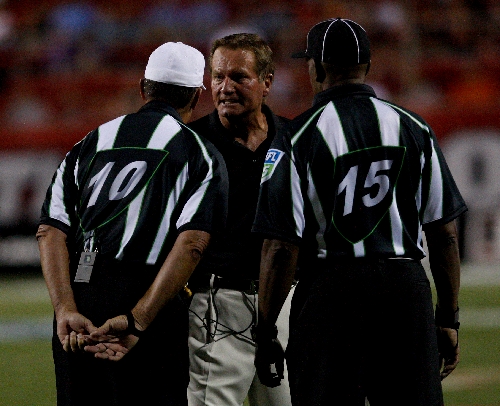 Whereas it is a great accomplishment to coach a team to a Super Bowl championship, 26 men have done it. So one does not stand alone in that regard. Plus, knowing the names of the guys who have coached Super Bowl winners usually won't get you around the Trivial Pursuit board any faster, provided you are among the few who still play Trivial Pursuit with aunts and uncles.
Having said that, I am willing to concede that Don McCafferty, coach of the Super Bowl V champion Baltimore Colts, is pretty close to being trivial.
Jim Fassel coached the New York Giants in Super Bowl XXXV, where they lost 34-7 to Brian Billick and the Baltimore Ravens. That's sort of trivial, if you subscribe to the notion that nobody remembers who finishes second.
On Saturday, Fassel will be trying to coach the Las Vegas Locomotives to their second consecutive United Football League championship when they meet the Florida Tuskers in Omaha, Neb., in a rematch of UFL Bowl I, or whatever they call the championship game. That seems trivial, too, although players from both sides are planning to "give 110 percent," unaware the percent-o-meter goes only to 100.
There's more. On Oct. 19, 1975, a lot of Saturdays ago, Fassel apparently threw a pass late in a World Football League game pitting his team, The Hawaiians, against Pat Haden's team, the Southern California Sun. Nobody remembers if it was complete, incomplete or shot out of the air with a flaming arrow, only that the league folded three days later. Because the game was in Hawaii, it finished after all other games that day. That means Fassel threw the last pass in WFL history.
That's definitely trivial. That knowledge will get you a big orange wedge — for Sports & Leisure — in Trivial Pursuit the next time the aunts and uncles are over and start you on your way to the hexagonal hub.
Fans of the Shreveport Steamer might find the back story to Fassel's footnote in football history even more interesting than the action point (WFL teams were not allowed to kick conversions after touchdowns, only run or pass) and the dicker-rod (a Tinkertoy-type contraption used to measure first downs).
Check that. Nothing could be more interesting than the dicker-rod.
Fassel had played briefly with The Hawaiians, still among the coolest-named franchises ever, before suffering a knee injury during the WFL's inaugural season in 1974. He was made an assistant coach, but WFL assistants weren't paid well. With the league foundering, Fassel found a job outside of football, driving a truck for a buddy's air conditioning firm in Utah.
By the middle of the 1975 season, The Hawaiians weren't getting paid at all. Quarterbacks Rick Cassata and Sonny Sixkiller, the former star of the Washington Huskies (and the Mean Machine in the movies), quit the team.
Fassel received a phone call in the middle of the night. It was Mike Giddings, The Hawaiians' coach, wondering A) what kind of shape he was in, and B) could he play quarterback the next night?
"I told him I hadn't thrown a ball in a year, who else you got?" Fassel recalled. "He said they had a local kid (Milt Holt, who had a job at Honolulu City Hall) and I said, 'Why don't you play him?' I still hadn't gotten my knee fixed."
After agreeing to be Holt's backup, Fassel asked for $500, a prepaid round-trip airline ticket (in case the league folded, he didn't want to get stuck in Hawaii, although there are worse places) and a signed affidavit stating the WFL had paid its insurance premium in full.
Fassel has no recollection of the game. The Hawaiians lost, 26-7. Statistics on a website dedicated to preserving the WFL's memory show Holt completed 5 of 16 passes for 91 yards. Fassel was 1 of 3 for 10 yards.
As for being credited with throwing the last pass in WFL history, Fassel has no idea where that came from, although circumstantial evidence — he replaced Holt at the end of the game — would indicate it's true.
Fassel said the WFL is holding a reunion in Los Angeles in February and that he'll probably attend.
You think he might bring me back a dicker-rod?
Las Vegas Review-Journal sports columnist Ron Kantowski can be reached at rkantowski@reviewjournal.com or 702-383-0352.