For La Rocques, four Final Fours 'perfect'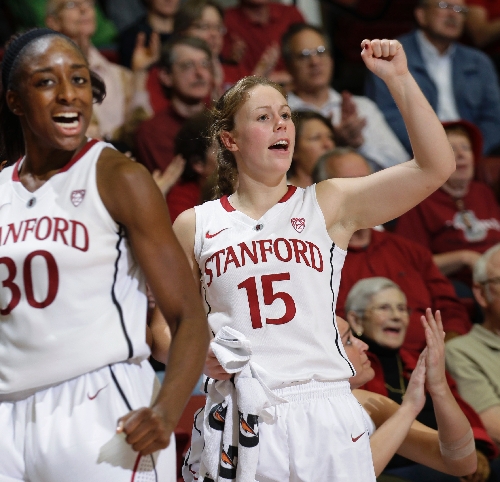 Al La Rocque was motoring down California state Route 99 on Tuesday, past Tulare and Visalia in the heart of the agricultural San Joaquin Valley, where they grow grapes and olives and asparagus and the air smells of cows. And then onto Bakersfield and past Edwards Air Force Base, where Chuck Yeager broke the sound barrier and the space shuttle landed, when the former basketball coach had an introspective thought.
Driving the 6½ hours from Fresno to Las Vegas leaves a lot of time for introspection, even if your wife of 31 years, Beverly, is riding along.
La Rocque, 61, was once the dean of Las Vegas high school basketball coaches. He coached for 34 years and won two state championships. At the end, he switched to coaching girls, to coaching his daughters, Ally and Lindy.
Four years ago, when Lindy was a senior at Durango High School, La Rocque retired, so he and Bev could follow their daughter, who had signed with Stanford, around the women's college basketball circuit.
They followed her to Tennessee, twice, and to Connecticut and to Cameron Indoor Stadium at Duke.
They followed her to Eugene and Corvallis in Oregon, to Seattle and Pullman in Washington, to Tucson and Tempe in Arizona — to all those Pac-12 cities and towns.
And how many "Big Games" had they watched Lindy play against Cal? Too many to count, almost.
And last weekend, they followed her to Fresno — isn't advancing to the NCAA regionals supposed to be a reward? — where Lindy came off the bench to sink a long 3-pointer in 14 minutes Monday in Stanford's 81-69 victory over Duke in the Fresno Region championship game.
This weekend, they will follow her to Denver, where Lindy will be playing in her fourth consecutive women's Final Four.
As her father says, most kids who play basketball dream of going to one Final Four. And now Lindy's headed to her fourth.
And then her career will be over, and next quarter, after she takes her last three-unit course, Environment and Renewable Energy, she will have her Stanford education. She will begin saving trees, she laughs, like most people with Stanford educations. And then someday she might coach basketball, like her old man.
Meanwhile, her mom and dad are closing fast on Barstow.
These past four years have flown by like those billboard signs on Route 99 advertising dining and/or lodging at a reasonable price, Al La Rocque thinks. Time for introspection.
"What am I going to do next year?"
Knowing La Rocque, I'm sure he'll figure it out by then, and it will include a gymnasium.
For now, he is hoping Tara VanDerveer, who has coached the Stanford women since 1985, can figure out a way to control "Kareem," which is what he calls Brittney Griner, the 6-foot-8-inch All-America center for 38-0 Baylor.
Though Stanford has been to five consecutive Final Fours, it hasn't cut down the nets at one since 1992.
"I honestly don't know what I would do," Lindy La Rocque said were that to happen during her final weekend as a college basketball player. "It would be surreal."
That's the same word her dad used. They are so much alike, these two.
When I sent a phone message to Al on Route 99 and made plans to chat, he responded by texting "perfect." When I reached Lindy in Palo Alto to do the same, she also texted "perfect."
When Lindy came off the bench — she's embraced her role as Stanford's sixth man after starting 29 of 34 games last season — against Duke to hit that 3-pointer, her shot first bounced off the rim. Just like her old man's, when he played for Lute Olson at Long Beach City Junior College.
Lindy La Rocque is leaving for one last Final Four today. Al and Beverly La Rocque are leaving on Friday. Because VanDerveer runs a tight ship and will be game-planning for Kareem with the XX chromosomes, Al and Bev probably won't get to spend a lot of time with Lindy before the Baylor game. But there should be time for Al to wish his daughter well, and for Bev to give her one last kiss, and hopefully two, because that Griner is pretty tough.
And then the referee will toss the ball in the air at the women's Final Four, and it will be surreal and perfect one more time.
Las Vegas Review-Journal sports columnist Ron Kantowski can be reached at rkantowski@reviewjournal.com or 702-383-0352. Follow him on Twitter: @ronkantowski.