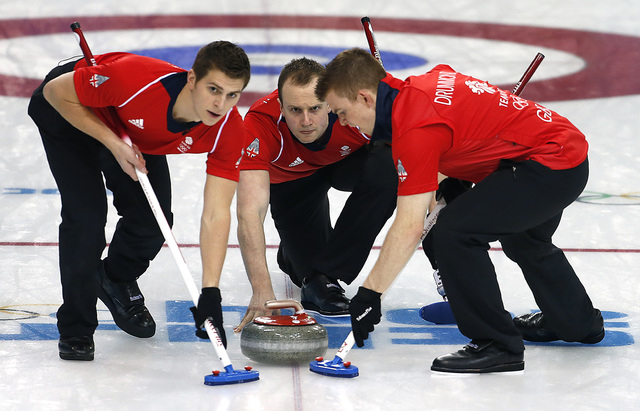 If you have been watching the Winter Olympics only in prime time, you may be under the impression these Games consist mostly of figure skating and the men's and women's half-pipe. And about 15 minutes of alpine skiing and/or short track speed skating, which is sort of like roller derby on ice.
This is why I wish Lindsey Vonn had not gotten injured. She is good looking and she is Tiger Woods' girlfriend and she is a damn fine skier, and I like watching skiing on TV, for some reason. Especially the downhill. The downhill is insane.
I do not care that much for figure skating, though I must admit I did have a crush on Dorothy Hamill in '76, when I was 18. I recall that one of my sisters and my high school girlfriend got haircuts like hers.
I have found that most men not named Dick Button do not care that much for figure skating. Most men just aren't into sports where flowers are tossed onto the ice and there are judges from France.
Yes, sometimes the figure skaters fall, but they do not get checked into the boards, nor do they get two-minute penalties for high-sticking or even interference. I believe that if these elements were added to those salchows and lutzes, most men would enjoy figure skating a lot more. Even if the skaters insist on wearing sequins.
Most women, however, seem to enjoy figure skating. I think that is why it is shown so much in prime time.
I haven't figured out why they show so much half-pipe in prime time.
I think it might be because kids in baggy clothes are into the half-pipe, and NBC probably wants to capture that ratings demographic, too. But I also believe kids who are into the half-pipe do not watch it on TV that much, because at night, they prefer to play video games and listen to Green Day MP3s, or MP3s of one of those other bands that Letterman sometimes has on at the end of his show to improve his ratings.
So I was getting pretty bored by the Winter Olympics.
Until I turned them on during the day. And late at night.
During the day and late at night is when they show cool Winter Olympics sports such as hockey, luge and skeleton, which is the same as luge, except facing the other way.
I learned that Ted Uhlaender's's daughter is pretty good in skeleton.
Ted Uhlaender played outfield for the Twins and Indians and Reds; I had his baseball card. His daughter, Katie, showed that baseball card of her father, the one he signed for her before he died of cancer, and she wears his 1972 NLCS ring around her neck when she goes hurtling down the track at 7o mph face first.
On Thursday they also showed biathlon, which consists of skiing past farmhouses and stuff, and then stopping to shoot a rifle. Most men like TV shows or sports with guns, which is probably why "The American Sportsman" lasted 21 years on ABC.
After the luge relay races, they threw it back to the studio, where bleary-eyed Bob Costas had been replaced by a host with glasses and clear eyes. There was this little accent table thing behind the host, upon which a curling stone — instead of figure skating flowers— served as the centerpiece.
Which was totally awesome.
Unfortunately, the Russian women's curling team was not seated around this particular curling stone. But it was only Thursday. Still 10 days to go.