From equipment room to playing field: The not-so-secret life of Robert Jameson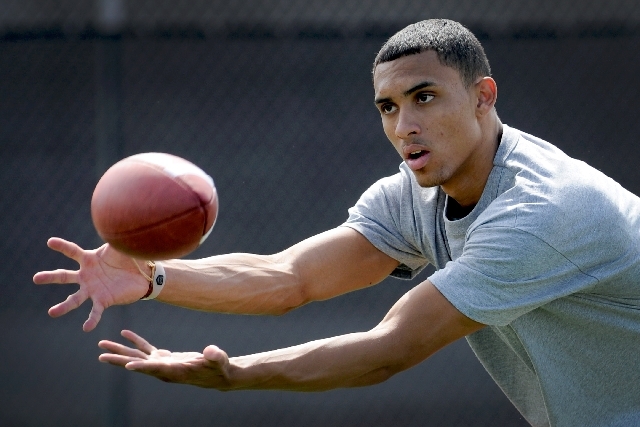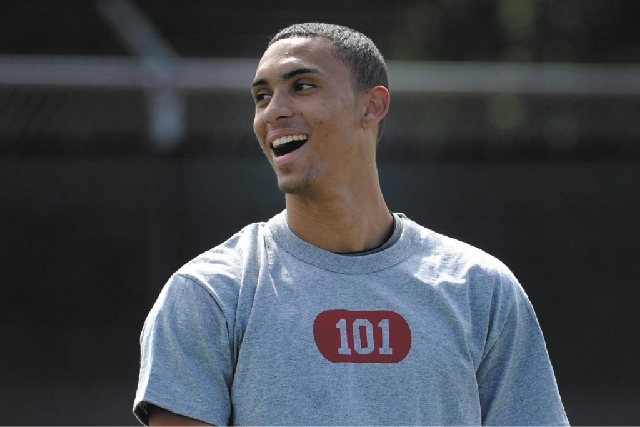 Sometimes when it's hot you hear cool stories on the first day of football practice, and this is how I discovered Robert Jameson, a walk-on wide receiver at UNLV.
Last year at this time, 21-year-old Jameson was one of the Rebels' student equipment managers. Now, he's one of their wide receivers.
That's a pretty cool story.
I don't know where Jameson ranks on the depth chart, if he even ranks at all. For all I know, Bobby Hauck has him listed after W. Mitty, the W. standing for Walter.
Walter Mitty was sort of the protagonist of a short story by James Thurber called "The Secret Life of Walter Mitty." W. Mitty always was daydreaming about becoming a hero, but if you ask me, that's where he and R. Jameson go separate ways.
Whereas Walter Mitty only fantasized personal accomplishment, Robert Jameson actually has achieved one, becoming a wide receiver when last year at this time he was washing and tightening straps, be they jock or chin.
"Being out here and seeing everybody playing, it hurt me not be able to play," said Jameson, who caught touchdowns at Mojave High School. "I mean, it's never too late to go after your dream. So I went and talked to Coach Hauck."
Hauck, the UNLV coach beginning his fourth season, admires guys with moxie, and also admires guys with speed. Nobody's quite sure how much speed Jameson has. Not even Jameson, because they usually don't put a stopwatch on the skinny guys doing laundry. But he must have moxie, or Jameson wouldn't have been invited back to fall camp after auditioning with the Rebels in the spring.
"The coaches and the staff and all the trainers, they really helped me progress," Jameson said during a break at Monday's free kids camp at Rebel Park, sponsored by the Las Vegas Bowl.
Jameson nodded to where the veterans were showing the kids how it's supposed to be done. "Obviously, these guys have kind of a lead on me, because I've been out of the game for two years."
But these guys also lost to Northern Arizona last year, and to Southern Utah the year before that.
When I asked Jameson if he was any good, he said he liked to think so. Yes sir, he did. Jameson grew up in Germany, on an Air Force base. His father, Robert, was a master sergeant; his mother, Gisela, is German. And so young Robert sprechens Deutsch just as fluently as Helmut Kohl or Katarina Witt, and more fluently than Major Wolfgang Hochstetter from "Hogan's Heroes."
This might not benefit Jameson much in say, Fresno, but it does allow him to converse with Max Ehlert, the Rebels' starting middle linebacker from Helsinki, who also speaks fluent German. So maybe Jameson can call out a secret blitz or something to Ehlert in German, and the Fresno State offense won't know what's coming.
Barring that, there's always special teams.
Paul Pucciarelli, UNLV's equipment manager for 28 years, said guys who start off as football players often become student equipment managers after two-a-days begin and the leather poppin' commences.
It's hot during two-a-days, and it hurts to have your leather popped by some 2.5-star recruit who outweighs you by 40 pounds. So guys see handwriting on the wall, and then they become student equipment managers, because it's a way to stay involved with football. And also because the laundry room is air conditioned.
So Jameson is trying to go from the equipment room to the playing field instead of the other way around. And the man they call Pooch says that's not something you see every day, except perhaps in the fervent imagination of Walter Mitty.
"He's sacrificing a lot," Pucciarelli said, and that includes a part-time job, up to 30 hours, that sort of pays well (UNLV's athletic belt tightening apparently hasn't trickled down to the laundry room) and a seat on the airplane, or the bus, for all road games. Including Fresno.
"I told him he better make sure he wanted to do this, because I wouldn't take him back."
Pucciarelli says some of his best years at UNLV were ones spent under former coach John Robinson, and J. Rob always was saying stuff like that to motivate Jason Thomas and other people. That's why he told Jameson he couldn't come back if he didn't make it onto the depth chart or become a commando on special teams.
However, should Jameson stick with the team, he won't get an extra shot of April Freshness in his practice gear, because that would be favoritism, and that's not how the man they call Pooch rolls.
"He's a hard worker," Pucciarelli said, slightly lowering his voice as if to convey a confidence about Robert Jameson, his former protege of the straps, be they jock or chin.
"To be honest with you, I'd take him back in a minute."
Las Vegas Review-Journal sports columnist Ron Kantowski can be reached at rkantowski@reviewjournal.com or 702-383-0352. Follow him on Twitter: @ronkantowski.