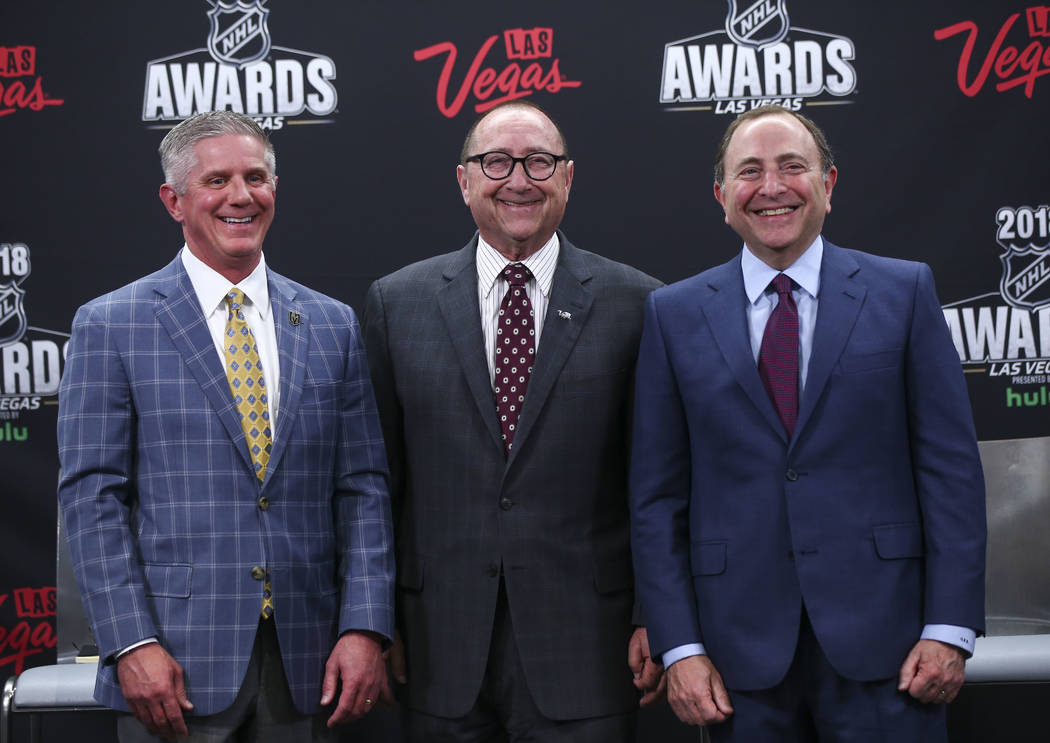 Gary Bettman returned to Las Vegas to break some news on Wednesday, or at least to confirm the NHL Awards would be returning to town for the ninth time on June 20.
The NHL commissioner last took questions from local media on Oct. 10. That was the night the Golden Knights dropped the puck for the first time at T-Mobile Arena.
Bettman's presence was sort of mandatory that night.
But nobody expected the commissioner to be back here on April 11.
This was the night Lord Stanley's playoffs were beginning for Pete Mahovlich's sake (or Peter Stastny's). The Knights are an NHL expansion team. NHL expansion teams do not qualify for the playoffs, unless six come into the league at the same time and form their own division.
"Did we all expect it would be quite this successful on the ice?" Bettman asked rhetorically of the Knights' fairy-tale season during a small media scrum. "The answer to that is (general manager) George McPhee has done an incredible job, because the goal was to make this expansion team competitive its first year, and I guess everybody was successful in that mission."
Capitals offense
Most expansion teams are not competitive in their first year. Or even their second or third. If they even last that long before merging with the Minnesota North Stars, as the old Cleveland Barons did.
The 1974-75 Washington Capitals went 8-67-5. Clarence Campbell was the NHL commissioner at the time. He wasn't in the nation's capital on the night the playoffs began, but at least they named one of the conferences after him for a spell.
Most hockey fans figured if Gary Bettman would be watching a game from an owner's box in April, it probably would be in the one of the Original Six hockey cities, or some place like Pittsburgh, or perhaps even Winnipeg. The commish could lay low during a Winnipeg Whiteout, and then maybe people wouldn't boo him.
Booing the longtime commissioner — Bettman is in his 24th season — has become a time-honored tradition in the realm of growing a playoff beard, or throwing dead octopuses on the ice in Detroit, or Jim Schoenfeld telling referee Don Koharski to have another doughnut.
When Las Vegas officially was awarded an NHL franchise on Nov. 22, 2016, Bettman was booed by about 5,000 fans who gathered at T-Mobile Plaza for the announcement. Who said Las Vegas hockey fans would have to be educated?
Gary Bettman wasn't here to take a bow Wednesday, but let the record show he was bullish on Las Vegas as a hockey town long before Wild Bill Karlsson put the Dilly Dilly on the San Jose goalie to score an outrageous goal and clinch an equally outrageous division championship for the freshly minted local side.
Perhaps Bettman doesn't get an assist for that. But at least give him credit for nudging the puck around the boards and keeping the play alive.
Catching a draft
"This is a community of two million people, and while visitors tend to focus on the Strip, this is a city that has people that have interests in the same things that people in all other major cities have," Bettman said about betting on Las Vegas when others were skeptical or downright dismissive.
"We were comfortable after we went through our thorough (expansion) process that this was going to be an exciting franchise for us."
After receiving the $500 million ante from Knights owner Bill Foley — which seemed even more outrageous than Karlsson's short-handed goal against the Sharks — Bettman said there would be a more liberal expansion draft for the Knights than there was for the 1974-75 Washington Capitals.
He was not bashful about giving the new kids a chance to succeed.
This was the NHL's first expansion since 2000 — the first since Twitter and Facebook and the digital era, he said, and that everybody would be watching to see how these Knights would do in a warm weather city that had never had major league sports and limited parking options.
"In that vein, we wanted to make sure the new team would have better access to players than any other of its expansion predecessors," Bettman said.
The 1974-75 Capitals started Ron Low in goal.
The 2017-18 Golden Knights went with Marc-Andre Fleury.
Local puckheads should think about that the next time Gary Bettman is in town and they want to blow him a raspberry.
Contact Ron Kantowski at rkantowski@reviewjournal.com or 702-383-0352. Follow @ronkantowski on Twitter.