Golden Knights can provide rallying point for Las Vegas after mass shooting
October 3, 2017 - 6:01 pm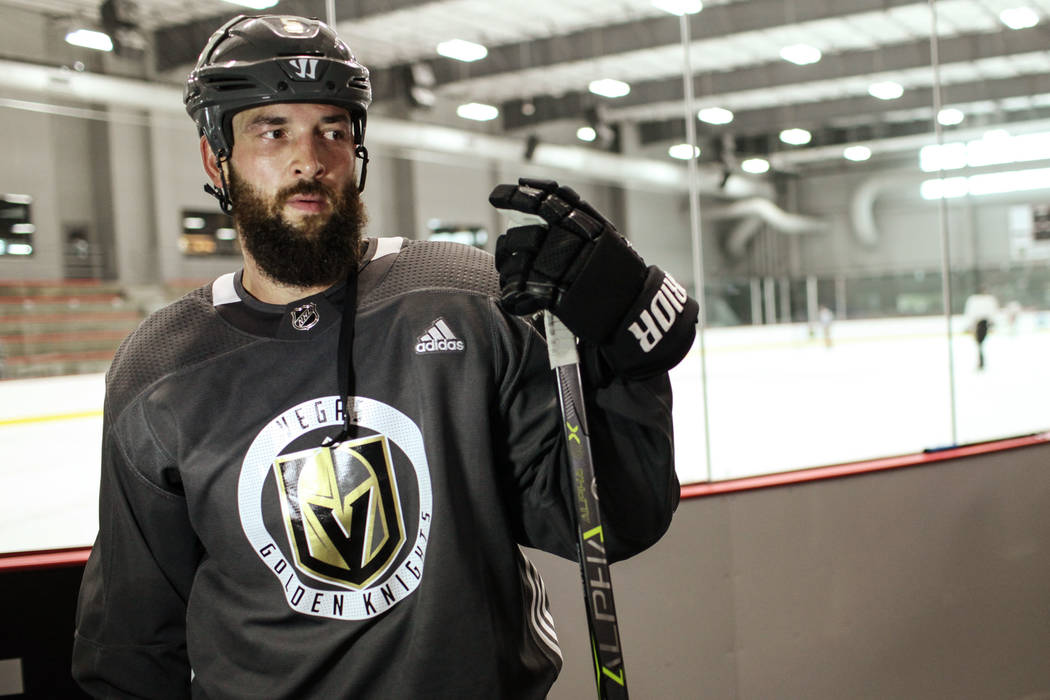 On the way to Golden Knights practice Tuesday, I drove past Mandalay Bay for the first time since Sunday night. Silent prayers and introspection morphed into thoughts of a couple of ballgames played 16 years ago.
Defense mechanism, one supposes.
It was September 21, 2001, when our nation turned its lonely eyes not to Joltin' Joe DiMaggio, long since left and gone away, but to a sweet-swinging catcher who had dyed his hair blond and was sporting a Fu Manchu mustache.
It was the bottom of the eighth at Shea Stadium. The Mets, the first New York team to play at home since the Twin Towers had been reduced to rubble, were trailing Atlanta 2-1. There was a man on base when Mike Piazza unfurled another sweet swing and deposited a baseball into a dark void beyond the center field fence.
The crowd had been apprehensive that night. Now it erupted.
Mike Piazza felt the thunder. He doffed his batting helmet. There was magic in the air, and then there was a sort of relief in the air, too.
Eventually it would be the Yankees' turn to provide these things.
Derek Jeter suggested to President Bush that he toss out the ceremonial first pitch before Game 3 of the World Series from the rubber, instead of from the mound's front edge. And that he better not bounce it in for this was New York, and he'd probably get booed.
The chief executive went into the bowels of Yankee Stadium to see if he still could throw a baseball 60 feet, 6 inches without bouncing it.
A rallying point
This is how it is when madmen punch tickets to eternal damnation, or a hurricane or some other tragedy casts a city into darkness, be in spiritual or literal. People pray; they lean on loved ones for support; they say thanks to policemen and fireman for a good little spell that should probably last a good little spell longer after a degree of normalcy is attained.
After a time that seems appropriate, they also root for the home team. They hope Piazza gets hold of one with ducks on the pond.
When 85 perished during the MGM Grand fire in 1980, we didn't have a pro sports franchise around which to rally.
Now we have the Golden Knights.
Gerard Gallant's guys will play their first game that counts in Dallas on Friday night, at an arena that sits less than a mile from Dealey Plaza. Raise a hand if you sense the eeriness. Then on Tuesday night, the Knights will play their third game that counts at T-Mobile Arena, against Arizona.
There will be electricity when the puck is dropped, but that was going to be the case before the madman. Now there also will be emotion that those in the nosebleed sections will feel.
Vegas strong
Defenseman Deryk Engelland seems to have assumed a role as the team's moral compass, mostly because at 35 and with 469 NHL games under his belt, he is qualified for it. There's also this: After serving an apprenticeship with the ECHL's Wranglers in 2004-05, Engelland never left Las Vegas. He makes his off-season home here.
"We want to do whatever we can as professional athletes, and with this being home now, we want to get out there and help everyone we can, whether it's victims or first responders or the (other) people who helped out," the bearded veteran said in a somber voice after the Golden Knights' skate at City National Arena.
Engelland said he has been a Las Vegan long enough to feel a kinship with the city, and an essence one doesn't get from spending a weekend here throwing dice and going to after-dinner shows.
"You're obviously gonna see it this next little while with what's happened," he said. "It's a big city but with a small community feeling. I think the city will grow together after this … and just get stronger."
Before Engelland spoke from the heart and said all the right things, the Knights had skated as they normally might on a Tuesday following an off day. But the dressing room was devoid of the high jinks and frivolity one might normally associate with a young expansion team preparing to make its baptism.
There was a heaviness in the air, and the guys who were trying to survive the last cuts weren't the only ones feeling it. The grinders on the checking line still were seeking a permanent place to call home. But after what happened Sunday night, they already seemed like one of us.
My teammates and I will be out tomorrow to do anything we can to help this tragic event. I have a message for Vegas, and to those impacted. pic.twitter.com/nmsOou6vsM

— Nate Schmidt (@nateschmidt29) October 3, 2017
Contact Ron Kantowski at rkantowski@reviewjournal.com or 702-383-0352. Follow @ronkantowski on Twitter.
Related
Golden Knights players lend a hand to their grief-stricken city
Golden Knights players were at Cosmopolitan when shooting occurred
'It was a horror show': Mass shooting leaves at least 59 dead, 527 wounded on Las Vegas Strip