Gorman's Humm linked to Colts' inglorious past
February 2, 2010 - 10:00 pm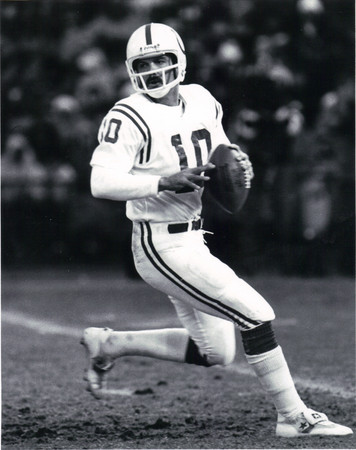 Almost three decades have passed since David Humm of Las Vegas was Jim Sorgi, at least the Jim Sorgi who does not have a strained right hamstring and has been placed on injured reserved for the Super Bowl. Only David Humm had a cool mustache. Like that of a gunslinger in the Old West. But not the old AFC West. The old AFC East.
David Humm used to be a Colts backup quarterback.
Pro football was different then. For starters, the Colts still were in Baltimore. Football often was played on artificial turf that looked or felt nothing like real turf. Yes, it was played on frozen tundra, too. Only in places such as Baltimore, the frozen tundra featured the skin part of a baseball diamond. And smelled of crab.
And whereas Sorgi has made a career of holding a clipboard while the great Peyton Manning throws touchdown passes, Humm played second fiddle to Bert Jones, who by 1981 was nearing the end of his NFL career. During the 1982 season, Humm played second fiddle and third fiddle to Art Schlichter and Mike Pagel. That explains why unlike Sorgi, every so often he got to put down the clipboard and take off the baseball cap and throw a forward pass. And then pick himself up off the artificial turf or frozen tundra.
The Colts did not appear in the Super Bowl during Humm's two years in Baltimore. They did not appear in the playoffs. In fact, in 1982, they hardly appeared at all. A 57-day players strike shortened the season to nine games. The playoffs were expanded to 16 teams. Division standings were ignored. It didn't help the Colts, because the Colts were awful.
The Colts finished 0-8-1 in 1982. During Humm's first year in Baltimore, they were 2-14-0. They ranked 26th among the 28 NFL teams in offense and 28th in defense.
Players who make it to center stage in their chosen sport often will say the players who came before them are responsible for their good fortune. If the Colts for which Humm played were responsible for anything, it was the team moving to Indianapolis in 1984 without too many in Baltimore complaining.
Were it not for the Colts, Humm might not know what it means to lose. He won in high school at Bishop Gorman. He won in college at Nebraska. He won in the pros with the Raiders and the Bills. He did not win with the Colts.
With the Colts, he got to be a sergeant in Frank Kush's army.
At 30, Humm was the oldest guy on the Baltimore team in 1982. He led a lot of jumping jacks that season, because 23 of the Colts' 42 players were rookies. Kush was a disciplinarian, a task master, an evil man, according to most of the veteran Colts, although Humm said he actually liked him. The former Arizona State coach literally ran everyone else off during boot camp. I mean training camp.
Another reason Humm led a lot of jumping jacks was that no one knew where Schlichter, the Colts' projected starting quarterback, was. Last one in, first one out, Humm said. The Colts players thought their bonus baby from Ohio State either was the laziest human being alive or hated jumping jacks even more then they.
The record (and other legal documents) will show Schlichter was skipping out early — to get a bet down on the eighth or ninth race at Pimlico Race Course down the street. Schlichter was a compulsive gambler. The NFL gumshoes thought Humm or his father, who worked in the casino cage at Caesars Palace, might even be placing bets for Schlichter, who ultimately moved to Las Vegas and wound up doing time in the Big House — not Michigan Stadium in Ann Arbor but federal prison in Indiana.
Awful teams. Teammates with terrible addictions. A head coach with a George S. Patton fetish. These are the things a hometown hero is asked about when one of his former teams makes it to the Super Bowl.
As I told Humm, who was diagnosed with multiple sclerosis when he was 38 — hard to believe he's nearly 58 now — it wasn't all bad. At least he got to play with Nesby Glasgow.
Glasgow is a former Colts defensive back whose name, for some transcendental reason, is stuck to the cortex of my long-term memory like bubble gum and pebbles on the bottom of a sneaker.
Humm laughed at the mention of Glasgow. He almost had forgotten about him. "Pretty good guy," he said. "One of our leaders."
Maybe so, but should Indy be up against it Sunday, when things are wrong and the breaks are beating the boys with the horseshoes on their helmets, I don't expect Jim Caldwell will ask them to go in there with all they've got and win one for Nesby Glasgow.
——
Humm will host a "Big Game Party" with former Raiders teammates Fred Biletnikoff and Jack Tatum at 1:30 p.m. Sunday at the South Point. The three will appear in free events in the Grand Ballroom, Napa Ballroom and the resort's showroom.
Las Vegas Review-Journal columnist Ron Kantowski can be reached at rkantowski@reviewjournal.com or 702-383-0352.