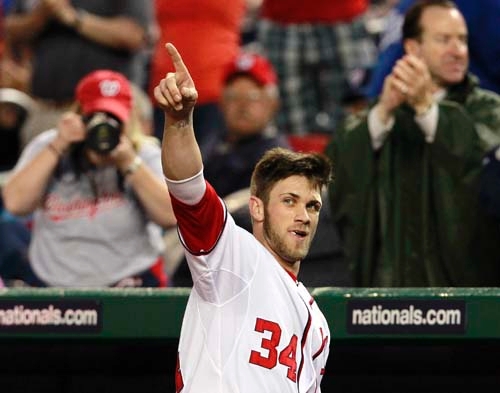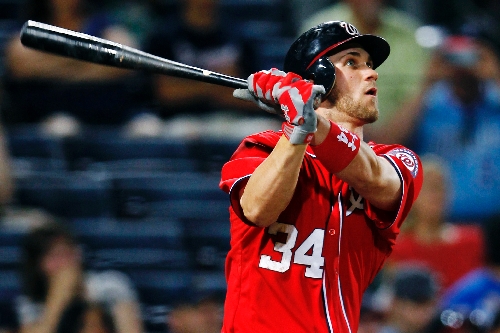 I am wearing a red T-shirt as I type these words, and this T-shirt has a small Washington Nationals logo on front. Above the logo are five words: "That's a Clown Question, Bro."
The T-shirt also has a small Majestic logo on front. The Majestic logo means this is an official "That's a Clown Question, Bro" T-shirt, not some knockoff version made in China one finds outside the ballpark. It also means it costs about $5 more.
(About 80 percent of the world's baseball s are made in China, which probably would drive Ted Williams crazy, if the rest of his body still were alive too. The baseballs used in the major leagues are made in Costa Rica; for those scoring at home, official "That's a Clown Question, Bro" T-shirts are made in Honduras. I still predict that after three washings, I will be mowing the lawn in mine.)
On Monday, Bryce Harper, whose response to a Toronto reporter's question about what Canadian beer he would drink after having a huge game against the Blue Jays inspired clown questions everywhere – and some clown answers too – was named National League Rookie of the Year.
The Las Vegas phenom, who turned 20 on Oct. 16, batted .270 with 22 home runs and 59 RBIs in 139 games after starting the season in Triple-A.
He also hit 26 doubles, nine triples, stole 18 bases and threw out a bunch of guys who had the audacity to challenge his arm.
He hustled from first base to third base on singles, ran hard on ground balls, ran hard on pop flies in case they were dropped. This is what you are supposed to do, though many of today's ballplayers seem to forget that.
This kid Harper played the game hard, by the book, and when the sun shone, he also played it with gobs of black makeup under his eyes, invoking comparisons to the rock group Kiss.
"Really, I just wanted to try to win ballgames," Harper said on a conference call late Monday afternoon. "Just try to be that guy that can come in and play the game hard and play it the right way. That was my main goal, and to try to win the World Series."
He didn't quite make it, as the Nationals were knocked out of the playoffs by the St. Louis Cardinals. Harper received 16 of 32 first-place votes and 112 points in the NL rookie balloting; Arizona pitcher Wade Miley was second with 12 first-place votes and 105 points.
In the American League, Mike Trout of the Los Angeles Angels received all 28 first-place votes from the Baseball Writers of America Association. The closest thing to a clown question during Harper's short teleconference was when somebody tried to draw him into comparing his skills with Trout's.
Actually, it was a legitimate question, and Harper answered it. But when his inquisitor wanted more, and asked what Harper made of the "Who'd you rather have, Trout or Harper?" talk radio repartee, Harper laid off as if it were a curveball in the dirt.
"Like I said before, Mike Trout is a hell of a ballplayer and I hope all the best for him, and I think he's one of the best in baseball. And that's what I've got for ya."
In retrospect, what all of us should have for Harper, his family, and even his agent, the insufferable Scott Boras, is high praise for choosing the right career path. Harper skipped his last two years of high school to expedite being selected first in the major league draft, and many criticized the decision, saying one should enjoy his senior prom and whatnot.
So he didn't get to buy his girl a corsage, and slow dance with her in a darkened gymnasium. Still, if given the chance, I'd rather play minor league baseball when I was 18, especially if it meant playing major league baseball when I was 19.
If, instead of slow dancing in a darkened gym (which has its good points), I were to be plunked in the small of the back intentionally by Cole Hamels of the Phillies – and had gotten even by advancing to third and stealing home, thereby becoming the first teenager to steal home since Ed Kirkpatrick in 1964 – I think I would recall it with crystal clarity.
In retrospect, the thing I most remember about prom night was having to return my old man's Buick by midnight with a full tank of gas.
Las Vegas Review-Journal sports columnist Ron Kantowski can be reached at rkantowski@reviewjournal.com or 702-383-0352. Follow him on Twitter: @ronkantowski.