Hailey Dawson pitches to fellow Las Vegan Bryce Harper at Nationals Park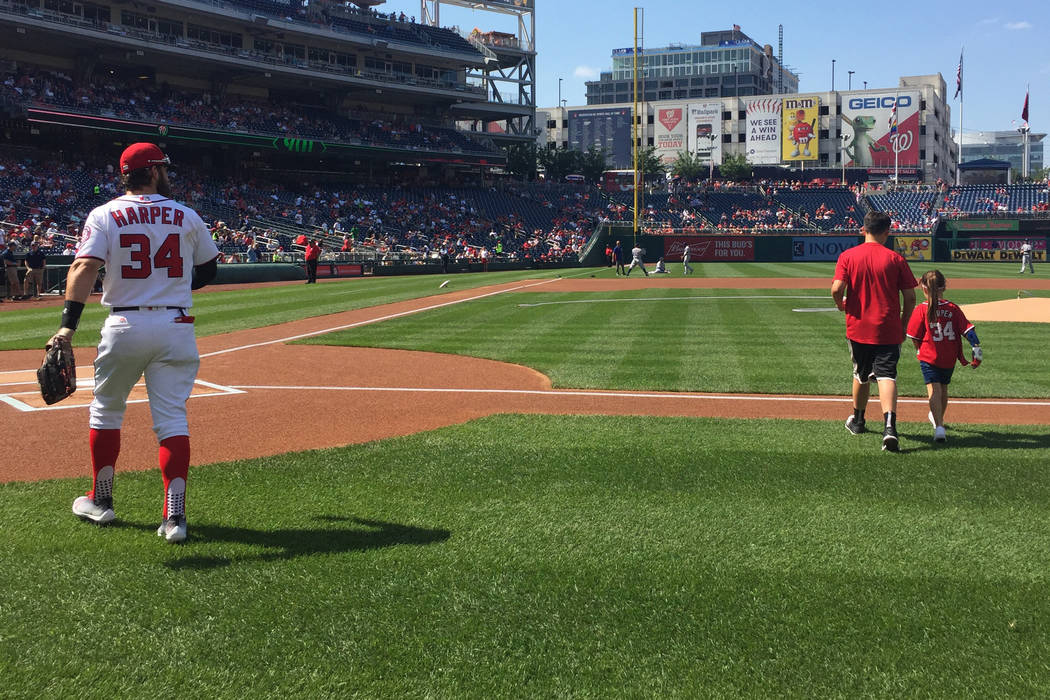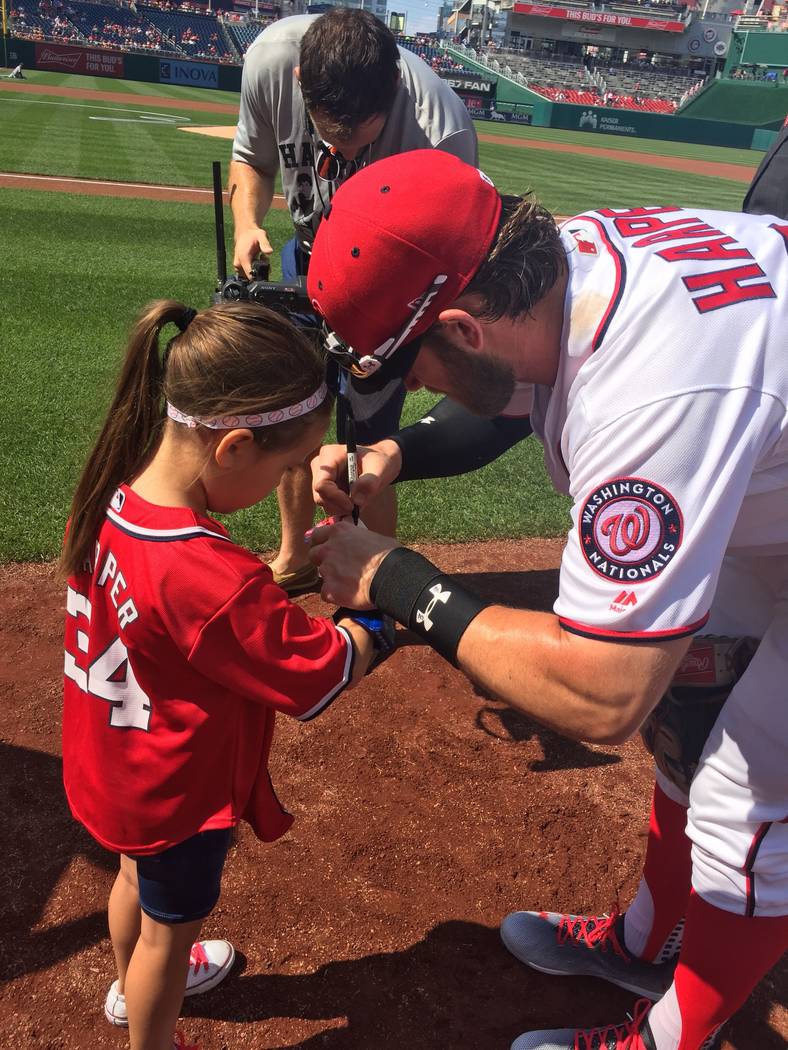 It won't show up in the box score, but let the margin on the feel good portion of your scorecard show the initial battery for the June 11 baseball game between the Texas Rangers and Washington Nationals at Nationals Park consisted of Dawson, H. and Harper, B.
Hailey Dawson, a 7-year-old kid from Las Vegas, was the pitcher. She was the one with the prosthetic right hand, designed by UNLV engineers, that has helped her overcome Poland Syndrome, a rare condition that resulted in Hailey being born without much of a right hand.
Bryce Harper, a 24-year-old kid, also from Las Vegas, was the catcher. He was the one with the big soft spot under his jersey. Hailey had posted on Instagram before spring training, saying that he and Kris Bryant were her new favorite players, and that she'd love to get their autographs on the latest version of her Flexy-Hand.
Both responded.
Harper was first, and the two met at a Vons supermarket in Seven Hills.
It was mentioned to the former National League MVP and Rookie of the Year that Hailey had thrown out the first pitch to her other favorite player, Manny Machado of the Baltimore Orioles, in 2015 when she was 5.
Bryce took it from there.
Harper said he knew somebody in the Nationals' front office, or something to that effect. And that led to Hailey throwing out the first pitch against Texas, sporting a new Flexy-Hand done up in the Nats' colors: red, white and navy blue.
"It was pretty awesome for Hailey and the whole family," her mother, Yong, said by telephone, adding that Hailey eventually would like to throw out the first pitch at every major league ballpark to raise awareness in Poland Syndrome.
When she was told they still had 28 ballparks to go, Yong Dawson said maybe they'd just focus on hitting the ones on the West Coast — and the one in Chicago with the ivy on the outfield walls.
When Kris Bryant invited Hailey Dawson and her family to Bonanza High to watch him film a commercial, mom said the Cubs' slugger asked her little girl a question.
"If I set this up, will you like me more than Bryce?"
The guess is if Bryant comes through in the clutch, it'll be a tie.
Hailey Dawson, a 7-year-old pitching prospect and your new personal hero, threw out yesterday's 1st pitch with her 3D-printed robotic hand! pic.twitter.com/wCL9xHRt1O

— Washington Nationals (@Nationals) June 12, 2017
0:04
— Not saying the feisty reputation of former Mets second baseman and longtime 51s manager Wally Backman precedes him, but … during a discourse on the firing of the Mr. Met mascot for making an obscene gesture at a fan, this is what Chicago broadcaster Jim Deshaies said: "How do we even know who's even under that big head? Could be Wally Backman for all we know." Backman, who was well-liked by 51s players and media, also recently was fired, after guiding Monclova of the Mexican League to a 22-20 record.
Mr. Met flips off fans with non-existent middle finger after another loss https://t.co/KJn0sXG4mz pic.twitter.com/ske43vmhql

— Integrity Tech (@IntegrityWebs) June 5, 2017
— Amanda Green, a freshman at Monmouth (Illinois) College who attended Basic High, scored 13 goals with 10 assists in 13 games and was named to the Midwest Lacrosse Conference all-star team. That was last month. On Wednesday, the theatre major was named MLC All-Academic. She also was a team captain. Other than that, she didn't contribute much to the startup program.
Congrats to our Midfielder Amanda Green on earning MWLC Academic All-Conference! #RollScots #StudentAthlete https://t.co/Wb5fuxEbhU pic.twitter.com/n6aSVNIXcy

— Monmouth W. Lacrosse (@ScotsWLAX) June 13, 2017
— The R-J's Ben Gotz wrote a fun piece about the strenuous workout routines of senior bowlers, but the guy who won the U.S. Bowling Congress Senior Masters at Sam's Town last weekend favors a more relaxing approach to staying in shape. Walter Ray Williams Jr., the PBA's career titleholder with 47, pitches horseshoes. He has won three junior titles and six in seniors, and once pitched with President George H.W. Bush at the White House.
USBC and PBA Hall of Famer Walter Ray Williams Jr. won his second USBC #SeniorMasters title Sunday in Las Vegas. https://t.co/ngSw0bCaQx pic.twitter.com/eUY07kDFnL

— USBC (@USBC) June 11, 2017
— A day after Floyd Mayweather signed to pad his bank account by fighting a guy with a boxing record of 0-0-0 with 0 knockouts, it was announced that Olympic champion Michael Phelps had signed to swim against a great white shark. Yakov Smirnoff was right: What a country!"
Michael Phelps is gonna race a great white shark for #SharkWeek

Who ya got? pic.twitter.com/WlIWnmCZLr

— FanDuel (@FanDuel) June 16, 2017
Contact Ron Kantowski at rkantowski@reviewjournal.com or 702-383-0352. Follow @ronkantowski on Twitter.
Poland Syndrome facts
— Poland syndrome is a congenital malformation affecting the chest muscle and hand on one side of the body.
— The cause of Poland Syndrome is not certain.
— The main chest muscle (the pectoralis major) is absent.
— The fingers are webbed on the same side of the body.
— Treatment includes reconstructive surgery and possible implantation of bioengineered tissue.
For more information: https://rarediseases.org/rare-diseases/poland-syndrome/