Harvick's racing roots run back to Bakersfield
December 2, 2014 - 4:25 pm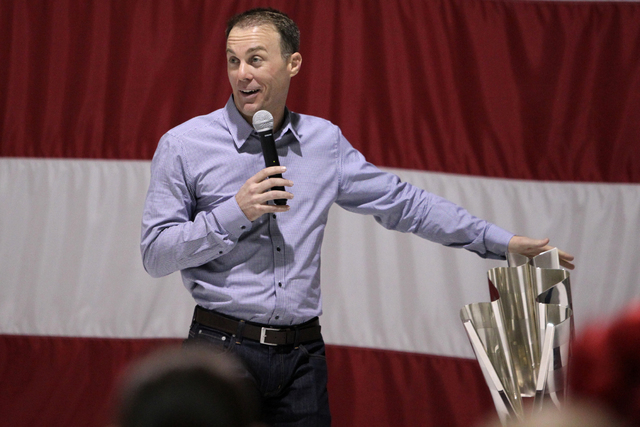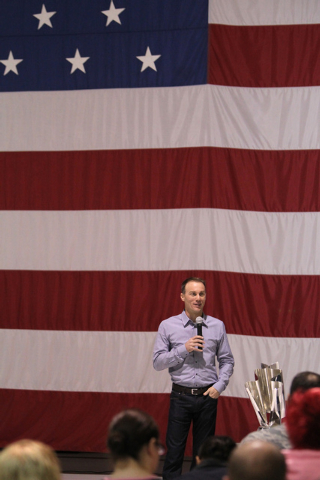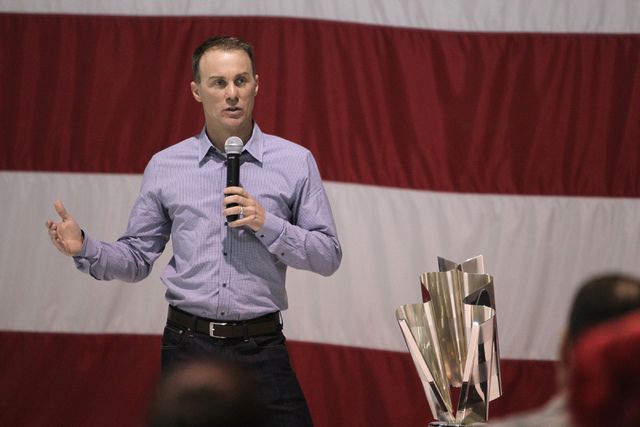 It was a few years ago when we were rolling hard down California Highway 99 toward Bakersfield that my wife got this distressed look. I had heard the jokes about Bakersfield, that it was an old cowtown that smelled of diesel fuel because of the truck stops. But I could tell that what was distressing my wife wouldn't wait until Barstow.
And thus my earliest recollection of Bakersfield is of the nice girl at Taco Bell saying we could use the restroom and no, we didn't have to purchase a 99-cent burrito before she'd give us the key.
So based on that experience, the people of Bakersfield are a friendly sort.
They also know how to haul asphalt.
On Nov. 16, a native son of Bakersfield named Kevin Harvick won the NASCAR Sprint Cup championship in thrilling fashion at Homestead-Miami Speedway, following up on the success that another native son of Bakersfield named Rick Mears achieved at this little speed emporium they call Indianapolis Motor Speedway. Mears won four Indy 500s, tying him with fellow legends A.J. Foyt and Al Unser.
So, yeah, guys from Bakersfield haul serious asphalt.
This is NASCAR Champion's week in Las Vegas, and Harvick was the guy giving Gatorade baths in victory lane down in Florida, and so he was the one speaking to local media Tuesday. He spoke about about winning the Cup in thrilling fashion, and instigating the brawl on pit road pitting Jeff Gordon against Brad Keselowski — the Thrilla in Vanilla? — and about guys from Bakersfield hauling serious asphalt.
First, though, he stood before this giant U.S. flag in the hangar where they work on the Thunderbirds at Nellis Air Force Base, along with his crew chief Rodney Childers.
They looked like George S. Patton while answering questions from the airmen, or at least George C. Scott in the movies. To the left sat one of those Lockheed Martin F-16 Fighting Falcons, assigned to the 57th Wing. These F-16s can reach a speed of Mach 2, which is even a lot faster than Jimmie Johnson's No. 48.
Afterward, Harvick and the airmen posed for photos with the Sprint Cup — and with Miss Sprint Cup, who also was on hand. He spoke about growing up fast in Bakersfield, and of going home again on Monday.
Cheerleaders waved pom-poms when Kevin Harvick strolled into the North High gymnasium clutching the golden Sprint Cup. He said the first time he had walked into that gym, when he was a freshman, it immediately became apparent he was too small to play basketball.
"I tell people all the time, people from outside Bakersfield, that I was fortunate to have grown up in a racing town," said the 38-year-old lead foot, who held off Ryan Newman on a late restart to win the season finale and the championship in the dramatic conclusion NASCAR was hoping for.
"It's a place that has dirt tracks, asphalt, ovals, go-kart tracks, drag strip … always well supported. I was just fortunate I had a lot of friends and family and supporters. So it's always fun to go back, like we did yesterday, when we took the trophy to my high school."
In addition to all those places to haul asphalt, Bakersfield also had Rick Mears, the most famous member of the Mears Gang, which included Rick's brother, Roger, and Roger's sons Roger Jr., and Casey.
Mesa Marin Raceway, a half-mile paved oval out past the truck stops, was where some of the kids who were too small to play basketball took driver's ed. It closed in 2005, but by then Harvick and Jimmie Johnson had moved to North Carolina where they slept on fellow Californian Ron Hornaday's spare couches.
They were fast on their way to becoming NASCAR stars. They also had stiff necks from sleeping on Hornaday's couches.
"Growing up in Bakersfield, Rick was the racing icon," Harvick said of the Mears Gang. "When I was a kid, that's who you wanted to be. You wanted to be like Rick Mears, and you wanted to race IndyCars at the Indy 500."
Rick Mears won 29 IndyCar races and three series titles. But when Harvick was coming up, it was like Tom Cruise said in "Days of Thunder" — you had to be an Andretti or an Unser to get a good IndyCar ride. So Harvick went to NASCAR where he has won 28 Cup races, including the 2007 Daytona 500.
Mesa Marin, the slippery oval where he and the Mears Gang hauled asphalt? It's gone now. They've built a new track out beyond the truck stops, where they've even planted trees and shrubs.
"It was a great racetrack. I was fortunate to be able to grow up at a fairly high-speed, half-mile, worn-out racetrack that required a lot of handling characteristics with a lot of speed to go with it," Harvick said. "You hated to see it get torn down."
On Monday at his old high school he told the students, many of which also were too small to play basketball, that when he was starting out driving a racecar was "one of the dumbest things a kid could do."
Then on Tuesday, he was standing in front of a giant U.S. flag, looking for all the world like Patton in the movies. Guys with cool pilot nicknames were roaring overhead, hard on the stick.
When the light in the hangar reflected off the golden Sprint Cup, Kevin Harvick, your 2014 NASCAR Sprint Cup champion, didn't look too small anymore.
Las Vegas Review-Journal sports columnist Ron Kantowski can be reached at rkantowski@reviewjournal.com or 702-383-0352. Follow him on Twitter: @ronkantowski