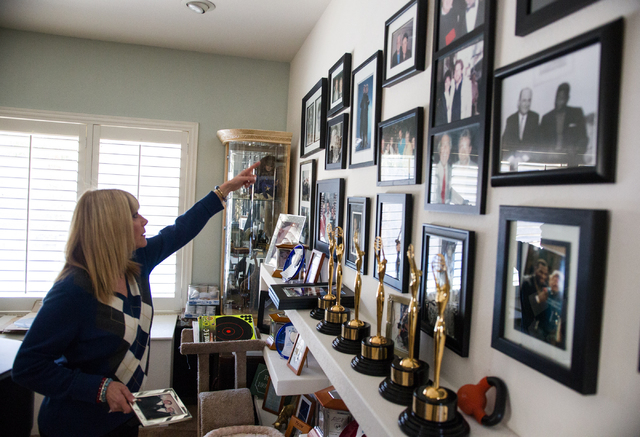 It was a little more than 35 years ago when Miss November — Miss Linda November, a Jewish kid from Brooklyn with a lilting soprano singing voice — walked into a drab sixth-floor office at the famous Mayfair Studios at 47th Street and 7th Avenue on a sweaty day in Manhattan.
The temperature was about 90 degrees. The humidity seemed higher.
When she walked out of the little studio where Jimi Hendrix once had recorded, it wasn't so stifling anymore. It was hailing.
This was a sign that something big was about to happen, Linda November remembers thinking.
If truth be known, she probably would have had that feeling had you still been able to fry an egg in Times Square when she stepped out into the weather. She and five others — Jim Campbell, Don Thomas, Liz Corrigan, Shellie Littman and Arlene Martell — had been there to sing an advertising jingle. The "Coke and a Smile" jingle.
Written by a woman named Penny Harkey, it was one of those jingles that immediately gets stuck in your head.
They showed the singers the video footage for the spot. One could tell it was great, too, even before the guys working the knobs at the big control panel added the Coca-Cola music to it.
"Hey, Kid. Catch!"
There was the little kid telling Mean Joe Greene of the Pittsburgh Steelers that he could have his Coke; there was Mean Joe downing the Coke in one gulp. There was a loud burp in the tunnel. Only the burp had been edited out of the tape by then.
There was Mean Joe tossing his jersey to the little kid. Linda November and the others sang, and then the guys working the knobs put it down just right, and then there was history to be made.
The heartwarming spot featuring Mean Joe Greene and the little kid became iconic. It would become the first awesome Super Bowl commercial, before the mad men at the New York agencies spent most of their time trying to come up with awesome Super Bowl commercials.
It won the Clio Award, the advertising world's Oscar, in 1979.
One of those golden Clios — and five others — are sitting on a shelf in the piano room in the home in Anthem in Henderson where Linda November and her husband, Artie Schroeck, still make music whenever they get the urge.
"Two or maybe three takes, we were in and out," Miss November says as she sits at the big piano, tinkling keys, remembering the steamy day on which she sang for Mean Joe and The Kid. "We were monsters. It was a great idea and a brilliant section.
"We did all the Coca-Cola stuff. 'It's the Real Thing,' whatever. They had Dottie West, Billie Joe Royal, The New Seekers. They didn't like them. They put us back on. The New Seekers got the credit" for teaching the world to sing in three-part harmony.
Apple trees and honey bees and snow white turtle doves didn't trip Linda November's trigger in those days. Money did.
"It didn't matter. I got paid. I didn't give a (damn)," she said about singing on that spot, and about who got the credit.
Now she is proud of her work on those spots, and how people tap their foot or sway from side to side when they remember them.
Then?
"It was just another gig," she says. Even the Mean Joe Greene one, as good as that one was.
"The whole thing was maybe 40 or 45 minutes, maybe an hour. We probably got $300 for the session. If it goes on the air, when it's on the networks and in all the major cities …"
Well, that's when the residual checks start arriving at the concierge desk downstairs.
"Oh, but it was a wonderful spot," Linda November says.
Meow Mix was a wonderful spot, too. Remember that one? Linda November was the voice of that infernal singing cat.
Fab, Tab, Clairol, American Airlines, Windex, Prudential. Linda November owned a pretty big piece of the rock, thanks to singing those jingles. She estimates she sang on 22,000 jingles in 32 years, that she made more than $10 million singing jaunty ditties about the better idea the Ford Motor Co. just had.
That'll bring a smile to a girl's face even if there's no Coca-Cola in the fridge.
Linda November and a friend named Toni Wine were the backup singers on "Knock Three Times" and "Candida." Most people don't know the original Dawn was Jewish.
Her pal Tony Orlando called. We got a couple of big hits, he said. We gotta take the show on the road.
Can't do it, Linda November said. She was making too much money singing jingles.
While she sat on her piano stool and talked, I listened. Names were dropped, bits of songs were sung. It was like hearing "The Ed Sullivan Show" come to life. I thought Bill Dana and Jose Jimenez were going to come walking out of the guest bedroom at any minute.
"One night, I told Neil Diamond to drop dead …"
"I worked with Douglas Fairbanks Jr. once. He was a lovely, delicious man …"
"We were doing an album with Liza Minnelli …"
"Of course, we know Paul Shaffer …"
"Barbra Streisand is a horrible woman. I'd walk in and she'd see me and she'd say, 'Oh, Christ, that Linda November, she's here again …"
When she tells that story, Linda November is doing a great Barbra Streisand impression.
She is 69 now. Her father, Julius November, was Floyd Patterson's business manager. She was discovered by Richard Rodgers. That Richard Rodgers. That Hammerstein guy's partner. The ringtone on her cellphone is the Meow Mix jingle; Artie's is Frankie Valli's "Can't Take My Eyes Off You." Artie arranged that one. His gold record is hanging on the wall, next to the couple's Clio awards.
Linda November showed me a contract from the Robert Dalrymple agency. They want to put the Mean Joe Green commercial back on the air over the weekend. They will pay her $575. They were going to pay her $750.
"Cheap bastards," she says with a joke and a smile.
Las Vegas Review-Journal sports columnist Ron Kantowski can be reached at rkantowski@reviewjournal.com or 702-383-0352. Follow him on Twitter: @ronkantowski.