Here's our top 10 Las Vegas sports stories of the year
January 1, 2017 - 1:08 am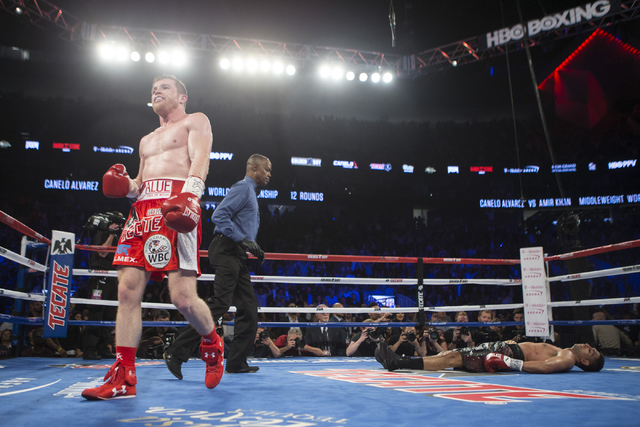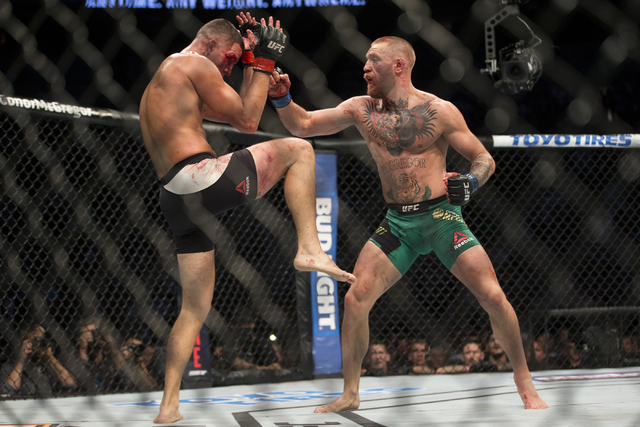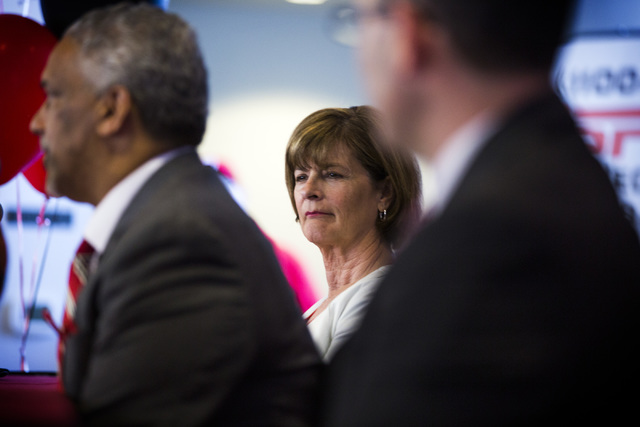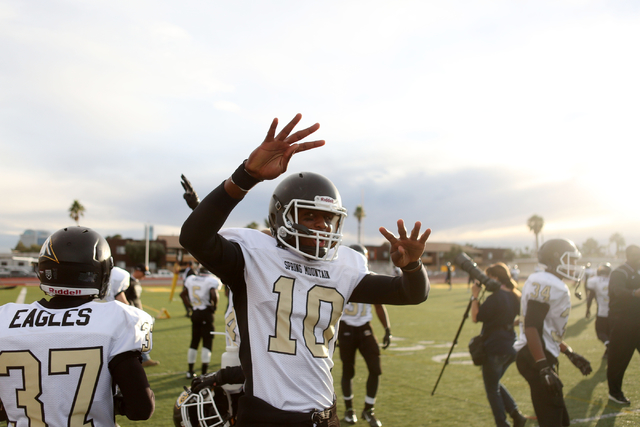 It's true that history really is subjective, that the teller determines it.
Which is great if you were Kris Bryant in 2016, and not so much if you were firing basketball coaches at UNLV.
Some of the history made will change the face of the Las Vegas sports scene forever, while other facets won't be celebrated as milestones to remember.
Here are our top 10 local sports stories of the year:
1 A STADIUM DEAL AND THE NFL
It was, in many ways, a rocky and tedious and messy and bizarre and fascinating journey, but when 28 names appeared in green on a large video screen inside the Nevada Assembly in mid-October, Las Vegas took a giant step closer to housing an NFL team.
Five days after a special legislative session called by Gov. Brian Sandoval to consider public financing for a $1.9 billion domed stadium began, the power of coalition paved the way for the Oakland Raiders to apply for relocation to a new home in Southern Nevada.
Senate Bill 1 received exactly two-thirds majority support in the Assembly, meaning a public-private partnership to build the stadium will be funded in part by $750 million in Clark County hotel room taxes, signed into law by Sandoval.
Next step: Raiders owner Mark Davis is expected to file for relocation after his team's final game this season, and if he receives the minimum 24 votes from owners needed for relocation, we're guessing that story might make next year's top 10 list.
2 A GOLDEN KNIGHT ARRIVES
It was officially announced in June the puck would stop here beginning in 2017-18, as Las Vegas at long last was awarded its first major pro sports franchise, an NHL expansion team.
The process was swift and relentless. More than 10,000 deposits on season tickets were made posthaste as local fans anticipated the dropping of the first puck.
But getting a nickname and an identity was a much more tedious process. It reminded some of a Zamboni running on seven cylinders, if a Zamboni had cylinders.
Owner Bill Foley's team finally was named in November when it was revealed amid much pomp and circumstance at T-Mobile Arena that the fledgling franchise will be called the Vegas Golden Knights — no Las. No souvenir jerseys yet, either.
The U.S. Army parachute team and the College of Saint Rose in upstate New York, also known as the Golden Knights, raised a collective eyebrow and said not so fast, and the U.S. Patent and Trademark Office just as quickly rejected the Vegas Golden Knights' application.
So the Golden Knights are now the Cloudy Knights, at least until the appeals are heard.
3 KRIS BRYANT GOES CRAZY, FOLKS, GOES CRAZY
The last batted ball of what many experts since have called the greatest Game 7 ever played bounced … one … two … three times in the general direction of Kris Bryant, who only a few years before was playing baseball at Bonanza High School.
As he gathered it up, the 24-year-old Bryant flashed a knowing smile that was seen by more than 40 million viewers — the most to watch a ballgame on TV in more than 25 years. Bryant slipped a little on the wet grass, but his throw across the diamond was true.
Three outs. Ballgame. The Chicago Cubs had defeated the Cleveland Indians to win their first World Series in 108 years.
Before making the "Assist Heard Round the World," Bryant had batted .292 with 39 home runs and 102 RBIs. He played seven positions, scored a league-leading 121 runs, hit a home run in the All-Star Game. He was named Most Valuable Player of the National League.
He announced he would be getting married during the offseason.
Other than that, it was a pretty uneventful sophomore season for Bryant and the world champion Cubs.
4 LOWS AND HIGHS OF REBELS
On one hand, you had the buffoonery that was UNLV's administration firing a basketball coach (Dave Rice) in January and then stumbling through a search for his replacement (we hardly knew thee — no, really — Chris Beard) before landing on Marvin Menzies in April.
On the other, you had the Fertitta family donate $10 million — the largest single gift in UNLV athletics history — toward construction of a 73,000-square-foot, state-of-the-art training facility that will be known as the Fertitta Football Complex.
On one hand, you had a muddled and shortsighted decision supported by athletic department officials, the university president and boosters, all of whom couldn't see the forest for the trees, that set the school's top program back years.
On the other, you had the announcement of a building that will make UNLV football relevant in the college arms race, officially removing the Rebels from the sideline when it comes to a significant commodity in a world of haves and have-nots, and finally putting them in the game.
5 A GOLDEN FUTURE
A few months after attending her senior prom, one of the new shining faces of American track and field began a ride that was as sudden as it has been spectacular.
Vashti Cunningham doesn't turn 19 until next month, but the Bishop Gorman High graduate and daughter of College Football Hall of Famer Randall Cunningham has already made an indelible mark on her sport.
Cunningham, who decided against competing in college and instead turned professional by signing with Nike, qualified for the Rio Olympics in the high jump. She was the youngest female American track athlete to make the Olympics since 2000 and the youngest to compete at the games in four decades.
She won the indoor World Championships in March but failed to medal in Rio, finishing 13th and yet setting the stage for what could be a career with several Olympic berths.
6 UFC BREAKS BANK
That's B, as in $4 billion.
It's what the Ultimate Fighting Championship sold for to talent agency WME-IMG and various partners, becoming the sport's biggest news in a year when Conor McGregor strengthened his position as the face of the sport and Ronda Rousey made her long-awaited return to the octagon, even though she lasted only 48 seconds against Amanda Nunes.
McGregor fought three times, losing his welterweight debut against Nate Diaz by second-round submission a month after McGregor was pulled from UFC 200 for refusing to attend a promotional news conference in Las Vegas.
He returned to beat Diaz by majority decision and then knocked out Eddie Alvarez to win the lightweight championship and become the first simultaneous two-division champion in UFC history.
In November, McGregor vacated the featherweight championship, but further reports confirmed he was stripped of the title.
Either way, there is no disputing which fighter sits atop the UFC.
7 UNLV ATHLETIC DIRECTOR STEPS ASIDE
The first female athletic director in UNLV history received a six-month extension in October and then announced she would be resigning when the fiscal year ended in June 2017.
Tina Kunzer-Murphy put a positive spin on the development, as did UNLV president Len Jessup after it was determined Kunzer-Murphy would be reassigned to the UNLV Foundation, where she will help fundraise.
Her tenure as athletic director lasted three years, about two fewer than UNLV usually gives its football and men's basketball coaches to turn things around.
Those two programs continued to founder on her watch, but that doesn't make Kunzer-Murphy unique among Rebels athletic directors. On a positive note, a baseball clubhouse was built, football funds were raised and the men's and women's golf and tennis teams won Mountain West championships during the 2015-16 academic year. But the football team lost by five touchdowns to UNR in November and the basketball team by 49 points to Duke in December.
8 PREP FOOTBALL STREAKS
One came to an end and another continued its journey of dominance.
Little Pahranagat Valley made national headlines in September by winning its 94th consecutive high school football game, setting the national eight-man record formerly held by Shattuck, Oklahoma, which won 93 in a row from 2003 to 2009.
The Panthers' winning streak would reach 104 before ending with a 68-46 defeat to Spring Mountain in a rematch of a regular-season game that Pahranagat won 36-18.
It turned out to be a tumultuous season for the Panthers. Longtime coach Ken Higbee announced he would be resigning at season's end, and shortly thereafter, he was named in an unspecified criminal investigation that has divided Lincoln County.
At Bishop Gorman, the Gaels won their eighth straight state championship and third consecutive national title, having gone 45-0 during that span.
The question is, will coach Kenny Sanchez return next season in search of more championships or will reports that he will join his brother Tony's staff at UNLV prove true?
9 T-MOBILE ARENA OPENS DOORS
The first act was April 6, a concert featuring The Killers, Wayne Newton & Shamir, officially welcoming guests to the multiuse indoor arena on the Las Vegas Strip, a joint venture between MGM Resorts International and the Anschutz Entertainment Group.
The arena was christened for sports by the Harlem Globetrotters later in April, and the first major sporting event was in May, a middleweight boxing match between Canelo Alvarez and Amir Khan.
T-Mobile will be home for the Vegas Golden Knights beginning in October and held one of the more exciting college basketball doubleheaders of the year two weeks ago, when UCLA beat Ohio State and Kentucky won a 103-100 thriller against North Carolina. A week earlier, UNLV played Duke in the first college basketball game in arena history.
Both weeks sold out.
The venue also has become a popular stop for the UFC, having hosted the 200, 202 and 207 cards in 2016. It also will be home to UFC 209 in March.
10 CHRIS CARTER GOES DEEP, GETS CUT
His name is Chris Carter, aka the third slugger from Las Vegas, the one who most baseball fans hadn't heard much about — the one who played for Sierra Vista High before Kris Bryant played for Bonanza and Bryce Harper for Las Vegas High.
Playing first base for the Milwaukee Brewers, Carter belted 41 home runs, which co-led the National League with Colorado's Nolan Arenado.
So how did the Brewers reward Carter? They cut him. Chris Carter became the first player in MLB history to lead the league in home runs to get cut, principally because he strikes out a lot and does not hit for a high average. A lot of teams have expressed interest in picking him up. None has so far. One will before spring training.
Contact columnist Ed Graney at egraney@reviewjournal.com or 702-383-4618. Follow @edgraney on Twitter.
Contact columnist Ron Kantowski at rkantowski@reviewjournal.com or 702-383-0352. Follow @ronkantowski on Twitter.
TOP 10 LIST
1. A stadium deal and the NFL
2. A Golden Knight arrives
3. Kris Bryant goes crazy, folks, goes crazy
4. Lows and highs of Rebels
5. A golden future
6. UFC breaks the bank
7. UNLV athletic director steps aside
8. Prep football streaks
9. T-Mobile Arena opens doors
10. Chris Carter goes deep, gets cut