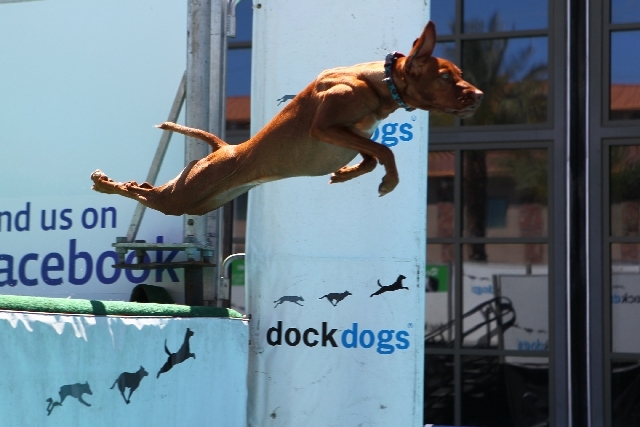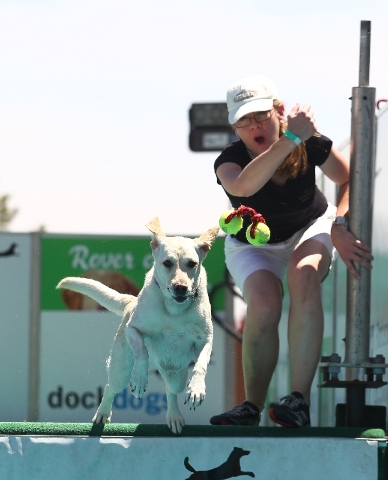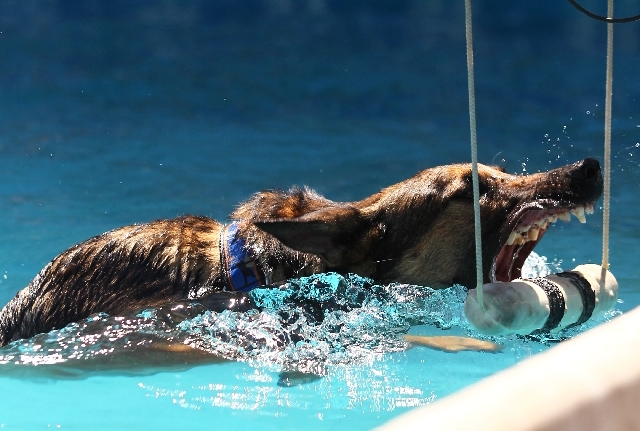 The champ didn't feel much like talking.
It might have been because it was 100 degrees outside; it might have been because he would be going out to defend his title in a little while. When I asked the champ a couple of routine questions, he did not respond. I did notice a bit of spittle forming on the corners of his mouth.
A couple of months ago, the champ had been diagnosed with cancer. He had surgery to remove a tumor from his side. The champ is now a cancer survivor.
But the champ just stared at me with a blank expression and sniffed. It was like interviewing Steve Carlton when he pitched for the Phillies.
Then the champ looked at me with kind eyes and licked my hand.
The champ's name is Rex. Sexy Rexy, some call him. He's a 6-year-old Belgian Malinois. He won the DockDogs Extreme Vertical jump championship in Salem, Ore., by leaping 7 feet, 4 inches from a standing start into a swimming pool.
His handler, a young Las Vegas woman named Lianne Shinton, probably had something to do with it.
DockDogs had its Western Regional Championships at the Cannery in North Las Vegas over the weekend in a temporary outdoor stadium. I found it much more entertaining than some of those interleague baseball games.
A dock was built, and a firehose pumped 27,000 gallons of water into the mother of all inflatable backyard swimming pools. It took a couple of hours. It would have taken a couple of weeks with a garden hose.
When I heard the DockDogs were coming, I knew I would go. For starters, I like dogs. Plus, I have seen dogs fly through the air to catch a Frisbee in their teeth and been fascinated. DockDogs is sort of like that, only with water. Everything is better when you add water. Especially Kool-Aid, and Acapulco cliff diving on "Wide World of Sports."
A few minutes after I reached into Rex's cage to give him a rub between the ears, Lianne was standing behind him on the dock for the Speed Retrieve event.
Speed Retrieve is the newest of the DockDogs disciplines. The announcer called it "doggy drag racing." The canines race down the dock, jump into the pool, swim to the other end and stop the clock by taking an object that is sort of shaped like a bone between their teeth. There's even a Christmas tree of staging lights, like in the NHRA.
Rex won in Speed Retrieve, too, but because this is a relatively new event, only three dogs were entered. It was a Three Dog Afternoon. Too bad it wasn't evening. Then it would have been a Three Dog Night.
I also could not resist asking Lianne, "Who let the dogs out?" She smiled because she is friendly, but I could tell it was not the first time she had been asked that.
When it was Rex's turn to speed retrieve, Lianne stood behind him, held his front paws aloft and began shouting in a shrill voice.
"Go-oooo! Go, go, go, go, go!"
And then Rex did go, and the announcer said his reaction time was 0.15 seconds, which is like faster than John Force. Then Lianne blew a whistle and Rex swam to the ramp and shook off the excess water, and the spectators who were standing near the edge of the pool loved it, because it was pretty darn hot out.
Having now witnessed DockDogs, which, like most sports, was a made-for-ESPN endeavor before ESPN mostly became guys talking about the NFL from behind a desk, I would have to rank it my second-favorite canine sport behind greyhound racing. But only because you can bet on the greyhounds, and what else is there to do in Phoenix, anyway, after the sun goes down?
"We've got everything from the smallest Pomeranian to the largest Great Dane," DockDogs spokesman Brian King told me. King said DockDogs also has a Whippet named Cochiti that tied the Big Air world record with a leap of 31 feet. I watched the video on YouTube. It was like watching Bob Beamon long jump in Mexico City.
But because King brought up the Great Danes, I had to ask, you know, what if they have to, you know, use the bathroom?
There weren't any grassy knolls near the dock at the Cannery, but King says there was a little patch of green out back through the gate.
"If you don't pick it up, you're out," he said, and that's just one of the ways DockDogs is different than baseball.
But some of the canine athletes have taken on the persona of today's ballplayers. Lianne said she has another DockDogs named Dooley, and when I asked of his whereabouts, she said Dooley was back in his air-conditioned hotel room, watching "Talladega Nights" on TV.
Las Vegas Review-Journal sports columnist Ron Kantowski can be reached at rkantowski@
reviewjournal.com or 702-383-0352. Follow him on Twitter: @ronkantowski.