High school wrestlers still feel effects of COVID pandemic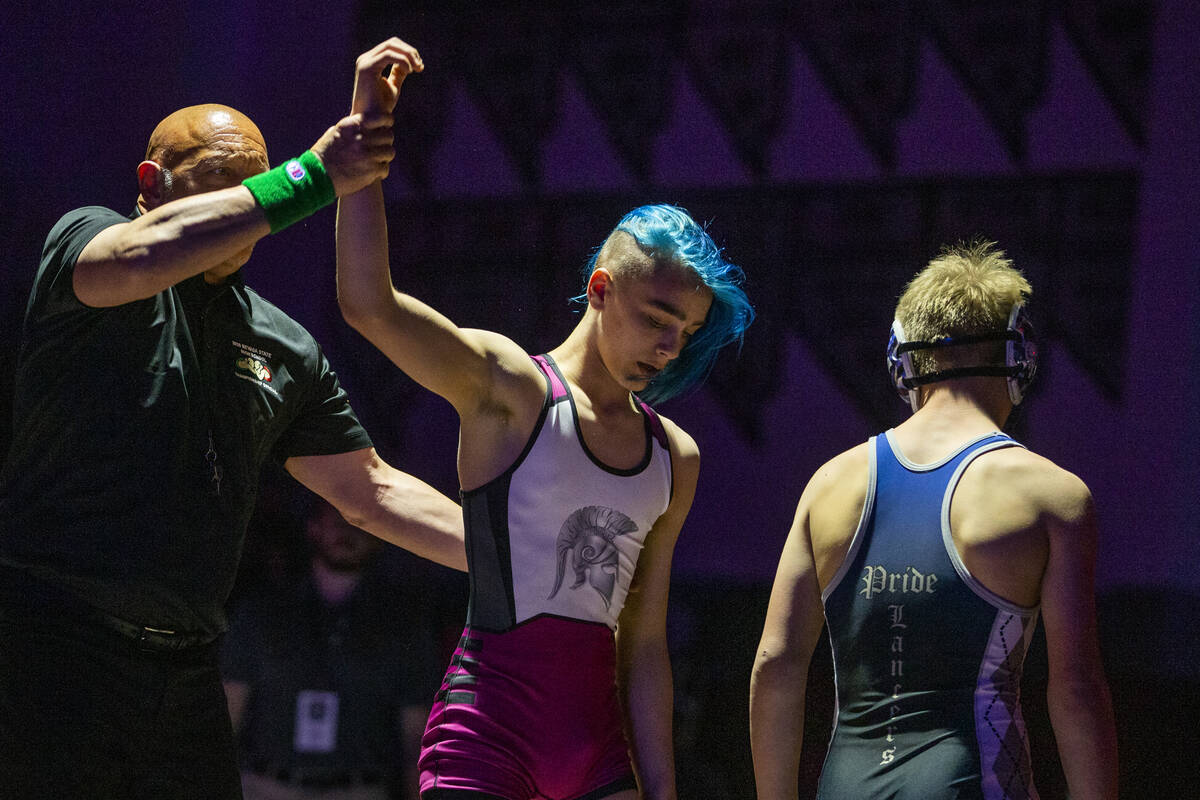 One of the defining characteristics of amateur wrestling is that social distancing is frowned upon.
Lack of social distance is what makes the sport exciting. But during a pandemic, try taking down an opponent without getting his sweat on you, or sometimes even his blood and tears, because when done correctly, amateur wrestling is a pursuit in which few bodily fluids are spared.
"Last year, no state meet — no wrestling whatsoever," said Shadow Ridge coach Gus Gledhill, whose Mustangs finished runner-up to Green Valley the last time prep wrestlers were allowed on the mat for state competition in 2020.
With state championships at four sites across Southern Nevada this weekend — Cimarron Memorial will host the Class 5A meet, with 4A, 3A and 2A meets set for Clark, Boulder City and The Meadows — and face-mask restrictions having been lifted, it might seem high school wrestling is almost back to normal. But the reality is most programs still are recovering after having been placed in a double shoulder lock by COVID.
Gledhill said Shadow Ridge completed about 80 percent of its matches after wrestling in small practice groups in an attempt to keep the virus from spreading.
"We (still) had multiple wrestlers get it, and (the group) would have to sit out a week. And then they would come down with it and have to sit out another week," Gledhill said about starting the season with 70 wrestlers and finishing with Trent Smith, one of the top seeds at 145 pounds, and about 34 others.
Gledhill said numbers are down throughout the valley, as a difficult sport for which to train became even more taxing because of the pandemic. Losing last season also meant losing a season of coaching and acquiring meet experience for many wrestlers.
"We normally have a rule that says you miss this many practices, you're gone," Gledhill said. "But I can't tell you how many kids would come up and say, 'I have a sore throat.' What are you supposed to do with COVID? It was like go home, come back when you feel better."
Some battle, though
But Rob Cate, president of USA Wrestling of Southern Nevada, thinks the lost season of 2020 has had a far bigger impact on high school wrestling than 2021's one of compromises.
He estimates that when COVID eliminated the 2020-21 season, about half of the high school wrestlers pursued other opportunities by joining club teams or, less optimal, continuing to train in garages or other makeshift gyms.
And the other half?
"They didn't wrestle for a year and a half. So what we are seeing this year is a little bit of disparity between those who wrestled through COVID and those who didn't," Cate said. "Numbers are down a little bit … and we're seeing a lot more pins and a lot more one-sided domination by those who pushed through COVID and took advantage of other wrestling opportunities."
But at the same time, he said state brackets featuring a depth of wrestlers that competed through COVID are just as strong — if not stronger — than before.
Cate said the 138-pound weight class — featuring stalwarts such as SLAM Nevada's Anthony Aniciete and Cannon Montoya, Cate's son Otto Cate-Cribari of Cimarron-Memorial and Ben Miller of McQueen — is "absolutely ridiculous."
"The 138-pound division in 5A has got four state champions and six Division I commits — it's the deepest bracket that's ever been seen in Nevada," Cate said. "The crazy thing is that this year will produce the highest number of Division I and Division II wrestlers to ever come out of the state."
Sometimes when it comes to the heart and desire of an amateur wrestler to compete through blood, sweat, tears and other adversity, even social distancing can be an obstacle easily overcome.
Contact Ron Kantowski at rkantowski@reviewjournal.com or 702-383-0352. Follow @ronkantowski on Twitter.
Class 5A state wrestling
When: Friday, Saturday; championship finals 1 p.m. Saturday
Where: Cimarron-Memorial High School
Tickets: $12 adults; students $5 with valid ID; children 8-under free
Information: NIAA.com