Hospital visit cheers kids — and Rebels
December 20, 2014 - 10:14 am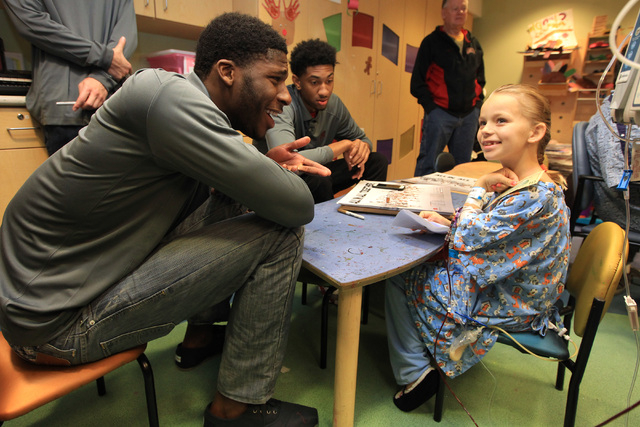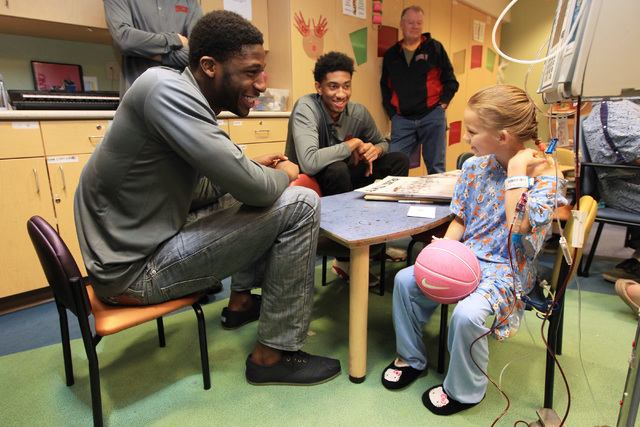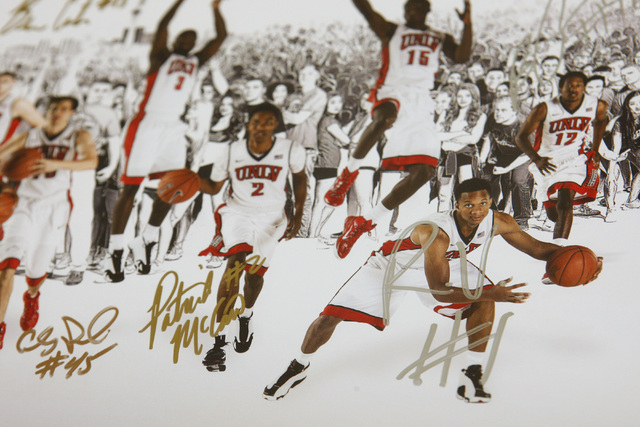 Sometimes after getting hammered on the boards by a middling opponent and twice being taken to the last second before escaping with the narrowest of victories, perspective is called for.
The UNLV basketball team got a heavy dose of it Thursday morning at Sunrise Children's Hospital. Blessings were counted in the manner of missed 3-point field-goal attempts.
Just 12 hours after holding off stubborn Portland of the West Coast Conference at the Thomas &Mack Center, the Rebels dropped in on pediatric and intensive care wards and put smiles on young faces.
This was perspective, especially so close to Christmas.
The visit was organized by Ken Thomson, a Yahoo! Sports Radio talk show host based in Las Vegas. When Thomson reached out to UNLV coach Dave Rice to inquire about the availability of two or three players for the meet and greet and the sharing of smiles, Rice said forget about two or three of his guys, he'd have the whole team there.
Sometimes people question whether the young UNLV coach fully understands the X's and O's, as frustrated and unrealistic fans with a laptop computer and a message board alias tend to do. But when it comes down to what truly matters, Dave Rice gets it.
"It's going to help the kids," he said as nurses marveled at how much taller the Rebels were than when they appear on ESPN, or on nights such as Wednesday when they get outrebounded, "but it's going to help our guys, too, to see how blessed they truly are."
A lot of the kids were too ill or fatigued to have visitors. The ones who were feeling up to it were brought into a playroom on the fourth floor. They were in wheelchairs, or hooked to hospital carts and tubes connected to bags of plasma and intravenous fluids. LED readouts on the carts kept track of the numbers.
When the numbers are good, the kids get to go home.
Going home at Christmas is better than being a low seed in the NCAA Tournament and drawing Kansas.
A little girl named Tristen Kersey was brought in to meet the players. Tristen lives in Lake Havasu City, Ariz. She came home from school vomiting two weeks ago after her appendix had ruptured. She thought she would be home by now, but her numbers aren't good.
Now it's starting to look as if she might be spending Christmas in the hospital, hooked to a cart and connected to tubes.
She grimaced when they brought her in, but not nearly as much as Goodluck Okonoboh, who stands 6 feet 10 inches tall, grimaced while squeezing into a little chair that sat 18 inches off the floor.
"Goodluck, that's a funny name," she said, breaking in a toothy grin.
The big guy from Boston with the fuzzy beard scored two points with six rebounds in 30 minutes against Portland — one of those times when there wasn't enough Goodluck to go around. You could say the same about those pediatric and ICU wards.
Tristen Kersey was shy at first — I think it might have had something to do with that grimace, and her hemoglobin numbers being too low — but it wasn't long before Goodluck Okonoboh had her eating out of the palm of his very large hand, and slapping it, after they teased Rashad Vaughn and Christian Wood about their unkempt hair.
"Days like this put a smile on her face," said a young woman from Arizona who has been spending far too much time in the hospital. Shannon Kersey, Tristen's mom, and Tristen's dad own a boat-detailing business in Lake Havasu. They haven't been detailing many cabin cruisers since their little girl got sick.
You couldn't help but notice that days like this also put a smile on the players' faces.
"It's a great opportunity to make their day and make them forget about whatever they are going through," said reserve guard Jerome Seagears, No. 20 on the souvenir poster.
The Rebels spent an hour with the sick kids, who received autographed basketballs and posters and an envelope with $10 inside. The players received a ton of perspective.
Just before they were to leave, Seagears, who didn't play against Portland but received a lot of votes for MVP of the hospital visit, got the kids clapping and carrying on as much as those carts and tubes and their grimaces would allow.
They succeeded in goading Rashad Vaughn into busting moves.
Little Tristen Kersey went right on autographing the back of the souvenir poster after she and Christian Wood and some of the other players had drawn on it. Her friend Abigail placed her hand over her mouth.
The other Rebels howled.
Rashad Vaughn's dance steps weren't as smooth as his shooting stroke. But judging from the laughter in the fourth-floor playroom of Sunrise Children's Hospital, it was all a matter of perspective.
Las Vegas Review-Journal sports columnist Ron Kantowski can be reached at rkantowski@reviewjournal.com or 702-383-0352. Follow him on Twitter: @ronkantowski.