Ice surface put down for NHL hockey at T-Mobile Arena — PHOTOS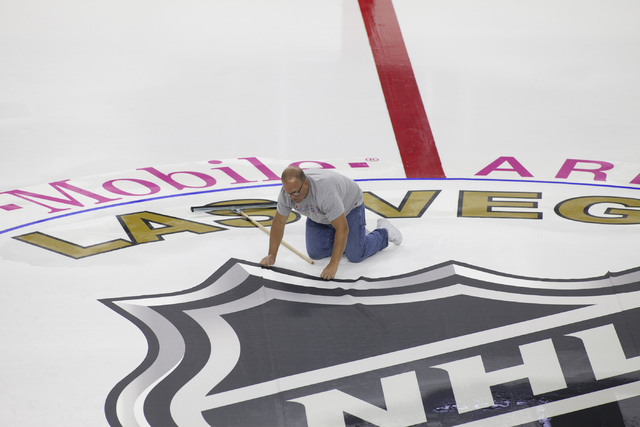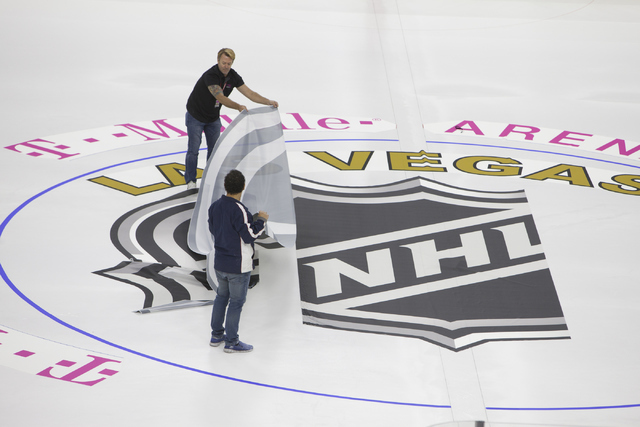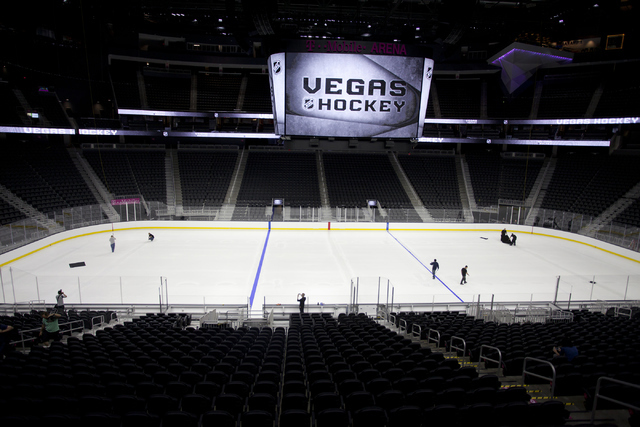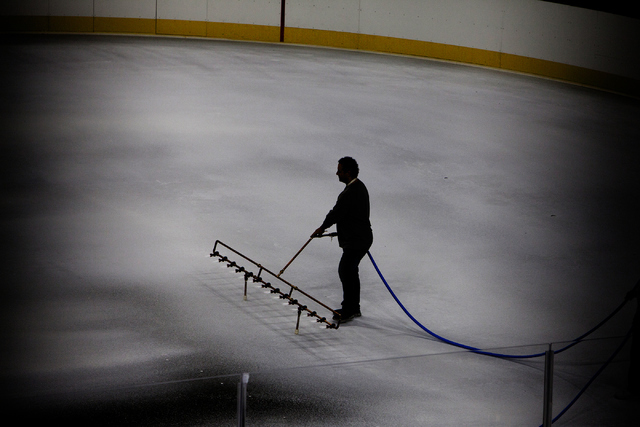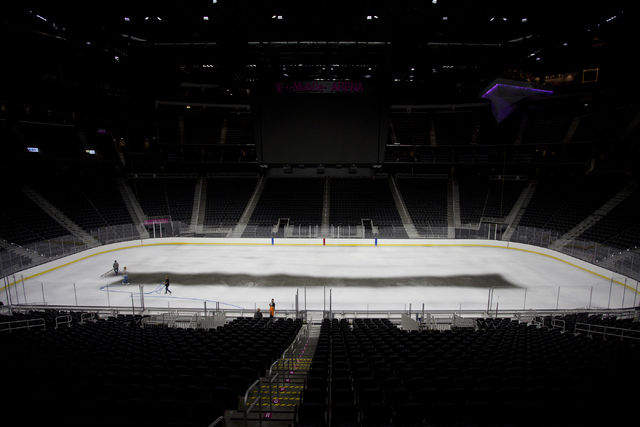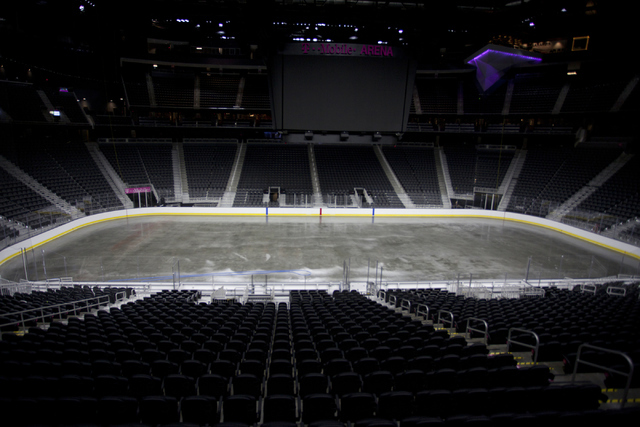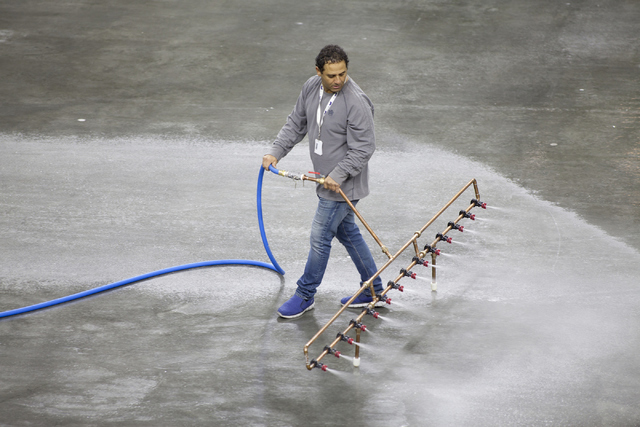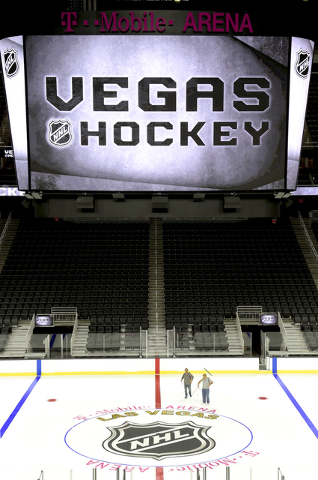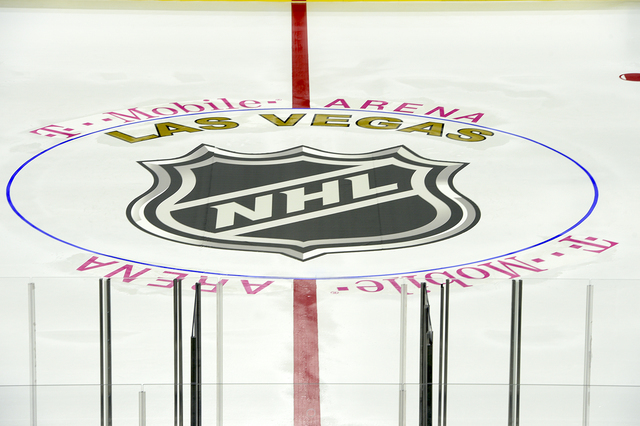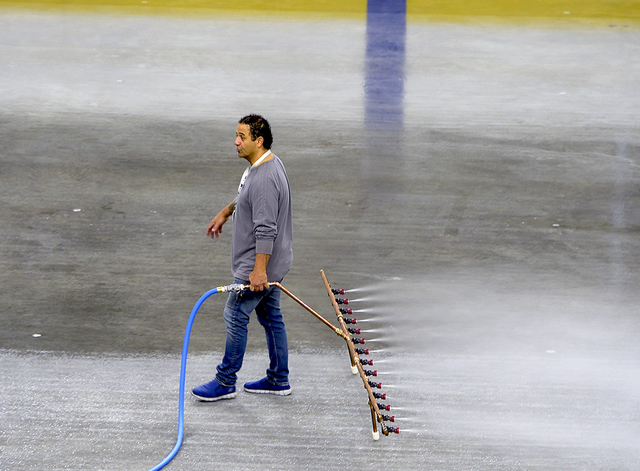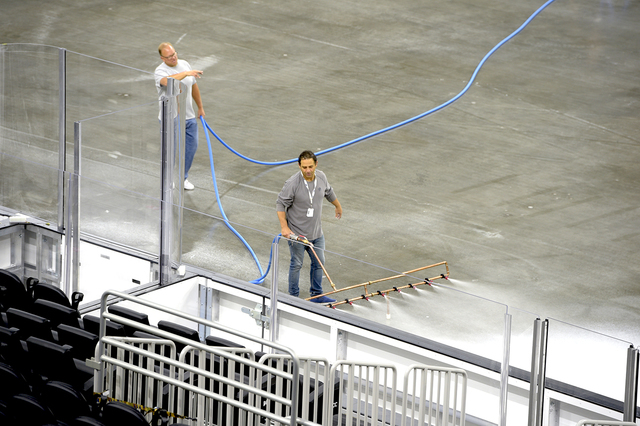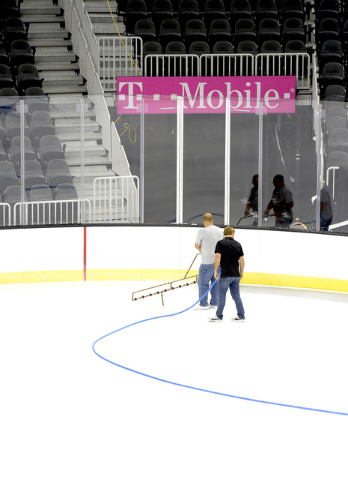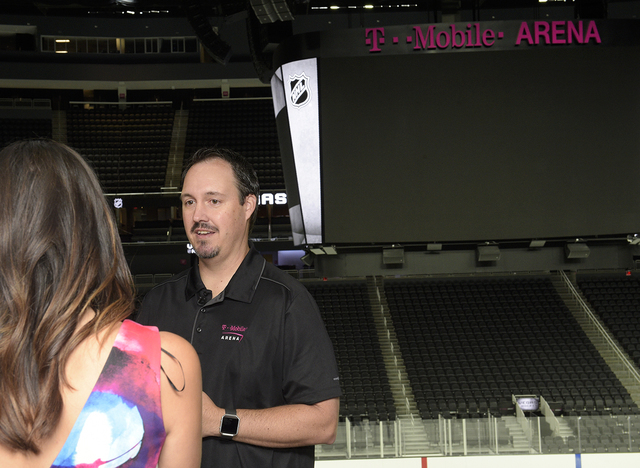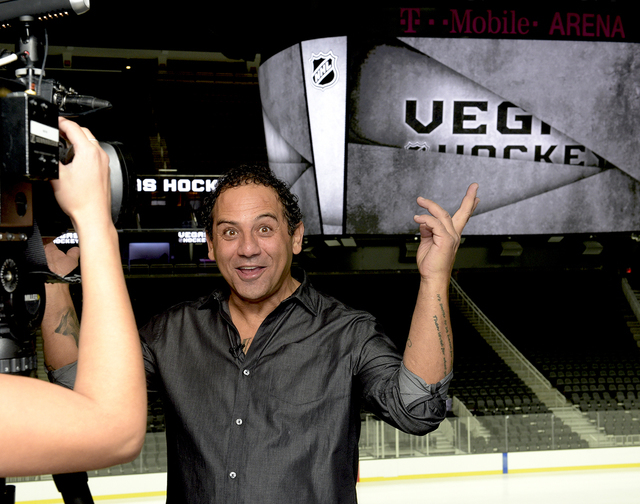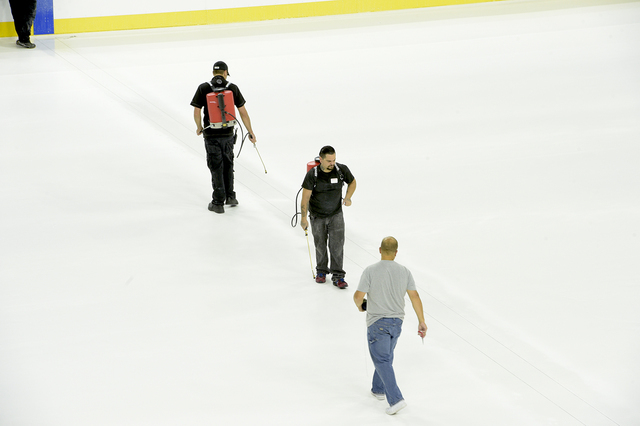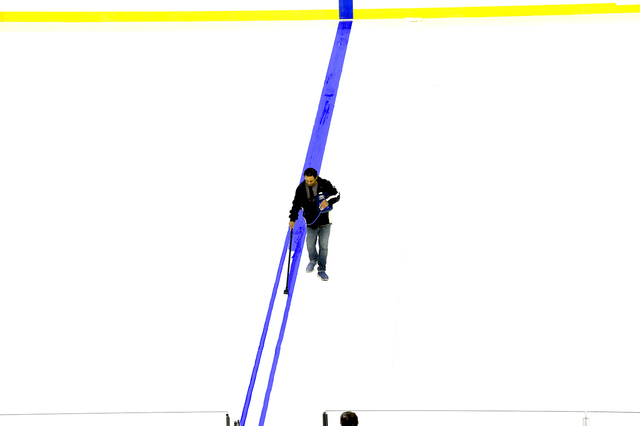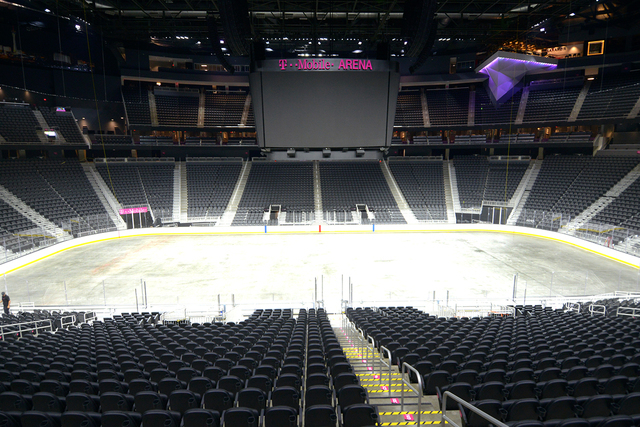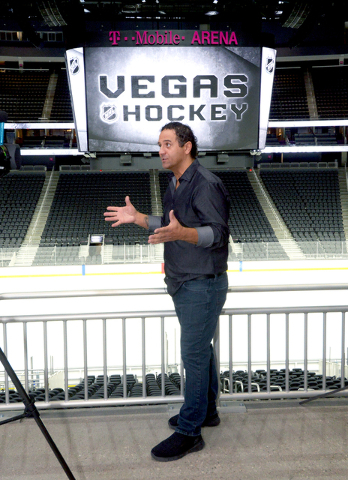 It was a little before 9 a.m. Saturday, and though it was 17 degrees at ice level at T-Mobile Arena, George Salami had worked up a sweat.
Salami, no relation to the character of the same name from the old "White Shadow" TV series, is conversion manager at the new arena. Which is to say he's the maker of the ice. When he arrived at the arena at around 4:30 a.m., what will be the playing surface for Las Vegas' NHL expansion team in 2016-17 looked like a Minnesota county road during the dead of winter.
It was little more than a patch of black ice.
Now it was a sheet of freshly painted white ice.
In a couple of hours, the center line and blue lines and a logo — a generic logo, because to paraphrase the old song, Las Vegas' NHL expansion team is still a horse with no nickname — would be painted onto the ice.
When those were dried and sealed, the face-off circles and goalies' creases would be added and dried and sealed.
Then and only then would the Zambonis be summoned.
Two Zambonis would circle the rink, putting down ice in its liquid form until the skating surface was an inch- to an inch-and-a-quarter thick. The thickness of the ice can be adjusted to suit the skating style of the home team. Thin for fast, thick for slow. Asphalt, if the team plays like the old Broad Street Bullies of Philadelphia.
George Salami wiped the sweat from his brow. He looked like a proud papa. I thought he might pass out cigars. It was starting to look an awful lot like NHL hockey at T-Mobile.
"Arizona just showed up yesterday," said the former ice maker and facility engineer at Las Vegas Ice Center on West Flamingo Road. "They have the same ambient temperature we do. We want to pick their brain — 'What do you guys do when it's 115 degrees outside with 25-percent humidity?' So we're just trying to figure all that out right now."
The maker of the ice said it's a long and tedious process before the red light gets turned on and Gary Glitter's "Rock and Roll Part 2" is played over the loudspeakers.
"I've been here 16 days straight, 18 hours a day because I just want to know what the building's doing, how it's reacting, what it's like when the doors are open, what it's like when the doors are closed. You know, pressure in the building is amazing. If we don't have enough exhaust, the elevators don't work right.
"People don't ever think about that."
No, they don't. Making ice for an NHL team seems a lot harder than making doughnuts, though you have to get up at about the same hour.
George Salami was asked what this day meant, now that T-Mobile was finally starting to look a lot like NHL hockey.
"This day means everything," he said. "I got a lump in my throat, right? It was a long time coming. It's just a dream. It's a love, it's passion for the sport and the game and the fans as well … it's awesome."
UNLV MISSES OUT
One of the enterprising types at SB Nation is running an NCAA-style tournament bracket for schools being considered for Big 12 expansion.
The West bracket has Colorado State vs. Southern Methodist and Boise State vs. Tulane with Houston and Brigham Young receiving first-round byes. The East bracket has Central Florida vs. Connecticut and South Florida vs. East Carolina with Cincinnati and Memphis receiving passes to the quarterfinals.
"You have to remember, this is about more than just football and wins (and) losses," it said in explaining the premise.
No, it's not, or UNLV would have at least been a bubble team. Now it would appear the Rebels are going to be left out of the big TV money again. To paraphrase Chicago Cubs manager Joe Maddon, this is why mid-major schools such as UNLV should "Try Not to Suck" in football.
AMAZIN' AUGUST AT CASHMAN
In an effort to put more posteriors in the seats during the final month of the Pacific Coast League season, the 51s will offer more promotions than usual as the chase for the Esurance Home Field Advantage Award heats up.
If one had to guess, it would be that 51s manager Wally Backman is not aware of the Esurance Home Field Advantage Award, or the chase for it.
The 51s' front office is calling it "Amazin' August" — in deference, it is assumed, to Casey Stengel, the colorful manager of the original New York Mets. The Amazin' Mets, as the Old Perfessor always called them, continue to be affiliated with the 51s, for at least a few more months, anyway.
The Esurance award is based on ballpark capacity percentage. The winning franchise will be feted at the Baseball Winter Meetings in Maryland; the news release did not say how the winning franchise will be feted. My guess: a plaque and a handshake from an ESurance representative and/or a belly bump from the Phillie Phanatic.
In addition to the usual $1 Menu Mondays, $1 Beer Thursdays and free Fireworks Fridays, the 51s also will offer Super Hero Night on Aug. 6 against the dreaded Fresno Grizzlies, and 51s Elvis Themed Jersey Night (keep Chris Sale away from the hunting knife) on Aug. 27 against the equally dreaded Salt Lake Bees.
WHAT'S IN A NICKNAME?
If you were perusing the Pacific Coast League standings heading into Wednesday's action to calculate the Tacoma Rainiers' magic number, you may have noticed this oddity: the Las Vegas 51s had exactly 51 wins and 51 losses.
But I don't think this is what club officials had in mind when they renamed it in 2001.
ABOVE THE NORM
In announcing his retirement, R-J gossip columnist Norm Clarke did not mention he was quite the baseball man. When he was in Cincinnati, Norm covered the Reds during their halcyon Big Red Machine days. Then when he was in Denver, Norm beat the drum for major league baseball coming to town.
The Rockies would come to Colorado in 1993. Norm was proud to have beaten the drum.
One night we met for a game at Cashman Field when Colorado Springs was in town — this was when the Sky Sox were the Rockies' top farm club. Norm was there to check out the Rockies' prospects. I was there to check out the $1 beers.
I talked him into sitting down the right-field line in the cheap seats. I don't remember who won, only that Norm Clarke and I talked baseball all night long, and that the innings, for once, seemed to fly by.
Las Vegas Review-Journal sports columnist Ron Kantowski can be reached at rkantowski@reviewjournal.com or 702-383-0352. Follow him on Twitter: @ronkantowski.