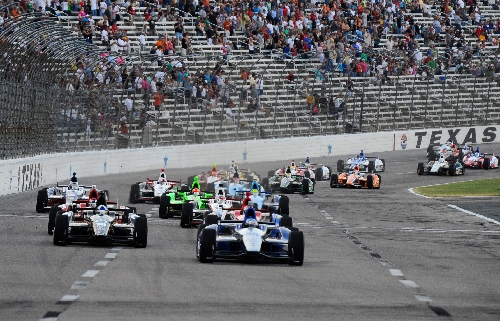 On Saturday night, the IndyCar Series put on a race on the high-banked oval at Texas Motor Speedway that was safe and exciting.
They said it couldn't be done.
There was a sigh of relief when it was. Multiple sighs of relief. Twenty-five came from inside the cars.
By removing gobs of road-gripping downforce, the engineers made the cars much more difficult to drive. But other than on restarts, pack-style racing – a crowd-pleasing but frightening characteristic of the 1.5-mile ovals – was eliminated.
I know what you must be thinking: Too late for Dan Wheldon.
Wheldon was a popular two-time Indianapolis 500 champion with an effervescent smile. He was killed during last year's season finale at Las Vegas Motor Speedway in a brutal chain-reaction crash as the cars roared around the track in a diabolical 34-car pack.
It was decided the 1.5-mile ovals were too treacherous for IndyCars, at least in their current configuration. They would not return to Las Vegas in 2012.
More testing was needed. More evaluation was needed.
More time to mourn was needed.
The drivers had lost a friend. Nerves were raw. The drivers said if they never turned another wheel on a 1.5-mile, high-banked track, so be it.
Many expressed these concerns from darkened corners of private places. Some, like Dario Franchitti, who on May 27 won his third Indy 500 in thrilling fashion and dedicated the victory to his pal Wheldon, went public with them.
On the day after winning Indy, Franchitti said he was "not very comfortable" about racing at Texas in those diabolical packs.
So the drivers went to IndyCar, and IndyCar went to the engineers, and the engineers went back to the drawing board.
At Texas, it was the driver – not the racing gods – who controlled his destiny.
There still was a lot of passing. And a few spins and crashes. Nobody got hurt.
The drivers loved it. Now, they want to go back to Texas.
"This kind of racing tonight you were worried about your car coming back in one piece, and the old kind of racing in Texas you were worried about you coming back in one piece," said James Hinchcliffe, who finished fourth.
Yes, too late for Wheldon, and that is tragic. But too late for IndyCar to return to Las Vegas?
Perhaps not.
"The lack of downforce at Texas calmed a lot of the drivers' fears," said Henderson's Sam Schmidt, who owns the car driven by Simon Pagenaud and whose team helped prepare Wheldon's car here.
And this, from Robin Miller, the auto racing writer who has witnessed more IndyCar races than anybody else, with the possible exception of A.J. Foyt: "After Texas, I think every oval track is back in play."
Even Las Vegas?
"The answer is a resounding 'yes,' " LVMS president Chris Powell said. "I would have liked to seen them come back this year, even before the race at Texas went so well.
"Absolutely. Tell Randy (Bernard, the IndyCar CEO) I will take his phone call."
Bernard did not return my phone call Wednesday, but he was in scramble mode. The new mayor of Qingdao in China had pulled the plug on a new race scheduled there Aug. 19 that the old mayor had agreed to, leaving a gaping hole in the IndyCar schedule.
It bears pointing out there also was a gaping hole in the Electric Daisy Carnival schedule before Powell and his people stepped up.
At the end of the day, the bigger issue with IndyCar returning to Las Vegas might be that it doesn't have the following here that the Electric Daisy Carnival has.
"You can't get anyone to show up," Miller said. "It's not like NASCAR where everybody comes from somewhere else."
It's not even like AMA Supercross, where everybody comes from California and packs Sam Boyd Stadium.
But by renting the track and self-promoting the race, what IndyCar did here last year, the sanctioning body was able to offset a disappointing crowd through sponsorships and other means. Bernard told the Indianapolis Star that if he could get the same deal at Texas that he got in Las Vegas, he'd take it faster than one of Tom Sneva's qualifying laps.
"There's no better place to have a season finale, to have a victory celebration, than here in Las Vegas," Schmidt said before adding that the emotional scar left by Wheldon's death still is going to be "a pretty good mental block to overcome."
But at the risk of sounding insensitive, it can be overcome.
Over the years, 15 drivers have been killed during the Indianapolis 500; 25 more have perished during qualification attempts or practice. And yet every Memorial Day weekend they hold another 500-mile race in Indianapolis, and a lot of people return to watch it, and they always find 33 drivers willing to tempt fate from behind the wheel.
If IndyCar was to return and it named the race in Dan Wheldon's memory, the same thing probably would happen here.
Las Vegas Review-Journal sports columnist Ron Kantowski can be reached at rkantowski@reviewjournal.com or 702-383-0352. Follow him on Twitter: @ronkantowski.