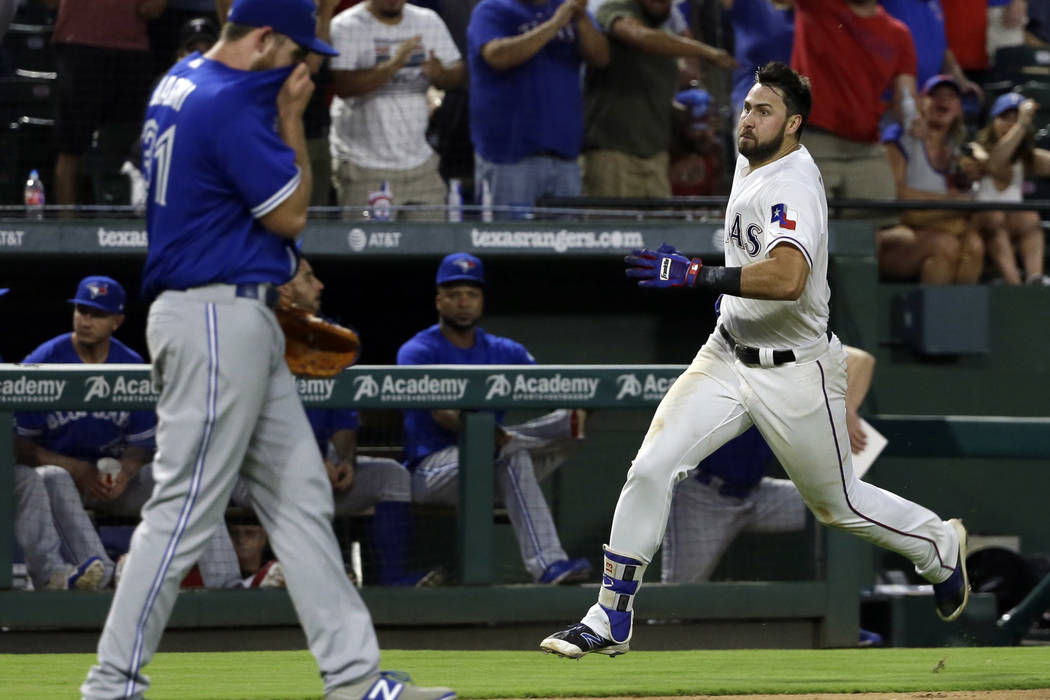 On June 21, when Joey Gallo of Las Vegas and the Texas Rangers hit a fly ball to left field at Globe Life Park that caromed off the wall permitting Gallo to circle the bases for an inside-the-park home run, it was added to a file of items that might be worth writing about at a later date.
When Gallo hits home runs, they usually leave the ballpark in majestic arcs that allow him to navigate the bases at a leisurely trot. On this one he had to hustle. Gallo weighs 235 pounds (or so), and as he steamed around third base he looked like an 18-wheeler in search of a runaway truck lane.
During the clubhouse discourse, a reporter mistakenly told Gallo it had taken him 50 seconds to round the bases when it had taken him 15.9.
On Friday, fleet Byron Buxton of the Twins broke his own record for fastest inside-the-park home run when he circled the bases in a Usain Bolt-ish 13.85 seconds. Nicky Delmonico of the White Sox also performed an inside job Friday. On Thursday, Daniel Descalso of the Diamondbacks was credited with one; it was Denard Span's turn for the Giants on Saturday.
Four inside-the-park home runs in three days. Aren't these supposed to be rare?
After broadcaster Len Kasper told Cubs-Blue Jays viewers that Tommy Pham of Las Vegas had purchased 200 sno-cones for kids at the Little League World Series before the Cardinals played the Pirates in Williamsport, Pennsylvania, a graphic stated it had been 20 years since four inside-the-park homers had been struck over a span of three days.
Five days before Descalso lapped the bases, Arizona's David Peralta did it against the Cubs. And five days before that, the Cubs' Javier Baez touched 'em all at (mostly) full speed (for this was Baez, who likes to admire balls he strikes well before beginning to run) against the Giants on national TV.
Both players scored in a cloud of dust. Fans jumped up and down without being prompted to do so by a giant scoreboard.
How can anybody say the triple is the most exciting play in baseball when the inside-the-park home run exists?
*LAST NIGHT*

Javy Baez's 2-run inside the park HR vs. the @SFGiants. Don't look now, but the @Cubs are getting hot! pic.twitter.com/07h77awuDs

— FanDuel (@FanDuel) August 8, 2017
Inside jobs on upswing
According to ESPN's Home Run Tracker, there have been 12 inside-the-park HRs in 2017, the most since 2011 which yielded 15. There's nothing to explain why inside-the-parkers are on the rise, other than some of the newer ballparks feature outfield nooks and crannies that are conducive to funny bounces.
A guy like Byron Buxton can run a long way when a baseball takes a funny bounce in a nook or cranny.
Within 7 days, the Arizona Diamondbacks have played 3 gms with an inside-the-park HR pic.twitter.com/wF6UC78djD

— Dugout Nation (@DugoutNation) August 19, 2017
Inside-the-park home runs were common during the game's fledgling days, when outfields resembled cow pastures and fielding gloves dish rags. Jesse Burkett, who played from 1890 to 1905, is the all-time leader in inside-the-park home runs with 55; Wahoo Sam Crawford, who played from 1899 to 1917, had 51.
Even Babe Ruth had 10, and envisioning The Bambino waddling around the bases at full tilt is what inspired Rick Dempsey to entertain fans on a wet tarpaulin during rain delays. Among modern players, Willie Wilson made 13 round trips of the bases with the baseball still in play.
Many guys have hit two inside-the-park homers in one game but only three since 1950 — Hank Thompson of the Giants (1950), Dick Allen of the White Sox (1972) and Greg Gagne of the Twins (1986). This is what can happen when misguided Bobby Darwin is playing center field for the other team, or baseball is played on artificial carpet under a Teflon dome.
But there is no occurrence in baseball as uncommon as a walk-off inside-the-park grand slam.
It has happened only once.
On July 25, 1956 with the Pirates trailing the Cubs 8-5 at Forbes Field, the great Roberto Clemente flew around bases that were loaded, running through a stop sign at third base to beat a relay throw from Ernie Banks and record a feat more rare than a total eclipse of the sun.
Contact Ron Kantowski at rkantowski@reviewjournal.com or 702-383-0352. Follow @ronkantowski on Twitter.