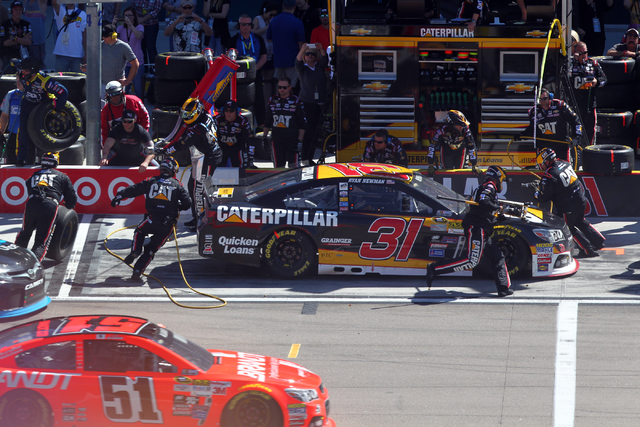 On the same day investigative findings about the Patriots under-inflating footballs were disclosed and everybody went nuts, NASCAR, as only coincidence would dictate, rendered a final ruling about one of its top teams under-inflating tires.
Exactly nobody went nuts.
Well, maybe the Fram oil filters guy went nuts. Or he would go nuts later.
So it can be concluded that A) NASCAR is nowhere near as important as pro football, despite constantly changing its Chase for the Cup to mimic the NFL playoffs, or B) bending the rules in stock car racing is so prevalent, so interwoven into its fabric, that people don't care or just accept it and move on, after a wrist is slapped and a few championship points are docked.
On Wednesday, penalties for Richard Childress Racing, which prepares the No. 31 car for driver Ryan Newman — and used to prepare the No. 3 car for Dale Earnhardt Jr.'s old man — were upheld by an appeals committee.
And so Newman will lose 50 championship points (of about a bazillion), and his crew chief will be fined and have to put away his wrenches for a few weeks. A tire technician and an engineer also were put on double secret probation.
During the NASCAR race in California, "a preponderance of evidence" suggested Newman's crew guys were drilling tiny holes in his tires to allow air to escape so they would better hold the track.
NASCAR said it takes its tire rules very seriously. You can't drill holes in anything, unless it helps Dale Earnhardt Jr. win.
Kerry Tharp, the personable stock car racing official who never forgets a name in relaying your questions to Dale Jr. and Jimmie Johnson during NASCAR week in Las Vegas, confirmed the penalties on the day the Warren Commission — er, Wells Report — disclosed that Tom Brady and two other dummies with access/knowledge of inflation needles probably acted alone.
The Wells Report did not mention the presence of a man with a hooded sweatshirt on a grassy knoll on any of its 243 pages.
As a result of those points being docked and the "serious" NASCAR penalties being upheld, Newman started Saturday's race in Kansas 14th in points — now he's 13th. The top 16 based on wins and points make the chase.
There were four microphones in front of Kerry Tharp when he made the big announcement. Only one was from Fox. When Tom Brady is penalized, the guess is there will be more than four microphones in his face, and Fox will be represented by multiple affiliates.
Everybody wants the Yankees to lose, and the high and mighty — or even Charlie Sheen — to fall.
However, I believe Tom Brady's talents to be such that he could complete passes to receivers that are open, and even to those who are covered in many instances, with a beach ball or a Frisbee.
I believe Tony Gwynn still would have hit around .330 by using a bat that was slightly lighter (or heavier) than one he preferred or was permitted by the rules. And that if the NFL wanted to insure a level playing field, it would simply have both teams punt, pass and kick the same footballs.
The footballs could be hermetically sealed and kept in a No. 2 mayonnaise jar on Funk and Wagnalls porch since noon the day before the game.
End of controversy.
But now that the Wells Report is out, people want a bloated yak to change the temperature of Tom Brady's Jacuzzi, or have Julian Edelman's spot on the New England roster taken by a diseased camel.
Keith Olbermann is calling for Brady to be banned for an entire season. Olbermann is always calling for somebody to be banned, but at least this time he was laughing a bit, and he put up pictures of guys from "Breaking Bad." So, I think he might have been joking.
As for NASCAR and those four microphones, it should be said that stock car racing has grown by leaps and bounds in popularity and now has tailed off dramatically, though the crowd at Talladega still was pretty impressive.
The average sports fan — i.e., not from Alabama — still doesn't think of stock car racing as one of the major sports. Thus hockey probably doesn't have anything to worry about.
When Keith Olbermann called for Kurt Busch to be banned recently, he referred to him as brother Kyle. But NASCAR still has carved out a nice niche for itself. You can buy a lunch pail and a Thermos with Jeff Gordon's number on it just about anywhere you go.
That said, the recent revelations and brouhahas over under-inflated footballs and under-inflated tires drove home the difference between a nice niche sport such as NASCAR, and that of an 800-pound gorilla sporting shoulder pads.
Las Vegas Review-Journal sports columnist Ron Kantowski can be reached at rkantowski@reviewjournal.com or 702-383-0352. Follow him on Twitter: @ronkantowski.