'Iron Cowboy' trying for 50 triathlons in 50 days in 50 states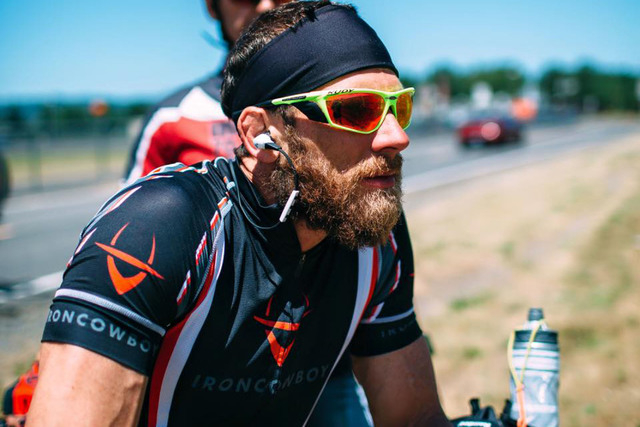 It was just before 9 p.m. Thursday at Reunion Trails Park in Henderson. A young man was kicking a soccer ball against a baseball backstop, alone, in the dark. Under the lights, other young men played pickup basketball. A few kids romped on playground equipment.
The lights of Las Vegas shimmered in the distance.
The Iron Cowboy was out there somewhere.
The Iron Cowboy is James Lawrence, 39, a Canadian who now makes his home in Lindon, Utah, near Provo. He used to work at a golf course and as a mortgage broker. Now he mostly does triathlons and gives inspirational speeches and gets crazy ideas.
The latest crazy idea is why he was out there somewhere.
James Lawrence, the Iron Cowboy (he's from Calgary, and often competes wearing a cowboy hat), is attempting to do 50 full-fledged triathlons in 50 states in 50 days, to raise awareness of childhood obesity.
It's called the 50-50-50 Challenge. It sort of smacks of George Thorogood, the rockin' blues guitarist from Delaware, playing 50 gigs in 50 states in 50 days, with the biggest difference being with the Iron Cowboy, there's no bourbon, no scotch, no beer. Just a bunch of berries and nuts to keep his energy up.
Las Vegas was triathlon No. 6 in six days. The Cowboy was in Flagstaff, Ariz., on Friday for No. 7. If all goes well/according to plan, No. 50 will be July 25 near his home, in Provo.
But all probably will not go well and according to plan if the first week was any indication. In Hawaii, during No. 1, a wannabe Steve McGarrett in Kauai hassled the Cowboy and his crew for parking their RV on the side of the road, which almost caused him to miss his flight to Alaska.
In Anchorage — he crossed Hawaii and Alaska off the list first, because they are logistical nightmares — he saw an eagle and a moose, and that was cool. He managed to survive solitary triathlons in Washington, Oregon and California, near Santa Cruz, without an abundance of drama.
He slept about three hours, about average so far, in the back of a Subaru en route to Las Vegas and arrived late to the Heritage Park Aquatic Center in Henderson for the 2.4-mile swim. And then his shoulder tightened up and he had to swim with one arm.
The 112-mile bike ride around Lake Mead was a disaster — he got four flat tires and a member of his crew went over the handlebars.
This information came via Jordan Maddocks, the Cowboy's manager and trainer, who rolled up to Reunion Trails Park in this rig that had bicycles strapped to the roof, two of which were missing tires.
The first thing I asked Maddocks: "Were you there when the Cowboy was declared clinically insane?"
To which he replied: "Which time?"
The official logo of the 50-50-50 Challenge is a silhouette of the Cowboy that makes him look like unkempt Joaquin Phoenix, and it crossed my mind that maybe this whole thing was just performance art.
The Cowboy holds the record for doing 30 triathlons in one year, but doing 50 in 50 days on about three hours' sleep seems impossible — there's only so much physical pounding and mental duress one can take, before one's body and mind turns to mush. And that's before you add in the crazy logistics, and the crazy heat and humidity of St. Louis (triathlon No. 15, June 20).
Maddocks said it's about 50-50 on the social media sites as to whether the Cowboy can do this. But he said if anybody can do this, it's the Cowboy. He said when his pal did those 30 triathlons in one year, it seemed he was just getting warmed up.
Finally, at around 11 p.m., the Cowboy arrived in the park.
He was literally running about two hours late. He was wearing a vest with lighted reflectors, running shorts and running shoes. No shirt. Strangely enough, he did not appear delirious.
About 10 local runners joined him for the final 5K of the marathon.
At around 11:40 the Cowboy was back, looking amazingly fresh and somewhat sane. But he did not wander over to the courts where the young men were playing pickup basketball and call "next."
He had only a few minutes before he and his wife, Sunny, and their five kids (ages 5 to 12) would load up the RV and take off for the cool pines of Flagstaff.
I asked how he was feeling, and he said "good" but that it had been a longer day than expected.
It was a noble cause, I said, calling attention to childhood obesity in this extreme way. I may have also called him a beast. But wouldn't it have been easier to just a climb a flagpole and say he wasn't coming down until Johnny had a granola bar and went for a walk?
To which the Cowboy responded with a tired chuckle: "Unfortunately not. The childhood obesity epidemic is so big, and so outrageous, that it takes an act as equally as big and as equally outrageous in order to draw the attention it deserves."
Then he said "we gotta bust outta here, we gotta get to Flagstaff."
He said he was looking forward to the cooler temperatures. He asked if I could mention his title sponsor (Young Living Essential Oils) and his charity (Jamie Oliver Foundation).
Before they busted outta there for the cool pines, James Lawrence, the Iron Cowboy, confirmed a story: That when he was 19 and working a lousy job at the golf course in Calgary, he rode a Ferris wheel for 10 straight days in a contest, only coming down twice a day to use the bathroom.
He got fired at the golf course.
He moved to Utah with the $10,000 first-place prize.
Las Vegas Review-Journal sports columnist Ron Kantowski can be reached at rkantowski@reviewjournal.com or 702-383-0352. Follow him on Twitter: @ronkantowski.
.embed-container { position: relative; padding-bottom: 56.25%; height: 0; overflow: hidden; max-width: 100%; } .embed-container iframe, .embed-container object, .embed-container embed { position: absolute; top: 0; left: 0; width: 100%; height: 100%; }