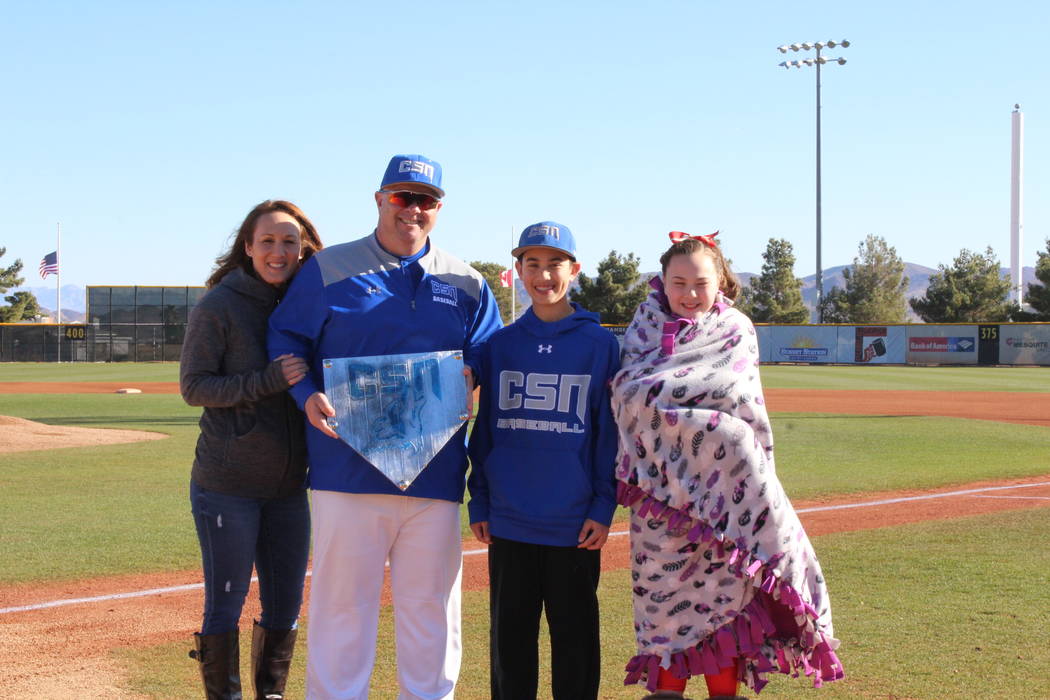 It became aware to College of Southern Nevada's Nick Garritano that he was closing in on 600 victories as a baseball coach when he was updating his bio for CSN's website before the 2018 season.
Then he forgot about it until the night of Feb. 17 when the man on the public address system at Morse Stadium in Henderson said he had achieved the milestone.
"Got the rakes out, got out the hose," Garritano said of his immediate reaction.
There were junior college baseball chores to do.
The next morning, CSN athletic director Dexter Irvin held a ceremony for him at home plate.
Garritano, 44, thanked his family and players and assistant coaches and administrators and support staff and extended baseball families at CSN and Green Valley High, because this is what Nick Garritano does even when he's not achieving coaching milestones.
He said that after he thought about it, 600 wins seemed a lot for a guy who never imagined making coaching baseball much more than an avocation. He had taken the place of two local coaching legends — Rodger Fairless at Green Valley and Tim Chambers at CSN. Expectations were daunting.
"I wanted to quit after two weeks," Garritano said after enduring a rocky baptism as a 23-year-old coach at Green Valley.
He would guide the Gators to two state championships. Last season, he took the Coyotes to the junior college World Series. Garritano made a lot of friends along the way, which on the day he puts away the rakes and hoses for the final time will seem more important than 600 wins, or 700 or 800, or however many with which he finishes.
For now, he said, three stand out.
— Green Valley High 6, Galena 2. 2001 Nevada state championship game. "It was my third year after I took over for Rodger Fairless. We lost our second game in the state tourney and had to win doubleheader, doubleheader. We scored 59 runs in four games. It was magical."
— Green Valley 11, Reno 6. 2003 Nevada state championship game. "Reno was 35-1 and had won 35 games in a row. That one was just as special as the first one. It was sort of a stamp of approval for a young coach getting started in the business. That was the year CSN won the national championship. It was really neat."
— CSN 8, Central Arizona 5. 2017 Western District championship game. "We had to win eight straight elimination games to make it to the World Series. Central Arizona was loaded, but our kids just refused to lose. As the sun was setting in Yuma, Arizona, it hit me. Emotion took over. We were going to the World Series.
"It was the most memorable day of my coaching career."
Garritano coached CSN to two more wins Friday to extend the Coyotes' winning streak to 13 games. Career victories No. 604 and 605.
Additional memorable days might be on the horizon.
0:03
— Joey Takashi O'Brien, CSN's baseball import from Japan, is having quite a season. Not only is he hitting .355 with three home runs and 26 RBIs as the Coyotes' starting left fielder, but heading into Saturday's action he has been perfect on the pitcher's mound.
O'Brien has appeared in five games. He's 2-0 with a save. He has pitched nine innings and faced the minimum 27 batters.
That's right. O'Brien started Saturday having not allowed a base runner all season. He hasn't walked a batter. He has struck out 20.
Move over, Shohei Ohtani. You soon might have company.
CSN's Joey Takashi O'Brien adjusting to life, baseball in America – It's not exactly true that Nick Garritano scouted most of his players when they were playing Wiffle Ball in their backyards, although it could be. Joey O'Brien — Joey Takashi O'Brien … https://t.co/OcnAIBey9A

— Las Vegas News (@LasVegas_NV_USA) January 18, 2018
— There was another stadium groundbreaking Friday, as the 51s got started on long-awaited Las Vegas Ballpark.
It was decided that if Steve Sisolak had been cast as an extra in "The Sopranos," his character could have bypassed the Mob Name Generator on the internet and been known as "Steve the Shovel." The ubiquitous Clark County commissioner has broken ground so many times the past two years that he should start carrying a shovel around in his car.
Cmsr. Steve Sisolak helps by putting a shovel in the ground at @RAIDERS stadium groundbreaking. Joined by Steve Hill from @VegasStadium Authority & Marc Badain, President of the Raiders. #RaiderNation #Vegas pic.twitter.com/XqLBJncSo6

— Clark County Nevada (@ClarkCountyNV) November 14, 2017
Clark County Commission Chairman @SteveSisolak along with Cmsr. Susan Brager (stadium is in her district) spoke at the groundbreaking. Cmsr. @MKNVspeaks & Larry Brown also attended. Stadium will seat 10,000 #Vegas pic.twitter.com/UZOtIE0wbp

— Clark County Nevada (@ClarkCountyNV) February 23, 2018
— When a fight broke out in the stands at T-Mobile Arena during Monday's Ducks-Golden Knights game, social media trollers had a field day.
Wrote one called AJ: "Please cut these guys a break. The longstanding fan rivalry between Anaheim and Las Vegas has been brewing every year and goes back decades."
Hockey fights on and off the ice pic.twitter.com/Pd0VZCwSUa

— Kyle Johnson (@Astrokjay) February 20, 2018
Contact Ron Kantowski at rkantowski@reviewjournal.com or 702-383-0352. Follow @ronkantowski on Twitter.
Nick Garritano file
— Age: 44
— Baseball coaching jobs: Green Valley High, College of Southern Nevada
— State championships: 2 (2001, 2003)
— Juco World Series berths: 1 (2017)
— High school record: 316-118
— CSN record: 289-144
— Did you know: Garritano was a standout field-goal kicker at UNLV, finishing his career second on the Rebels' career scoring list. He was inducted into the UNLV Hall of Fame in 2010.