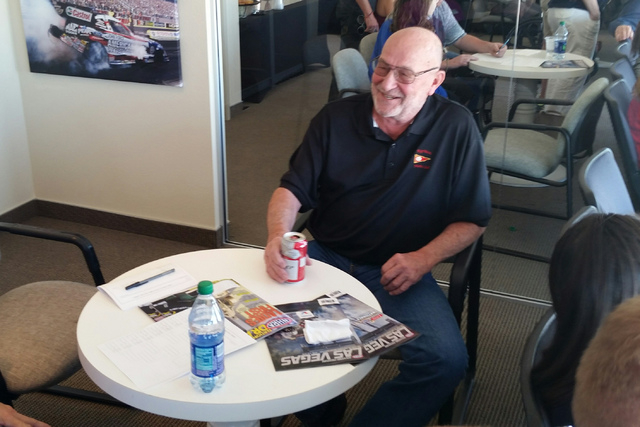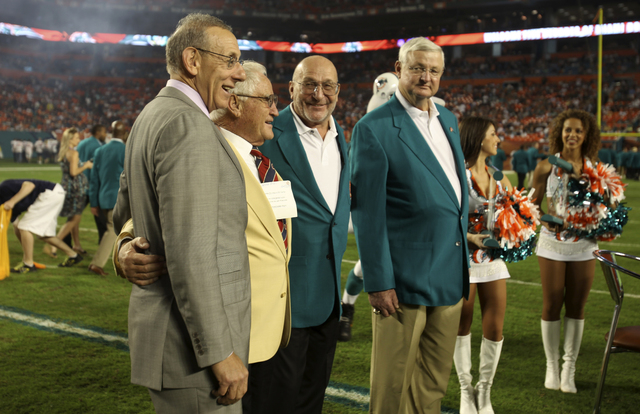 Just before he died, John Belushi starred in a movie called "Continental Divide." He portrays a Chicago newspaper columnist sent to the Rocky Mountains to lay low after he writes something negative about an alderman and his apartment gets bombed.
It is there that Ernie Souchak, Belushi's character, is introduced to a fictional football player named Max Bernbaum, who has left behind a pro football career to drop out of society and become a mountain man.
"Max Bernbaum? The 'Brooklyn Behemoth' Bernbaum? The three-time All-American at Michigan Bernbaum? The No. 1 draft pick of the Washington Redskins Bernbaum? The defensive end who told the NFL to stick it up their defensive end? That Max Bernbaum?"
"Let me shake your hand. This is quite an honor. May I have your autograph?"
Ernie Souchak couldn't believe he had bumped into a reclusive football hero in the middle of nowhere.
This is sort of how I felt when I bumped into Jake Scott at the Las Vegas Motor Speedway drag strip on the first weekend of April. Only I didn't ask for his autograph.
Jake Scott was an All-America defensive back at Georgia who went on to star for the Miami Dolphins. He went to the Pro Bowl in five consecutive years. He has two Super Bowl rings. He was one of the defensive stars of that great Miami team that went undefeated in 1972 — 17-0-0. The Perfect Season. The only NFL team to ever have a perfect season.
He wore No. 13, and he had a funky mustache and long, funky sideburns that met at his lower lip.
Jake Scott was named the Most Valuable Player of Super Bowl VII. He made two interceptions in the Dolphins' 14-7 victory over Washington. Then he had a falling out with coach Don Shula and was traded to the Redskins, where he played the last of his eight seasons.
Then, like Max Bernbaum in the movies, Jake Scott pretty much dropped off the face of the earth. Which is only a slight exaggeration.
Nobody had seen or heard anything from him since around 1978, which is pretty much how he wanted it. Turns out he was spending most of his time in Key West, Florida, and Hanalei in Hawaii.
Key West is the last stop before Cuba. Hanalei is on the north shore of Kauai, the last of the Hawaiian Islands to be inhabited. Population: 450. When the South Florida Sun-Sentinel sent a man to Hawaii to track down Scott at long last, this is where he found him.
"In the last state. On the last island. Down the last road. At the last speck of a no-stoplight town before the United States drops into the Pacific Ocean," wrote a man named David Hyde.
That was in 2006.
That was pretty much the last time Jake Scott spoke on the record for anything, at least according to Google.
So when Chris Powell, the president of Las Vegas Motor Speedway, called to say Jake Scott was sitting in the suites at the DENSO Spark Plugs NHRA Nationals, and would I like to meet him, I sort of reacted the way Ernie Souchak did when he was introduced to Max Bernbaum.
Except Scott didn't have long hair and a bushy beard, and he wasn't wearing clothes made of deerskin.
He's 70 now, stylishly bald with a trimmed goatee. He was wearing a polo shirt that said Key West on it, with a logo extolling either an off-shore fishing business or a tavern. Down in Key West, these two are pretty much interchangeable.
He was sitting in the suites because he knows Chad Head, the NHRA Funny Car driver, and Jim Head, Chad's dad, a former Funny Car driver himself and now his son's crew chief. The Heads took Jake Scott fishing once; that's all it took for them to become fast friends.
The drag racing engines were so loud it was hard to carry on a conversation.
Jake Scott was drinking Budweiser, one can after another, though you couldn't tell it. He seemed to be having a wonderful time. I didn't want to bum him out, so I didn't inquire about the specifics about him dropping off the face of the earth, or at least each end of the United States.
I alluded only to his eccentricity in passing; he confirmed only that most of what I've read about him, which isn't a lot, probably is true. Or close to the truth.
I asked about how many concussions he had suffered, perhaps figuring they had something to do with him adopting a Jimmy Buffett lifestyle. (Other than attending a Dolphins reunion a few years back, he pretty much has avoided the public eye.) He said there were three official ones, one of which he sort of remembers.
"We were playing Buffalo, and they had a big fullback named Jim Braxton, and they would do the Green Bay sweep," Scott said between swigs of Bud. "Our linebackers were waiting on O.J. (Simpson), and then they'd run this sucker play and he (Braxton) would come up the middle. I had to tackle him three times one game.
"We finish the game, I go off the field, I go to the wrong locker room. O.J. and I were on the same All-America team (in college). He takes me over to the (Miami) locker room and says, 'I think he belongs to you.' "
Scott said he spent the night in the hospital, flew home Monday, practiced Tuesday. That's just the way it was when he played. He cocked his head toward the track below. Drag racers take big risks, too, he said.
More stories were told, and then the Top Fuel finals were about to start. I mentioned to Jake Scott that I had promised my wife a Key West vacation later this year. He gave me the name of a guy I should call down there if I got into a situation.
Las Vegas Review-Journal sports columnist Ron Kantowski can be reached at rkantowski@reviewjournal.com or 702-383-0352. Follow him on Twitter: @ronkantowski