Jayhawks lose, #CryingKansasKid gets own hashtag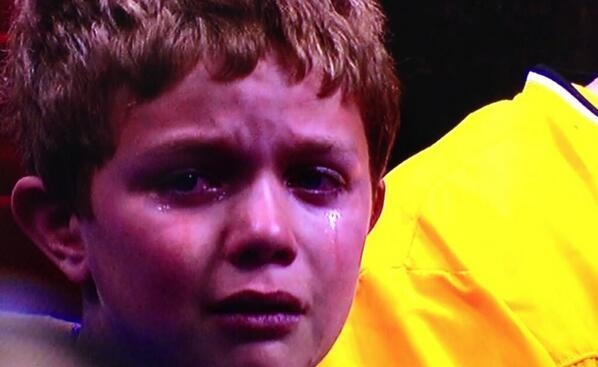 He's now known as #CryingKansasKid on Twitter. He has his own hashtag.
If you were watching the smart guys from Stanford knock the one-and-dones from Kansas out of this year's March Madness on Sunday, then you probably saw the #CryingKansasKid.
The CBS cameras did, and they are taking a bunch of flak for it on social media, even more than studio analyst Greg Gumbel is taking for referring to Dayton basketball coach Archie Miller as his brother, Sean, the Arizona coach, during their interview.
I guess I don't have a problem with CBS showing the #CryingKansasKid. This is probably because I cried at a lot of Cubs games when I was #CryingKansasKid's age. Heck, I cried after the Bartman game against the Marlins in 2003, when I was 46.
Actually, this speaks volumes about the Kansas fan base, about how passionate it is, even at an early age. It also explains why my brother-in-law can't get tickets at Allen Fieldhouse despite living in Tonganoxie, which is just outside of Lawrence. Too many #CryingKansasKids grow up to be attorneys and whatnot, and they buy up all the good seats.
Most people were upset with CBS because it showed #CryingKansasKid multiple times. Yes, he was crying at first. But when that guy came off the end of the bench and hit a couple of long 3s that got Kansas back into the game, they showed #CryingKansasKid again, and he had stopped crying. Then he was #HopefulKansasKid.
But then the same guy who came off the bench missed his last 3, and so Stanford won, and so #CryingKansasKid started to cry again, and they showed it on TV again.
Charles Barkley said #CryingKansasKid should cheer up, because when he grows up, he can always coach North Dakota State, whose coach broke into tears after San Diego State held his team to 44 points.
This line from Twitter user Chris Maxwell was almost as good: "@CBS apologized for showing the #CryingKansasKid 100X and will only play the video now where nobody will see it, on @CBSnews this morning."