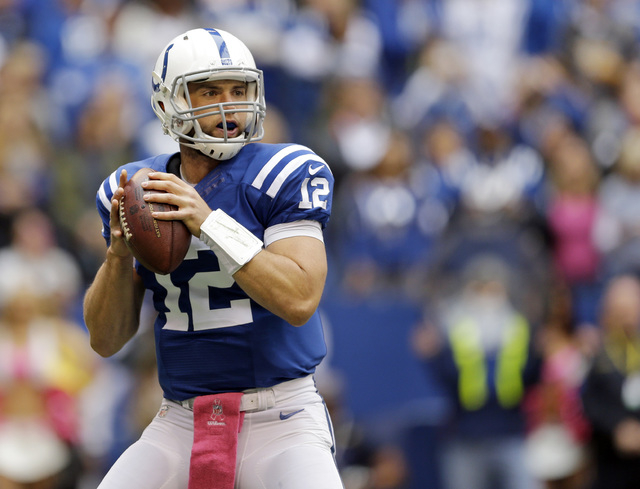 Last week, the Associated Press had the college football teams representing Oregon, Alabama and Oklahoma ranked Nos. 2-3-4 in its weekly popularity contest. All three lost, proving once again that ranking teams based on last year's scores and reputations is about as prudent as calling Jake at State Farm at 3 a.m. for an insurance quote when your wife is a light sleeper.
And now comes the Dick's Sporting Goods United States of Football NFL jersey poll.
Dick's is tracking which NFL player sells the most replica jerseys, and which teams are the most popular in what states. It even has hired former UNLV quarterback Kenny Mayne to break down the jersey poll. While I am sure what Mayne had to say about NFL jersey sales was hilarious, the volume didn't work when I checked it out.
According to the Week 3 standings — the Dick's jersey report apparently is like watching a replay of the ground causing a fumble; sometimes it takes more time than you'd expect — Browns clipboard holder Johnny Manziel has the nation's top-selling replica jersey while Nevada's favorite NFL team is the Indianapolis Colts.
The Indianapolis Colts? Surely somebody is yanking our chinstraps.
Nevada is one of those no-man's land states when it comes to pro football, like Arkansas or Oklahoma. (Although when Barry Switzer coached Oklahoma, the Sooners were sort of like a pro team.) We're mostly neutral, like the other Switzerland during the big wars.
This means if the NFL structured its TV deal like Major League Baseball, about seven or eight teams would claim us as being in their home markets. And then we wouldn't get to watch a lot of the games unless we learned how to pirate them on the Internet or switched to DirecTV.
We'd be far-less-attractive Rob Lowe. We'd get stuck with nothing but Patriots or Cowboys games, and our hair probably would fall out.
If anything, I thought Nevada might be a Chargers state based on the jerseys I see at the Terrible Herbst car wash. Or perhaps a 49ers state, because Reno is a big 49ers town, and the Niners quarterback played his college ball up there.
But we've temporarily become a Colts state for whatever reason.
The only thing I can come up with is Andrew Luck is the Indianapolis QB, and maybe if you walked into a casino with a big No. 12 on your back, and "LUCK" stitched above it, it might bring you a good vibe at the blackjack table (provided you remember to hit on 12 if the dealer's showing 2.)
If you wore a Colts jersey into a casino, it also might bring you a silly look from the player at third base, especially if you are 40 years old and there's no game on TV, like on Tuesday or Wednesday. Unless it was the El Cortez.
So I went down to my local Dick's — Sporting Goods, not Last Resort — to see if Colts jerseys were flying off the racks. They were not. The only jersey I saw on the racks was a Dutch World Cup jersey that you could get for half-off.
The guy working the floor upstairs by the tents and fishing rods said somebody might have returned an RG3 jersey the other day, but that most Dick's don't sell NFL jerseys in stores, only online. That is how the jersey poll is tabulated.
The guy by the tents said it sometimes doesn't take a whole lot to move the needle in the jersey poll. Say a Colts bar in town wanted to give away something at halftime, and it ordered a few Andrew Luck jerseys and maybe a Johnny Unitas throwback No. 19 for the old-timers as door prizes. That might be all it takes.
So by week 16, Nevada probably won't still be a Colts jersey town unless Indy is 13-3 and headed for the playoffs as Super Bowl favorites, because Nevada is one of those fair-weather states when it comes to pro football jersey sales.
Arkansas (Steelers) and Oklahoma (Browns) were mentioned earlier; I also was surprised to learn that Rams jerseys are outselling Seahawks ones in Alaska. People in Anchorage have been flying down to Seattle for games since Jim Zorn was quarterback, which was long before the Seahawks changed their colors and uniforms and won the Super Bowl.
And according to the Dick's jersey report, the New York Jets are nobody's favorite. That did not come as a surprise.
However, if the Jets were to sign a free agent named Al Nopublicmoneyforsoccer, I'll bet Jets jerseys would be No. 1 in Nevada, at least in this part of the state, though you might have to abbreviate it.
Las Vegas Review-Journal sports columnist Ron Kantowski can be reached at rkantowski@reviewjournal.com or 702-383-0352. Follow him on Twitter: @ronkantowski.