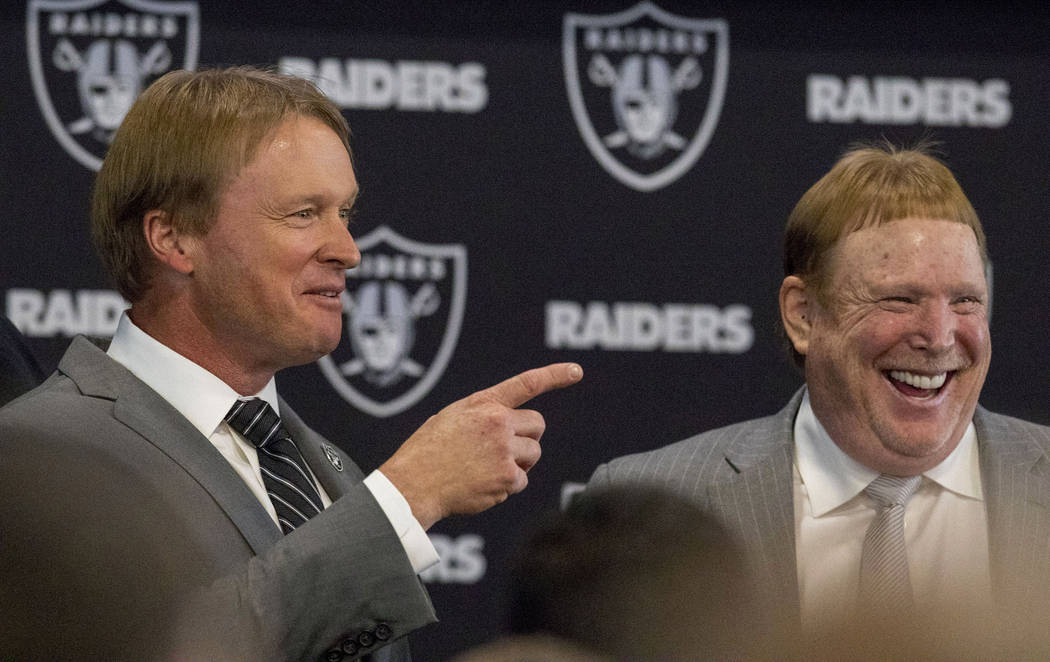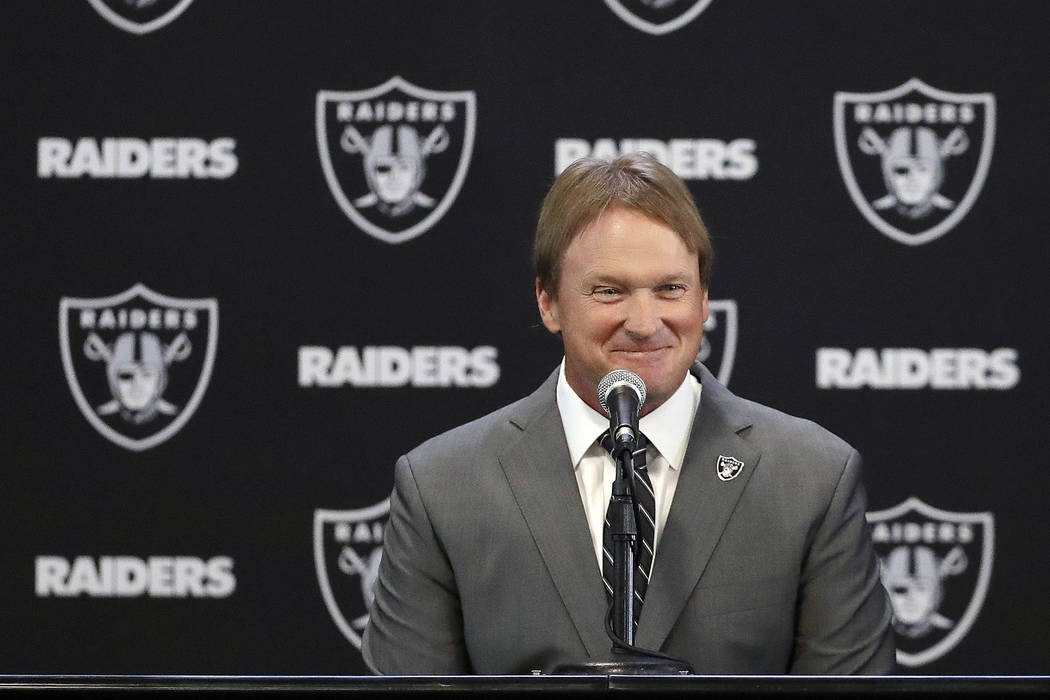 Now that he's back as coach of the Raiders, you'll probably be seeing less of Jon Gruden on TV.
During his hiatus from coaching in the NFL, Gruden was on TV more than that couple from Texas who fix up houses. He did lots of commercials. As a pitchman, Gruden was utilized more than Billy Sims when Oklahoma ran the Wishbone.
A website called iSpot.TV keeps track of people who do TV commercials. It claims Gruden has done 22 spots that at last count had aired 5,150 times. Among his endorsements: Hooters (where he once was a cook), GMC, Corona, Dunkin' Donuts, Bridgestone, GoPro, Nationwide and "The Dark Knight Rises."
Gruden has never endorsed "The Tuck Rule."
There's little in the pro football handbook preventing Gruden from continuing to hawk stuff now that he is back on the sidelines. But the consensus among people who seem to have knowledge of these things is that he won't continue to supplement his income by doing commercials.
For starters, there really is no need to supplement $100 million over 10 years. And hawking stuff on TV might give the impression an NFL coach isn't devoting sole attention to preparing for the 43 Flex defense, or whatever that week's opponent runs.
So there's a good chance you might not see Chucky sitting under a grass umbrella on a beach, putting a stopwatch on a waiter to see how long it takes to bring him a slice of lime for his Corona.
You probably won't be seeing him make a Spider 2 Y Banana protein shake with Mike Tirico during halftime of an Eagles-Panthers game, either.
If you're asking how Gruden stacks up with other legendary pro football hucksters, the answer is he's not even close to Mike Ditka.
According to iSpot, the former coach of Da Bears and Da Saints has appeared in spots that have aired 11,679 times, but those are just his national commercials. They don't include the ones he did for Lee's Discount Liquor stores in Las Vegas, during which he said his new wine "doesn't taste like (expletive.)"
Even Buddy Ryan would have had to laugh.
At the other end of the clapperboard is Bill Belichick. The dour Patriots coach has been credited in only three spots for the NFL that have aired 15 times. One was in Spanish. It talked about the Patriots trying to make it to the Super Bowl for a second time in "tres anos," where Belichick no doubt would have them prepared for the 43 Flex.
0:03
— The last time former UNLV soccer star Simon Keith said to keep an eye on the MLS draft for local talent, Matt Polster of Palo Verde High was taken with the seventh overall pick by the Chicago Fire, for which he now is a top defender.
Simon Sez two more locals could hear their names called Friday at this year's draft in Philadelphia. UNLV's Danny Musovski (Liberty High) and Pacific's Tristan Blackmon (Bishop Gorman) are among the top college seniors.
One list of projections said Musovski was "a bit of a sleeper, due to playing for UNLV," but that the forward should still go in the first round. Blackmon might be the best pure fullback in the draft, according to the same prospectus.
2018 MLS Mock Draft: 1st-Round Predictions and Full Selection Order https://t.co/tabfiiFmGo

— ⚡↓→yasselito10 IG⚡☄↓ (@yassel10) January 13, 2018
— UNLV product Derrick Jones Jr. is back in the NBA with the Miami Heat and started two games this past week, playing 28 minutes at Toronto and 21 at Indiana.
Jones made his NBA debut with the Suns in 2016-17, appearing in 32 games and starting eight, but mostly has been kicking around the G League with the Northern Arizona Suns, for whom he was teammates with Anthony Bennett, another former Rebel.
Bennett has played in 14 (of 23) G League games and is averaging 20.8 minutes and 11.1 points for the Triple-A Suns, who play their home games in Prescott.
Derrick Jones Jr.'s vertical…😳 (via @MiamiHEAT) pic.twitter.com/GIhqAEKKzA

— SLAM Magazine (@SLAMonline) January 10, 2018
— Remember a couple of years ago when Chris Beard was UNLV's basketball coach for about three weeks? Beard left Las Vegas posthaste for his dream job at Texas Tech, and it has worked out well for him. The Red Raiders began the week ranked No. 8 in The Associated Press poll.
The Basketball Vagabond: Texas Tech's Chris Beard is thriving after returning to his roots https://t.co/AeHtc0KOxM pic.twitter.com/vi0FCCAoZh

— TheGameRoom (@VOAGameRoom) January 13, 2018
Contact Ron Kantowski at rkantowski@reviewjournal.com or 702-383-0352. Follow @ronkantowski on Twitter.
A word from Jon Gruden
A list of TV commercials featuring Raiders coach Jon Gruden:
— Hooters: 7
— Corona: 5
— Dunkin' Donuts: 3
— Nationwide: 2
— GoPro: 2
— Bridgestone: 1
— GMC: 1
— "Dark Knight Rises": 1
Total airings: 5,150
Source: iSpot.TV