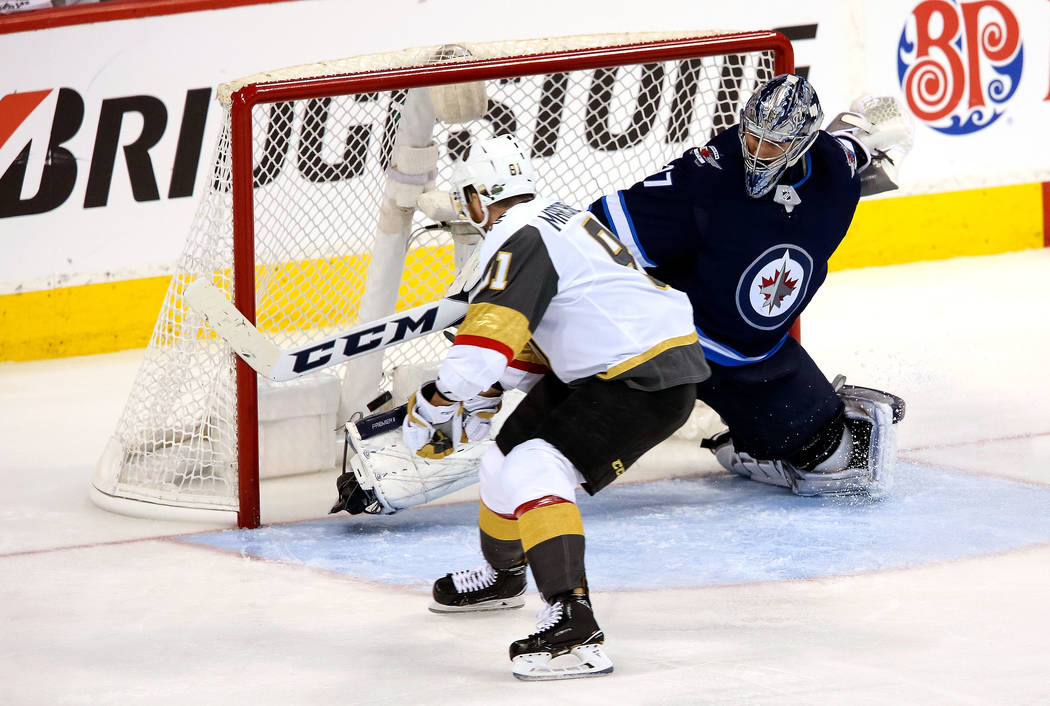 It wasn't exactly Joe Namath guaranteeing victory at the Miami Touchdown Club before Super Bowl III. But when the Golden Knights' Jonathan Marchessault spoke his mind before Game 2 of the Western Conference Final against the Winnipeg Jets, it had the same effect that Matt Snell and George Sauer Jr. and the Jets of another ilk had on the old Baltimore Colts.
"(Monday) is definitely a must-win game," Marchesssault said after the Knights were thoroughly outplayed 4-2 in Game 1 in the Jets' raucous hangar. "As a group, there can't be any excuses. Everyone needs to step up if you want to win against the best team in the league."
Marchessault scored two gorgeous goals in a 3-1 victory that evened the series and wrested home ice away from Winnipeg, if that matters at all.
He and his teammates stepped up.
The left wing on the Knights' top forward line was among a small handful of players made available to media on Tuesday's travel day ahead of Wednesday's Game 3 at T-Mobile Arena. He was asked about the quote, which may not have shaken the ground around Bell MTS Place but was bold by Knights' standards.
This is a team that rarely talks about or displays urgency. So when Marchessault expressed anxiety after the Knights were outskated and pretty much outeverythinged in Game 1, it was written down and marked with a jumbo yellow highlighter.
Another big one
"We didn't want to come back here down 2-nothing," Marchessault said about providing an off-day storyline in Manitoba. "We worked hard all year, and we couldn't let (Game 2) slip away. (But) today's a new day. What we did before doesn't matter. We have to start over. We have a big game coming up."
Not exactly a Namathlike assurance of victory, or even a promise to step it up an additional notch from the lofty plateau on which the Knights skated Monday. No sense riling up a Winnipeg side that may be sensing urgency itself, following a less-than-inspired followup effort on home ice.
Marchessault, whose two semibreakaway goals gave the Knights leads of 2-0 and 3-1, said he wasn't necessarily trying to inspire his teammates. He was just expressing what was on his mind after the Knights got pushed around in the opener.
"In the playoffs, every game is a must win," he said. "The first game at home I guess is a must-win again. It keeps on going and going. If we don't (continue to) step up, we're gonna lose games. Everybody needs to give effort night after night."
Marchessault's effort during a 75-point (27 goals, 48 assists) regular season rarely lacked, and if he continues stepping up in these playoffs, the Otis escalator people may sign him as a spokesman. The two goals Monday were his fifth and sixth of the postseason to go with nine assists for a team-high 15 points.
He came out firing against the Jets, treating the puck as if it had cooties. As soon as it found his stick, he let it fly.
Quick draw Marchessault
Marchessault attempted 11 shots. Eight found their way to Connor Hellebuyck, Winnipeg's' Vezina Trophy-caliber goaltender. Two wound up in the back of the net.
"I was kind of disappointed in Game 1. I didn't get as many shots as I wanted," Marchessault said of his itchy shooting finger. "I wanted to create more offense.
"Some nights I'm going to shoot more, and some nights it's going to be Karlie and some nights it's going to be Smitty," he said of linemates William Karlsson and Reilly Smith after the unit combined for five points in the huge road win.
When Marchessault spoke his mind and got back on track, the whole group responded as if it had read the papers.
But at least one Golden Knight said he never made it to the newsstand.
"I didn't see the quote, actually," defenseman Deryk Engelland said with a sheepish smile.
"But there was definitely a sense of urgency. You want to get a split, the first two games on the road, and I thought we responded well after the first game."
The table is thus set for a long series, so it may be awhile before one of the sides skates into the Stanley Cup Finals wagging an index finger as Broadway Joe did at the Orange Bowl.
But thanks in no small part to Jonathan Marchessault speaking up and, more importantly, stepping up, the Golden Knights are back level in front of a raucous home crowd of their own.
Now we'll see what the Jets have to say about that.
More Golden Knights: Follow all of our Golden Knights coverage online at reviewjournal.com/GoldenKnights and @HockeyinVegas on Twitter.
Contact Ron Kantowski at rkantowski@reviewjournal.com or 702-383-0352. Follow @ronkantowski on Twitter.